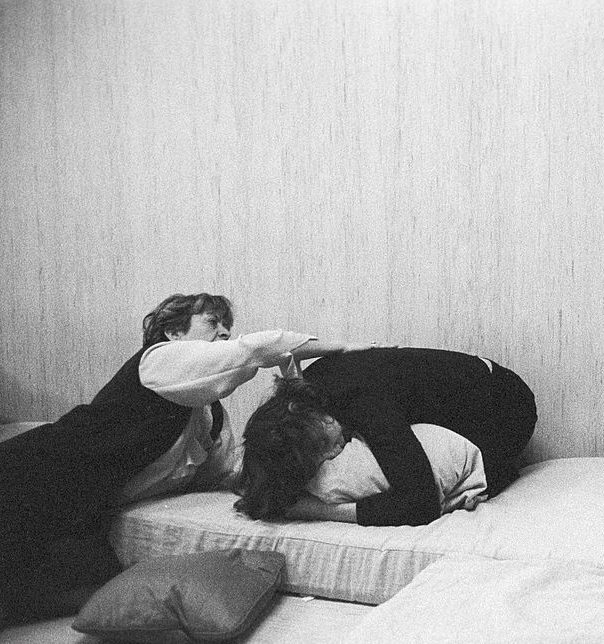 Came across a TV report on Arthur Janov's Primal Therapy when I was a child, and it scared the hell out of me. Watching adults, doubled over in emotional pain, screaming and crying as shamelessly as newborns, was more than I could process.
Of course, getting the hell out of people was what psychiatrist Arthur Janov, who just passed away, made his goal after stumbling onto the method during a session in the 1960s. He believed patients regressing to trace the trail of tears back to the womb could free them of the burdens they shouldered. It would likely have been just one more barely noticed fringe therapy, a lot of hokum, were Janov's book on the treatment not published in 1970, a moment when American culture had cracked open.
The volume was rightfully met with skepticism by book reviewers and medical professionals alike, but it resonated with certain high-profile actors and musicians, especially appealing to John Lennon and Yoko Ono, who were in the midst of their walkabout through the counterculture. Their recordings based on Primal Scream, particularly Lennon's searing "Mother," which sounds like a nursery song sung to a crib covered in blood, were aided by the method even more than Bob Dylan's singing had been by the Buddhist breath control taught to him by Allen Ginsberg. "You're so astounded by what you find out about yourself," Lennon said initially, but he almost immediately worried about encouraging others to see Janov as a guru, especially since the doctor was not shy about self-aggrandizement.
In retrospect, Janov's shocking method tells us very little about human psychiatry, but it does remind that once people have fulfilled the basics of food and water and shelter, they have the time to notice the well of disenchantment inside them, and that can be a positive thing or it can be manipulated into something menacing.
Two excerpts follow.
______________________
From Margaralit Fox's New York Times obituary of Janov:
Arthur Janov, a California psychotherapist variously called a messiah and a mountebank for his development of primal scream therapy — a treatment he maintained could cure ailments from depression and alcoholism to ulcers, epilepsy and asthma, not to mention bring about world peace — died on Sunday at his home in Malibu, Calif. He was 93.

The office manager of his organization, the Janov Primal Center in Santa Monica, Calif., confirmed the death.

A clinical psychologist, Dr. Janov conceived primal therapy, as his method is formally known, after an epiphany in the late 1960s. He introduced it to the world with his first book, "The Primal Scream," published by G. P. Putnam's Sons in 1970. The book attracted wide attention in newspapers and magazines and made a celebrity of Dr. Janov, who became a ubiquitous presence on the talk-show circuit.

Primal therapy became a touchstone of '70s culture, especially after it drew a stream of luminary devotees to Dr. Janov's Los Angeles treatment center, the Primal Institute, among them John Lennon, Yoko Ono, James Earl Jones and the pianist Roger Williams.
 
"Few treatments have been more dramatic, more highly touted or quicker to catch on than primal therapy," The Los Angeles Times wrote in 1971.

Mr. Williams, the article continued, had publicly counted Dr. Janov "as one of history's five greatest men (along with Socrates, Galileo, Freud and Darwin)."

Dr. Janov appeared to concur. Primal therapy, he told an interviewer in 1971, was "the most important discovery of the 20th century."

Reporting in 1971 on a visit to the Primal Institute, which Dr. Janov had established three years before, The Boston Globe wrote:

"He has equipped his therapy chambers with an array of nursery props — teddy bears, cribs, playpens, dolls, football helmets, baby rattles, security blankets — all to help adults turn the clock back."

The primal scream that could result from these sessions ("It sounds," Dr. Janov told People magazine in 1978, "like what you might hear from a person about to be murdered") was not the objective of the therapy per se. It was rather, he said, a sonic barometer of its liberating effects.•
· · ·
The opening of Eleanor Hoover's People piece in 1978:
Since psychologist Arthur Janov published his book The Primal Scream in 1970, more than 3,000 people—including John Lennon, actors Robert Mandan (Soap) and James Earl Jones and UCLA anthropologist Bernard Campbell—have undergone the regression-to-birth therapy he advocates. Janov's original clinic in Los Angeles is flourishing, and he recently opened a New York branch. He has written four follow-up books, and three more are in progress.

All are aimed at an understanding of what he insists is a global crisis. "The world," says Janov, 53, "is having a nervous breakdown, and Valium is the only glue that holds it together." Critics disagree with Janov's cosmic fears and especially his claim that his treatment of neurosis is the only one that works. "He's good at taking people apart," says one L.A. psychologist, "but not so good at putting them back together."

In Janov's view, the repressed pain of traumatic childhood experiences eventually produces an emotionally damaged adult. These experiences include not only obvious physical and psychological injuries, but also subtle slights like parents' failure to comfort a child. Janov's "cure," Primal Therapy (a trademarked term), involves reliving the trauma in cataclysmic, emotional outbursts called "primals." Through them patients exorcise the pain and alleviate such psychosomatic ailments as colitis, asthma, etc., caused by its repression.

"Our research," Janov declares, "shows that patients after eight months of treatment have a permanent lowering of such vital signs as pulse, blood pressure and core body temperature. This has real implications for the prevention of hypertension and heart disease."

The therapy costs $6,600 and lasts for at least a year. It begins with 24 hours of total isolation followed by an intense three weeks of daily one-to-one sessions. After that the patient attends primal groups once or twice a week, and some may continue with occasional private sessions.

Janov, son of a Los Angeles butcher, is a UCLA alumnus with a psychology doctorate from the Claremont Graduate School and had a conventional practice until 1967. He stumbled upon the basic idea for Primal Therapy when a patient told him of his fascination with a comedian who wandered around the stage dressed in a diaper shouting "Mommy! Daddy!" Janov persuaded the young man to dredge up memories of his own parents, and the patient began to sob. Finally an ear-shattering scream welled up and convulsed his whole body; then he became calm and said again and again, "I made it. I made it."

The scream is crucial to the therapy. "It sounds," says Janov, "like what you might hear from a person about to be murdered." Some critics have suggested that patients scream because they are expected to. Janov answers: "It comes from a person's depths and cannot be fabricated."•