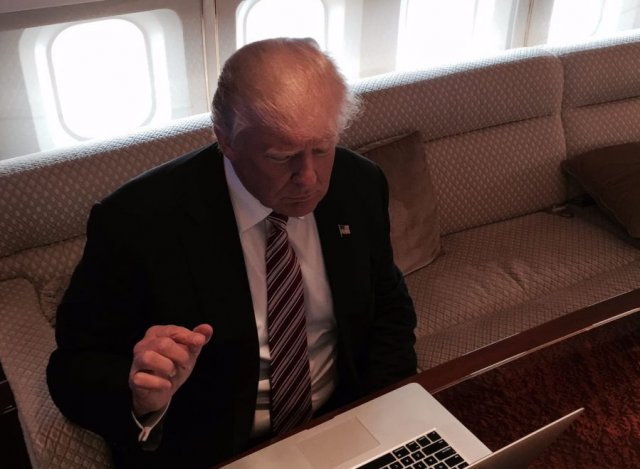 What should we do if the President is a demagogue, a fascist, and a vicious bigot who surrounds himself with more of the same? What if he tramples on the Constitution, slanders other public figures and makes up bullshit incessantly? What about if it's becoming increasingly clear that his campaign colluded with the Kremlin to corrupt our election process? What if he's using his office to greatly enrich himself and his family? What if he's trying to delegitimize the free press and the judiciary branch so that he won't have any checks on his worst impulses? What if he's already committed several impeachable acts and nothing has happened?
What then?
In a Medium essay, Bernie Sanders asks "What Should We Do If the President Is a Liar?" The piece was written in response to ridiculous charges made by Amber Phillips of the Washington Post, who derided the Vermont Senator for "lowering the state of our political discourse" by pointing out that the President frequently lies, which he does.
This kind of knuckle-rapping is exactly what a Berlusconi who dreams of being a Mussolini depends on–it's what all fascists rely upon. They behave as disgracefully as possible, accepting no basic rules or laws, while decent people are pinioned by polite norms, too afraid to say what's blindingly apparent. Her comparison of Sanders' rebuke to Rep. Joe Wilson yelling "you lie!" during an Obama State of the Union address is foolishly disingenuous and false moral equivalency of the highest order for many reasons, the biggest one being Obama wasn't a serial liar and conspiracy-theory peddler while Trump is. Phillips' description of Trump's assertion of widespread voter fraud, which is a complete lie, as an "eyebrow-raising claim," is one way to put it, just not the honest way.
· · ·
You know what would be good? If the Twitter brain trust announced they were revoking Trump's account because he slandered President Obama with serious, baseless claims of wiretapping. They could point out that no one has an absolute right to tweet, that it's a privilege. It's a very, very easy privilege to earn, but there have to be some rules. If Trump can produce proof his tweets weren't slanders, he can have his account reactivated. Until then, farewell.
· · ·
In "How Trump Became an Accidental Totalitarian," Nick Bilton's smart Vanity Fair "Hive" piece, the writer theorizes the new President's outrageous and unhinged behavior isn't the product of a Machiavellian mastermind but the acts of an unintelligent person who "doesn't know what the hell he's doing in the White House." The opening:
Like everyone else, I've been thinking a lot of late about Donald Trump and his infamous Twitter meltdowns—trying to deduce exactly what he's up to regarding his constant, and seemingly never-ending, attacks on the press. The more that Trump has pushed the narrative that all unfavorable reportage of his regime is "fake news," the more I've noticed a leitmotif. Trump, it seems, is using Twitter the way despotic politicians have manipulated the media throughout the past century when they needed a comfortable vessel for their lies.

Just travel back to Weimar Germany, where during his ascent to power in 1920, Adolf Hitler purchased outright a newspaper called The Volkischer Beobachter, which would grow its circulation to more than 1 million readers in the 40s as it became the organ of the National Socialist regime. The Beobachter, as it was often called, facilitated the Nazis' revolting propaganda and culture of genocidal hatred. It allowed Hitler and Goebbels the opportunity to publish countless fake news stories about adversarial countries, about Jews, and, indeed, the press.

In some ways, Hitler set an early precedent for how to propagate fake news (or call real news "fake") at the dawn of the information age. Kim Jong Il would control state media to his advantage much the same way. Saddam Hussein and his sons "owned" a dozen newspapers in Iraq, controlling virtually everything that was printed, and what was not. Vladimir Putinmanipulates the press in Russia. (He also allegedly has journalists killed.)

Freedom of the press is a sacrosanct right of Western democracies. But Trump, who has upended so much of what we believe in, has proved that the First Amendment is no longer enough to keep honest reporting unmolested. Indeed, were Hitler or Saddam to operate in our modern times, God forbid, they wouldn't need to go through the hassle of running a state organ or Beobachter news outlet. They could simply open up their smartphones, sign up for a Twitter account, and start tweeting lies 140 characters at a time, both pushing their own agenda and decrying as false anything that they disagreed with.•