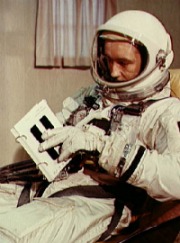 No matter how many more stories Margaret Atwood writes in her life, the one she is currently working on will be her last, in a sense. The last one read for the first time, anyhow. The author's current work will be buried in a time capsule for 100 years as part of a deep-future project which runs counter to our insta-culture. From Alison Flood at the Guardian:
"Depending on perspective, it is an author's dream – or nightmare:Margaret Atwood will never know what readers think of the piece of fictions he is currently working on, because the unpublished, unread manuscript from the Man Booker prize-winning novelist will be locked away for the next 100 years.
Atwood has just been named as the first contributor to an astonishing new public artwork. The Future Library project, conceived by the award-winning young Scottish artist Katie Paterson, began, quietly, this summer, with the planting of a forest of 1,000 trees in Nordmarka, just outside Oslo. It will slowly unfold over the next century. Every year until 2114, one writer will be invited to contribute a new text to the collection, and in 2114, the trees will be cut down to provide the paper for the texts to be printed – and, finally, read.
'It is the kind of thing you either immediately say yes or no to. You don't think about it for very long,' said Atwood, speaking from Copenhagen. 'I think it goes right back to that phase of our childhood when we used to bury little things in the backyard, hoping that someone would dig them up, long in the future, and say, 'How interesting, this rusty old piece of tin, this little sack of marbles is. I wonder who put it there?'"