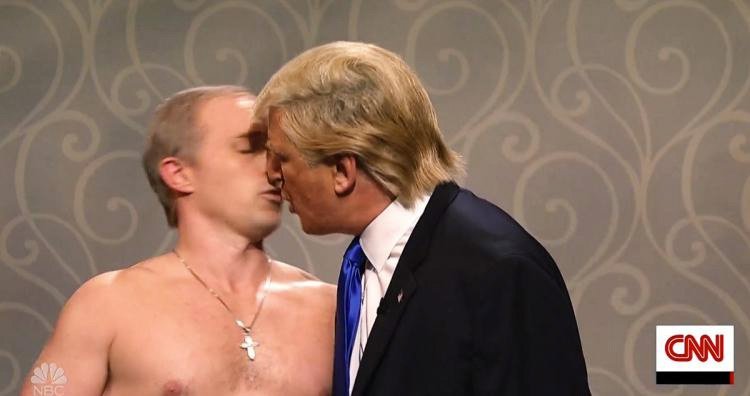 While Nero twitters, Rome burns.
There are varyng levels of exasperation about what became possible with the election of Donald Trump, an orange supremacist who waves his penis around like a masturbating Mussolini and exchanges compliments with the murderous kleptocrat Vladimir Putin, making it feel like America has retroactively lost WWII as well as the Cold War. 
Even if we avoid a descent into autocracy and the future doesn't play out like an infomercial for internment camps (both possibilities), we're still headed for trouble. Three quick excerpts about the personality, economics and politics of the wholly unqualified hatemonger 62+ million Americans deemed worthy of their vote.
---
From Garrison Keillor:
He will never be my president because he doesn't read books, can't write more than a sentence or two at a time, has no strong loyalties beyond himself, is more insular than any New Yorker I ever knew, and because I don't see anything admirable or honorable about him. This sets him apart from other politicians. The disaffected white blue-collar workers elected a Fifth Avenue tycoon to rescue them from the elitists — fine, I get that — but they could've chosen a better tycoon. One who served in the military or attends church or reads history, loves opera, sails a boat — something — anything — raises llamas, plays the oboe, runs a 5K race now and then, has close friends from childhood. I look at him and there's nothing there.•
---
From Lawrence Summers on the Carrier deal:
It seems to me what we have just witnessed is an act of ad hoc deal capitalism and, worse yet, its celebration as a model. As with the air traffic controllers, only a negligible sliver of the economy is involved, but there is huge symbolic value. A principle is being established: It is good for the president to try to figure out what people want and lean on companies to give it to them. Predictability and procedure are less important than getting the right result at the right time. Like Hong Kong, as mainland China increasingly imposes its will, we may have taken a first step toward a kind of reverse transition from rule of law capitalism to ad hoc deal-based capitalism.

The commentary on the president-elect's actions has emphasized its novelty, has emphasized the difficulties of scaling, and in the case of Sen. Bernie Sanders (I-Vt.), has argued that the actions taken were insufficiently forceful because some workers will still be relocated to Mexico. All of this misses the point. Presidents have enormous latent power, and it is the custom of restraint in its use that is one of the important differences between us and banana republics. If its ad hoc use is licensed, the possibilities are endless.•
---
From Alan Feuer and Andrew Higgins of the NYT:
As the founder of the Traditionalist Worker Party, an American group that aims to preserve the privileged place of whiteness in Western civilization and fight "anti-Christian degeneracy," Matthew Heimbachknows whom he envisions as the ideal ruler: the Russian president, Vladimir V. Putin.

"Russia is our biggest inspiration," Mr. Heimbach said. "I see President Putin as the leader of the free world."

Throughout the presidential campaign, Donald J. Trump mystified many on the left and in the foreign policy establishment with his praise for Mr. Putin and his criticism of the Obama administration's efforts to isolate and punish Russia for its actions in Crimea and eastern Ukraine. But what seemed inexplicable when Mr. Trump first expressed his admiration for the Russian leader seems, in retrospect, to have been a shrewd dog whistle to a small but highly motivated part of his base.

For Mr. Heimbach is far from alone in his esteem for Mr. Putin. Throughout the collection of white ethnocentrists, nationalists, populists and neo-Nazis that has taken root on both sides of the Atlantic, Mr. Putin is widely revered as a kind of white knight: a symbol of strength, racial purity and traditional Christian values in a world under threat from Islam, immigrants and rootless cosmopolitan elites.•