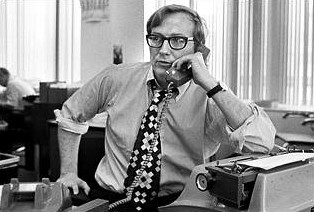 At this point, I think Seymour Hersh might just be trolling us, doing a performance-art piece called "Seymour Hersh." I wouldn't be surprised if there were government and military officials in Pakastan who aided us in the bin Laden mission, but there's still no real proof of that and many of the journalist's other assertions about the killing are difficult to accept with the information he's provided.
It'll be interesting to see if Leon Panetta and John Brennan file suit against Hersh and the London Review of Books for writing that the former CIA Director and Senior Adviser for Counterterrorism, respectively, wanted to lie to make it seem like "enhanced interrogation" (i.e., torture) was instrumental in identifying bin Laden's whereabouts.
In his spellbinding Slate piece, Isaac Chotiner conducted a stormy phone interview with the cantankerous reporter, who had apparently dropped a cactus in his trousers just before picking up the receiver.
Three brief excerpts follow.
__________________________
Isaac Chotiner:
If the plan until the night of the raid was to use the cover story that he had not been killed in a raid but in a drone strike, then why have the raid at all?  Why not just have the Pakistanis kill him? Why risk Obama's presidency?
Seymour Hersh:
Of course there is no answer there because I haven't talked to any of the principals. But I can just give you what the people who were in the process believed to be so, which is that for [Gens.] Pasha and Kayani, the chance of something like that getting leaked out would be devastating. America was then running at about 8 percent popularity in Pakistan, and Bin Laden was running at 60, 70 percent. He was very popular. [Editor's note: This 2010 opinion poll says that Bin Laden's popularity was at 18 percent in Pakistan.] You couldn't just take a chance, because if someone ratted you out—I can only give you a basic theory.
__________________________
Seymour Hersh:
You probably don't know that NBC reported, and now they have reported it on one of these dopey afternoon shows with that woman, what's her name, the NBC woman who claims to have some knowledge of foreign policy, married to Alan Greenspan.
Chotiner:
Andrea Mitchell.
Seymour Hersh:
She's comical. On her show the administration is acknowledging walk-ins but saying the walk-ins aren't necessarily linked to Bin Laden.
__________________________
Isaac Chotiner:
I just want to talk to you about your piece and journalism.
Seymour Hersh:
What difference does it make what the fuck I think about journalism? I don't think much of the journalism that I see. If you think I write stories where it is all right to just be good enough, are you kidding? You think I have a cavalier attitude on throwing stuff out? Are you kidding? I am not cavalier about what I do for a living.
Isaac Chotiner:
I don't think you are cavalier. That was not my question.
Seymour Hersh:
Whatever it is, it's an impossible question. It's almost like you are asking me to say that there are flaws in everybody. Yes. Do I acknowledge that not everybody can be perfect? But I am not backing off anything I said.•