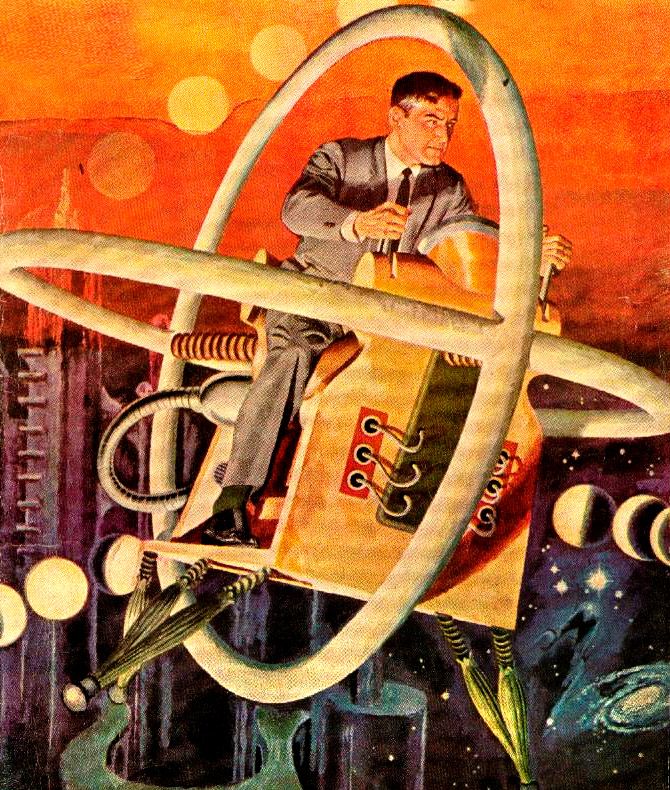 There are tons of futurists now, even if they identify by other names (economists, political scientists, etc.) You could easily make an argument that today is the golden age of tomorrow.
An aversion to myopia is great, though thinking solely about the future also has its costs. In a Fast Company article about the current fixation on futurism, D.J. Pangburn focuses on Hal Niedzviecki's Trees on Mars, a book that questions our constant obsession with the next big thing and distrust of those who don't buy into such sci-fi scenarios.
When wealthy technologists talk excitedly about space-mining minting the first trillionaires while offering those left behind the promise of some basic income, it becomes clear they don't realize they're encouraging bloody revolution. But a scan of books published in the last few years reveals numerous titles by technologists and futurists wary of where we're headed, believing investments must be made in the present as well.
An excerpt:
Another recurring theme in Trees on Mars is Niedzviecki skeptic's view of the futurist. He sees the ascension of the futurist to a preeminent place in society—and the idea that all should become futurists for individual and collective progress—as deeply problematic.

Should everyone be a futurist? Niedzviecki doesn't think so, but he is seeing a massive revolution in how societies are positioning themselves around technological success, a repositioning of education around technology; a reorganization of societal goals around the "latest chimeras of success"—the best futurists who knew what was going to happen before it happened, like Steve Jobs and Mark Zuckerberg. In doing this, Niedzviecki believes we run the risk of condemning those people who really don't feel it's necessary or interesting to think as futurists.

"It's self-satisfying bullshit from a small set of people who were able to take advantage of this and sell this," Niedzviecki says. "And my line of frustration runs through the whole book and perhaps culminates when I go to SXSW Interactive."

There Niedzviecki sat in on a panel dealing with disruption, where he listened to "high-priced, famous gurus" tell attendees that if they can't keep up with the pace of disruption then they are failures that will be left behind. Niedzviecki recalls sitting there thinking: "That's not the way it is—that's the way you have made it."

"I think the vast majority of people who preach disruption do not understand the ramifications of what they're saying," Niedzviecki said.•