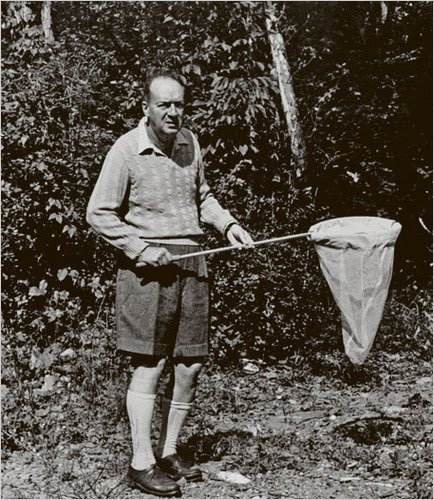 If you put a gun to my head and asked what I thought was the best novel ever written in English, I would think you were crazy. Why are you pointing a gun at my head?!? Why not just ask me without the threat of murder?!? Do you want me to call the police?!?
After you were disarmed and arrested, I would think about the question again and just as likely choose Lolita, Vladimir Nabokov's tale of monstrous love, as anything else. The language is impeccable, amazingly weighty and nimble all at once, and the book overall both profoundly funny and sad.
Art is one thing, however, but life another. The book's main inspiration may have been von Lichberg or it may have been a very real horror, a 1940s NYC child abduction perpetrated by a felon in a fedora named Frank La Salle. (Or perhaps it was a combination of the two.) Via Longreads, a passage from "The Real Lolita," an historical inquiry by Sarah Weinman published at the Penguin Random House blog:
"Nabokov said he conjured up the germ of the novel—a cultured European gentleman's pedophilic passion for a 12-year-old girl resulting in a madcap, satiric cross-country excursion—'late in 1939 or early in 1940, in Paris, at a time when I was laid up with a severe attack of intercostal neuralgia.' At that point it was a short story set in Europe, written in his first language, Russian. Not pleased with the story, however, he destroyed it. By 1949, Nabokov had emigrated to America, the neuralgia raged anew, and the story shifted shape and nagged at him further, now as a longer tale, written in English, the cross-country excursion transplanted to America.
Lolita is a nested series of tricks. Humbert Humbert, the confessing pervert, tries so hard to obfuscate his monstrosities that he seems unaware when he truly gives himself away, despite alleging the treatise is a full accounting of his crimes. Nabokov, however, gives the reader a number of clues to the literary disconnect, the most important being the parenthetical. It works brilliantly early on in Lolita, when Humbert describes the death of his mother—'My very photogenic mother died in a freak accident (picnic, lightning) when I was three'—or when he sights Dolores Haze in the company of her own mother, Charlotte, for the first time: 'And, as if I were the fairy-tale nurse of some little princess (lost, kidnaped, discovered in gypsy rags through which her nakedness smiled at the king and his hounds), I recognized the tiny dark-brown mole on her side.' The unbracketed narrative is what Humbert wants us to see; the asides reveal what is really inside his mind.
Late in Lolita, one of these digressions gives away the critical inspiration. Humbert, once more in Lolita's hometown after five years away, sees Mrs. Chatfield, the 'stout, short woman in pearl-gray,' in his hotel lobby, eager to pounce upon him with a 'fake smile, all aglow with evil curiosity.' But before she can, the parenthetical appears like a pop-up thought balloon for the bewildered Humbert: 'Had I done to Dolly, perhaps, what Frank Lasalle [sic], a fifty-year-old mechanic, had done to eleven-year-old Sally Horner in 1948?'"
_______________________________
Nabokov discusses Lolita in the 1950s: