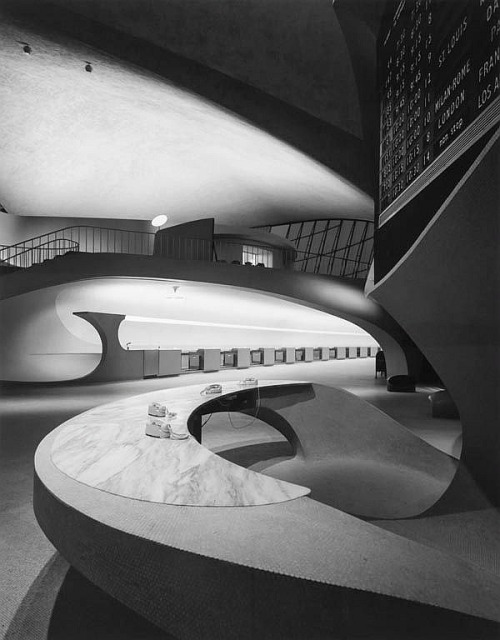 It's difficult to believe that airports, in one way or another, won't always be a boondoggle, but Scott McCartney of the WSJ envisions a high-tech tomorrow in which commercial fliers will be doted on and waved through by sensors and robots, welcomed and directed via their smart phones and watches. It is likely that airports, like hotels, will have less use for human workers, with holograms perhaps in the intervening period, before the process is barely noticeable. 
McCartney's opening:
Like a good maître d', the airport of the future will recognize you, greet you by name and know exactly where to put you.

Airports around the world are beginning to move in this direction. At London's Gatwick Airport, beacons identify you by your smartphone and give GPS-like directions to your gate, pointing out food or shopping along the way. In Germany, robots at Düsseldorf's airport park your car and return it curbside after you land, linking your itinerary to your license plate. Researchers are developing robots that will be able to check your bags and deliver them within minutes of landing.

Facial-recognition systems speed you through passport control in places including Dulles International Airport near Washington, D.C. Some airports use facial-recognition systems to track your movements around terminals. Gates in some airports are automated with doors that flash open like a subway turnstile when you scan your boarding pass or flash your smartwatch.

At the airport of the future, directional signs will be only for backup. Check-in kiosks will be tucked in a corner. Human agents may be even more unnecessary.•
__________________________
Braniff's airport of the future, 1975.