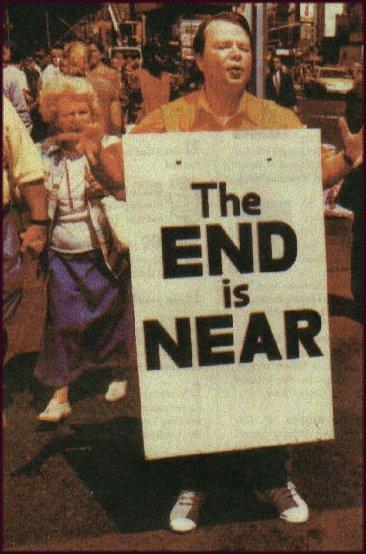 The end is near, roughly speaking. A number of scientists and philosophers, most notably Martin Rees and Nick Bostrom, agonize over the existential risks to humanity that might obliterate us long before the sun dies. A school of thought has arisen over the End of Days. From Sophie McBain in the New Statesman (via 3 Quarks Daily):
"Predictions of the end of history are as old as history itself, but the 21st century poses new threats. The development of nuclear weapons marked the first time that we had the technology to end all human life. Since then, advances in synthetic biology and nanotechnology have increased the potential for human beings to do catastrophic harm by accident or through deliberate, criminal intent.
In July this year, long-forgotten vials of smallpox – a virus believed to be 'dead' – were discovered at a research centre near Washington, DC. Now imagine some similar incident in the future, but involving an artificially generated killer virus or nanoweapons. Some of these dangers are closer than we might care to imagine. When Syrian hackers sent a message from the Associated Press Twitter account that there had been an attack on the White House, the Standard & Poor's 500 stock market briefly fell by $136bn. What unthinkable chaos would be unleashed if someone found a way to empty people's bank accounts?
While previous doomsayers have relied on religion or superstition, the researchers at the Future of Humanity Institute want to apply scientific rigour to understanding apocalyptic outcomes. How likely are they? Can the risks be mitigated? And how should we weigh up the needs of future generations against our own?
The FHI was founded nine years ago by Nick Bostrom, a Swedish philosopher, when he was 32. Bostrom is one of the leading figures in this small but expanding field of study."