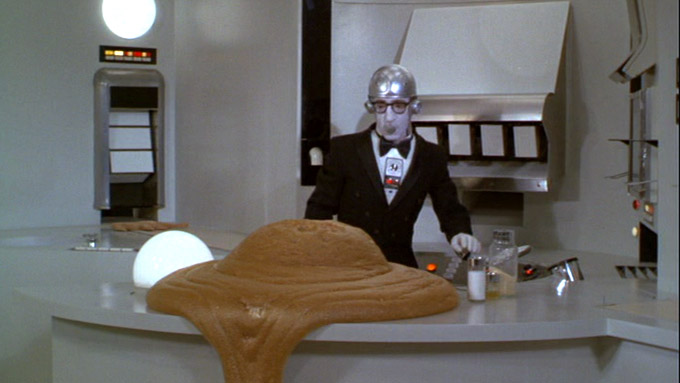 I don't know if it will happen within ten years–though that's not an outrageous time frame–but 3-D printing will automate much of the restaurant process, making jobs vanish, and will also be common in homes as prices fall. The opening of "Is 3-D Printing the Next Microwave?" by Jane Dornbusch at the Boston Globe:
"Picture the dinner hour in a decade: As you leave work, you pull up an app (assuming we still use apps) on your phone (or your watch!) that will direct a printer in your kitchen to whip up a batch of freshly made ravioli, some homemade chicken nuggets for the kids, and maybe a batch of cookies, each biscuit customized to meet the nutritional needs of different family members. 
It sounds like science fiction, but scientists and engineers are working on 3-D printing, and the food version of the 3-D printer is taking shape. Don't expect it to spin out fully cooked meals anytime soon. For now, the most popular application in 3-D food printing seems to be in the decidedly low-tech area of cake decoration.
Well, not just cake decoration, but sugary creations of all kinds. The Sugar Lab is the confectionary arm of 3-D printing pioneer 3D Systems, and it expects to have the ChefJet, a 3-D food printer, available commercially later this year. Though tinkerers have been exploring the possibilities of 3-D food printing for a few years, and another food printer, Natural Machines' Foodini, is slated to appear by year's end, 3D Systems says the ChefJet is the world's first 3-D food printer.
Like so many great inventions, the ChefJet came about as something of an accident, this one performed by husband-and-wife architecture grad students Liz and Kyle von Hasseln a couple of years ago. At the Southern California Institute of Architecture, the von Hasselns used a 3-D printer to create models. Intrigued by the process, Liz von Hasseln says, 'We bought a used printer and played around with different materials to see how to push the technology. One thing we tried was sugar. We thought if we altered the machine a bit and made it all food safe and edible, we could push into a new space.' More tweaking ensued, and the ChefJet was born."
___________________________
Walter Cronkite presents the kitchen of 2001 in 1967: