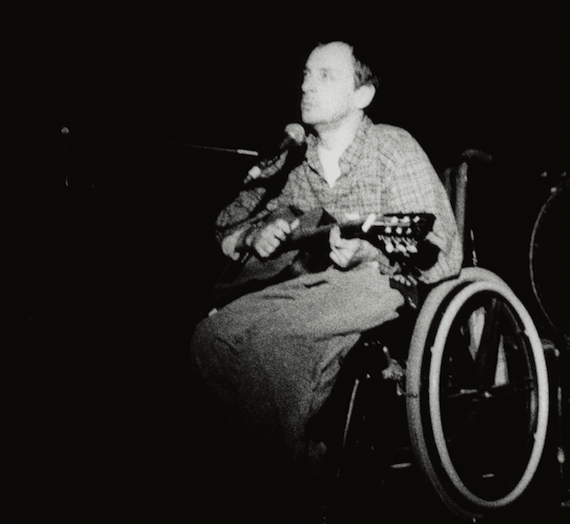 Because many are more driven by ideology than pragmatism, legislation like the Affordable Care Act isn't only measured by accomplishment but also by party affiliation. Close to seven million previously uninsured Americans will have health insurance at this year's deadline (and that's not counting those added to Medicaid). Sick people who were denied insurance or had their policies cancelled when they became ill are now protected. The number of uninsured has dropped sharply and spiralling healthcare costs have slowed for the first time in memory. In future years, as we get closer to the goal of 30 million newly insured, that number will likely be attended by a lot of job creation. Universal coverage may be the low-hanging fruit that can boost employment. But the GOP will run against Obamacare in the 2014 and 2016 elections, and it will resonate with some.
An excerpt from Terry Gross' 2009 interview with the late singer-songwriter Vic Chestnutt, whose was left largely paralyzed in a car accident while a teenager, and lived in debt his whole adult life because he wasn't able to get health insurance:
"Terry Gross:
So, what are your thoughts now as you watch the health care legislation controversy play out?
Vic Chestnutt:
Wow. I have been amazed and confused by the health care debate. We need health care reform. There is no doubt about it, we really need health care reform in this country. Because it's absurd that somebody like me has to pay so much, it's just too expensive in this country. It's just ridiculously expensive. That they can take my house away for a kidney stone operation is -that's absurd.
Terry Gross:
Is that what you're facing the possibility of now?
Vic Chestnutt:
Yeah. I mean, it could – I'm not sure exactly. I mean, I don't have cash money to pay these people. I tried to pay them. I tried to make payments and then they finally ended up saying, no, you have to pay us in full now. And so, you know, I'm not sure what exactly my options are. I just – I really – you know, my feeling is that I think they've been paid, they've already been paid $100,000 from my insurance company. That seems like plenty. I mean, this would pay for like five or six of these operations in any other country in the world. You know, it affects – I mean, right now I need another surgery and I've been putting it off for a year because I can't afford it. And that's absurd, I think.
I mean, I could actually lose a kidney. And, I mean, I could die only because I cannot afford to go in there again. I don't want to die, especially just because of I don't have enough money to go in the hospital. But that's the reality of it. You know, I have a preexisting condition, my quadriplegia, and I can't get health insurance.
Terry Gross:
Is it true you can't get good health insurance?
Vic Chestnutt:
I can't get – I'm uninsurable.•