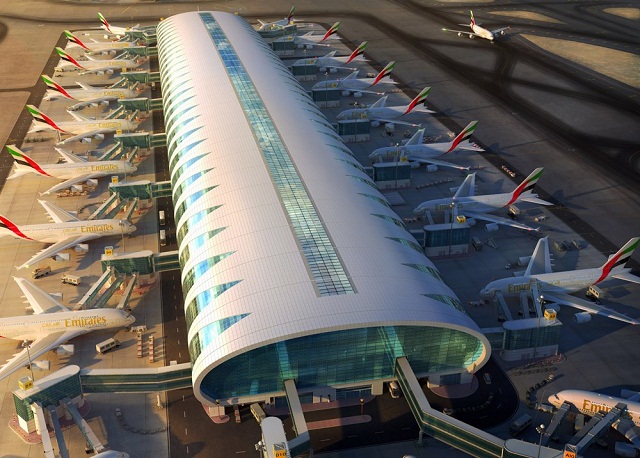 Petrotopias eventually run dry, so the key is to use the oil money to diversify the economy, and that's what Dubai has succeeded in doing with global air travel, though there have been pretty terrible human costs. From "The New Jet Age," Graham Boynton's curiously amoral Vanity Fair article on the topic, which somehow elides all mention of the abuse of workers that's fueled the building boom:
"The emergence of these carriers marks the fourth tectonic shift in international aviation since Pan Am's founder, Juan Trippe, democratized the industry in the early 1950s. Prior to Trippe's intervention, air travel was the domain of the ruling classes, and fares between the U.S. and Europe were fixed by the stodgy International Air Transport Association. However, in 1952, Trippe decided to introduce a tourist-class fare between New York and London and thus began a decades-long battle between free-market flying and cartel-led regulation that would see the rise and fall of carriers such as Sir Freddie Laker's Skytrain in the 70s and People Express in the 80s, along with the breakout success of Virgin Atlantic.
The second shift came with the arrival of the jet age, in 1958, the introduction of the Boeing 747 a little over a decade later, and then the 1978 deregulation of the U.S. airline industry. In the early days of mass air travel, national airlines such as Pan Am and TWA and flag-carrying European airlines (British Airways, Air France, Lufthansa) ruled the world through government-protected colonial-route networks. But as the colonies evaporated and new business models challenged regulation, the legacy U.S. behemoths began to fall. First Eastern, then Pan Am, then TWA.
Southeast Asia then heralded the third tectonic shift. Introducing high-quality, service-led air travel, airlines such as Cathay Pacific, Singapore Airlines, Thai, and the rest all flourished as the international business-travel market grew, and as the old-world airlines struggled to survive. These fleets provided more comfortable seating, particularly at the front of the cabins, and a level of in-flight service that Western airlines had failed to offer with any conviction since the 50s.
Now we are in the fourth age. U.S. airlines are merging and morphing into giant entities with large domestic networks and relatively small international reach, offering only passable amenities on rather old equipment. Meanwhile, the Gulf airlines feature quality service at a competitive price. Peter Morris, chief economist at the aviation consultancy firm Ascend, says that these carriers have now 'built enough critical mass to be a genuine threat to the traditional European airlines and in the near future to the Americans.'
'They say that Dubai is Shanghai on steroids,' notes [Emirates president Tim] Clark as he stares out of his office window in the terminal, admiring a row of gleaming Emirates A380s."