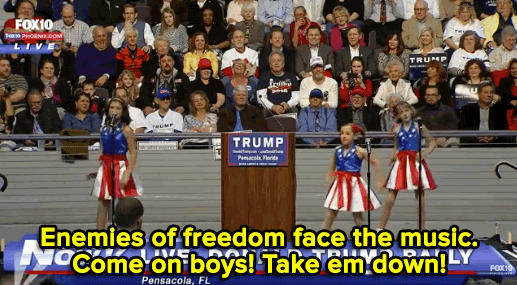 Donald Trump, the Kim Jong-un of casino bankruptcy, had largely played footsie with Ted Cruz even while excoriating all other GOP hopefuls. That changed recently, however, when the two most detestable of all the candidates began throwing haymakers at one another. Amusing to hear Trump play the likability card with Cruz, since the former Apprentice host has tried to not only connect with members of the 4-H club but also those in the 3-K club.
The most telling line of the entire GOP race was spoken before Trump and Cruz were torn asunder, when they still resisted attacking one another. The aspiring potentate said this of his Texan-Canadian competitor: "Everything I say, he agrees with me. No matter what I say." It was a tacit acknowledgement by Trump that he knew he was spouting crazy shit because he thought it would resonate with nativist voters he needed to float his cockamamie campaign.
Largely it has, at least with a sizable-enough swath of a frayed and divided party. It's been the Reality TV version of the political season, full of disgraceful taunts and pathetic posturing, and the question is if the show gets cancelled in Iowa and New Hampshire or if the season is sadly extended.
From Edward Luce's Financial Times column about the approaching American hour of reckoning:
Returning to America after a trip, I encountered a chatty immigration officer. "You guys should have finished off the crusades when you had the chance," he said as he handed back my British passport. In themselves such encounters mean little. But I have had many similar ones recently — and the plural of anecdote is data, as they say.

Within the next three weeks, we shall find out if the rise of Donald Trump is silly season froth that comes before voting, or whether we are in the midst of a dramatic upheaval in US politics. My head is agnostic. But my gut tells me things are changing for the worse. Either way, the time for speculation is nearly over.

The rest of the world is almost as obsessed about America's political health as the US. Every time I have been abroad in the past few months, people ask the same question: "Could Donald Trump be president?" The answer is probably not. But it comes with a strict health warning. More seasoned observers have been wrong about US politics in the past year and show few signs of lifting their batting average.

In spite of that, the consensus holds that Mr Trump will not be the Republican nominee. Should he become so, he would lose the presidential election. If, by some miracle, he won it, he would make a disastrous president. The next question is: "What is fuelling Mr Trump's popularity?" (And for better informed foreigners, that of Ted Cruz too.) This is the issue that matters most.•