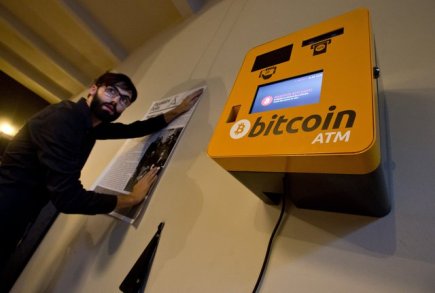 The opening of Tuan C. Nguyen's Washington Post piece about Paralelní Polis, a Czechoslovakian cafe opened by crypto-anarchists in which the coin of the realm is virtual:
"Step inside the newest coffeehouse on Dělnická street in Prague and it doesn't take long to notice that something's amiss. There's no cash register, nor a counter where customers would typically form a line.
Instead, you'll find a long, wood slab table situated ever so slightly towards the left side of the room, where a wide selection of pastries, along with menus, plates, cups, utensils, jugs of water and an expresso machine can be found neatly laid out in the open.
Oddly enough, there's something about the arrangement that's refreshing, and at the same time, a bit disconcerting. Upon passing through the first time, my initial reaction was to quickly scan the room for any apron-wearing employee. And as the confusion intensified, so did the urge to grab a cup and, heck, whip up a latte myself.
Just as I began mulling over that very notion, a gentlemen with a tightly-trimmed beard and who looked to be in his 20's, got up from a nearby table, where he had been seated with a couple of young women, and walked over to greet me.
'I know the set-up can be sort of disorientating, but that's the whole point,' Michal Navrátil, operations manager and part-time barista, assured me. 'The idea is that by not having uniforms, we also get rid of the imposed separation between patrons and workers.'
Paralelní Polis, which in Czech means 'Parallel World,' is known mostly for being perhaps the world's first bitcoin-only cafe. All transactions — from wages to point of sale — are processed virtually, using one of the most well-recognized cryptocurrencies. More broadly though, the recently-renovated space, which includes a co-working room and hacker space, was conceived as way to demonstrate on a micro level how an entirely decentralized society might function."