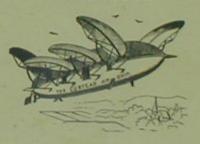 There were quite a few fliers who claimed to have solved aviation sooner than the Wright brothers–Gustave Whitehead and Samuel Pierpont Langley and many more–but only one was a cousin to Buffalo Bill Cody and died while cooking naked, a recluse in Hawaii. His name was W.D. Custead. As the Texas Reader recalls, the end was bitter for the once-enterprising aviator:
"On March 17, 1933 a Hawaiian newspaper reported that the Hermit of Nankuli had been found dead in his shack. He was known for living in almost absolute seclusion and being hostile to visitors. Those who did chance to visit were shocked to find that he wore no clothing when at home.
What readers of the Hawaiian newspaper didn't know was that this ignominious end was not William Custead's only fifteen minutes of fame. Thirty-five years earlier newspapers across Texas were celebrating his prowess as an inventor."
Custead presented his airship plans to the War Department in 1899 and then continued to tinker with his flying machine. In 1903, the Wrights won the race to the sky (though some wonder), and the foiled, despondent aviator responded by walking out on his family and becoming an itinerant, ultimately landing in Hawaii.
A brief article follows from the April 13, 1900 Brooklyn Daily Eagle about Custead before his dreams nosed down.