Speaking of technologies that were amazing but slow to slay the market, the phonograph was initially disappointing commercially, even if Thomas Edison was something of a smash when he (remotely) demonstrated his "talking machine" in England in 1888. It was a forerunner for later jaw-dropping demos by Edwin H. Land, Douglas Engelbart and Steve Jobs. An article in the August 15 New York Times of that year reported that "Edison" awed London society.
Thomas A. Edison was given a very handsome reception this afternoon by Col. Gourand at his beautiful villa, Little Menlo, at Upper Norwood, in Surrey. A large number of ladies and gentlemen gathered there to meet the distinguished inventor of America. The reception included a dinner, lasting from 3 o'clock to 8 o'clock. Under the inspiring influence of popular appreciation Mr. Edison made a speech, in which he dwelt first upon his first visit to England, 18 years ago, and then devoted himself to a humorous criticism of English politics and climate. He then proceeded to amaze the company by reciting 'Bingen on the Rhine,' and winding up with a most extraordinary whistling spasm. Then he sang a funeral march, and without waiting for an encore gave 'Mary had a little lamb.' He told funny stories, and, in fact, conducted quite a variety entertainment all by himself. Mr. Edison was not entirely present, but he was not entirely absent, and the perplexity of the company over the human voice and its absent owner, 3,000 miles away, was very great.

Mrs. Alice Shaw, who has quite conquered London, whistled for the perfected phonograph, and it whistled back quite as brilliantly as she did. A large number of the guests were presented to Mr. Edison via the phonograph, each making a short speech to him suitable to the occasion. When the company was breaking up three rousing cheers were given for Edison, with a tiger and long clapping of hands. The effect, when the cheers and applause were repeated a moment later, was funny in the extreme. All the introductions, whistling solos, British cheers, &c., dryly recorded on the wax cylinders, will be taken to America by Mr. W. H. Crane of 'The Henrietta.' When they arrive Mr Edison will find that he has a lot of acquaintances who know him very well by voice but not by sight. The reception was an exceedingly novel one, and the new machines, with their perfect articulation, excited wonder, reaching in many cases to amazement.•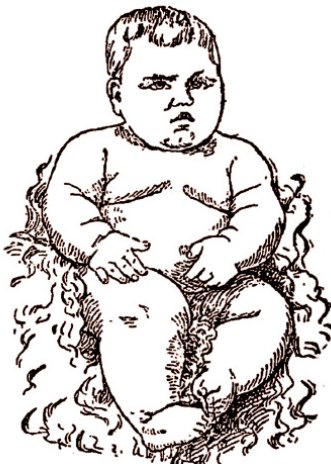 One enterprising nineteenth-century Brooklyn undertaker, however, found a novel use for the new contraption during the funeral of young freak-show performer, Augusta "Fat Baby" Burr. An article in the August 18, 1895 Brooklyn Daily Eagle described the unconventional ceremony.