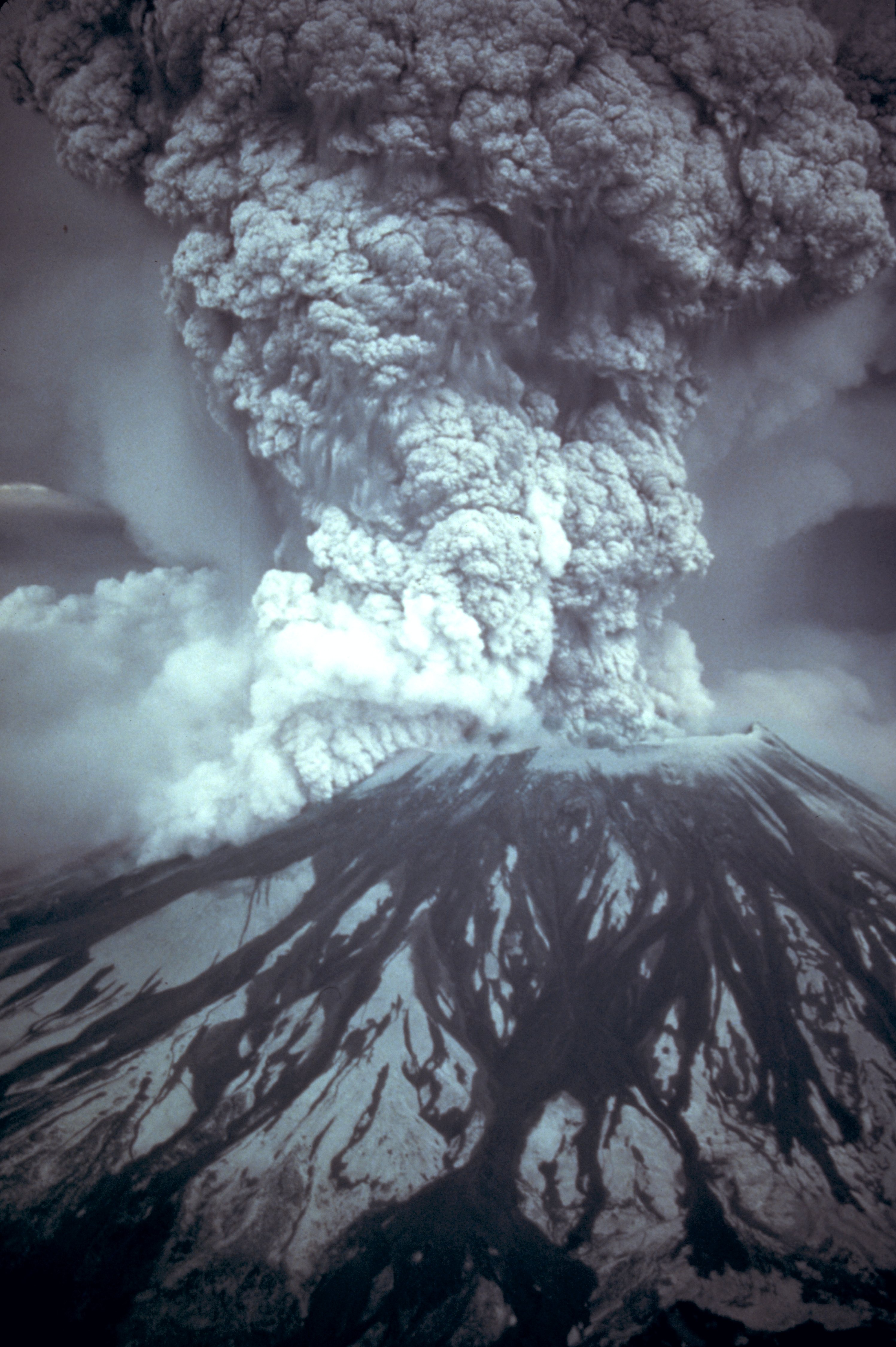 A couple months before its historic eruption on May 18, 1980, Mount St. Helens began to slowly awaken. Tourists toting binoculars went to the mountain to get a better look, but some experts warned them to not expect too much, predicting it very unlikely to be a major geological event. The experts were wrong. From the April 21, 1980 People magazine:
It was hardly Vesuvius or Krakatoa, but when Mount St. Helens—near Washington's border with Oregon—began to gurgle seriously last month, geologists and thrill-seekers gathered from all over the world. They hoped to see one of the rarest and most spectacular of nature's performances: a volcanic eruption. Not since Mount Lassen in California began seven years of activity in 1914 has a volcano in the lower 48 states put on such a show. Still, some watchers may be disappointed by Mount St. Helens. "People have this idea about lava from old South Sea movies," says Donal Mullineaux, a volcanologist in the U.S. Geological Survey, "with everybody in sarongs hotfooting it away from this smoky, glowing stuff that comes oozing out of the crater and down the mountain like cake batter. Lava can be dangerous, sure, but that's only a part of it."

The rest of it—clouds of poisonous gas, searing hot winds and cascades of mud and rock—now seems unlikely at Mount St. Helens. Mullineaux, who had predicted an eruption in a scholarly 1975 article, is maintaining a vigilant calm. "The probability of a big, big eruption is very low," he says. Asked if the gases already escaped pose a pollution threat, he smiles and says, "Any comment I could make would be facetious. I grew up in a paper-mill town."•
The CBS News report three days after the volcano blew, with Dan Rather and his folksy whatthefuck subbing for Walter Cronkite.
_________________________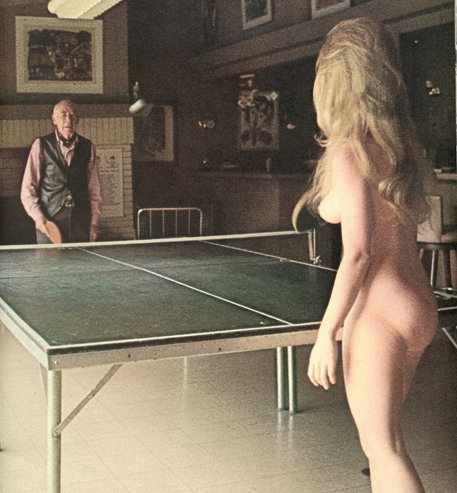 Most men (and women) lead lives of quite desperation, but from Brooklyn to Big Sur Henry Miller hollered. That resulted in some genius writing and some considerably lesser material. In 1961, the author explained in a Paris Review interview how he believed his tools shaped his writing:
Paris Review:

Do you edit or change much?

Henry Miller:

That too varies a great deal. I never do any correcting or revising while in the process of writing. Let's say I write a thing out any old way, and then, after it's cooled off—I let it rest for a while, a month or two maybe—I see it with a fresh eye. Then I have a wonderful time of it. I just go to work on it with the ax. But not always. Sometimes it comes out almost like I wanted it.

Paris Review:

How do you go about revising?

Henry Miller:

When I'm revising, I use a pen and ink to make changes, cross out, insert. The manuscript looks wonderful afterwards, like a Balzac. Then I retype, and in the process of retyping I make more changes. I prefer to retype everything myself, because even when I think I've made all the changes I want, the mere mechanical business of touching the keys sharpens my thoughts, and I find myself revising while doing the finished thing. 

Paris Review:

You mean there is something going on between you and the machine?

Henry Miller:

Yes, in a way the machine acts as a stimulus; it's a cooperative thing.•
Robert Snyder's deeply enjoyable 1969 documentary of Miller in his middle years, when he had befriended, among many others, astrologer Sydney Omarr, a relationship which helped the author indulge his curiosity in the occult.
_________________________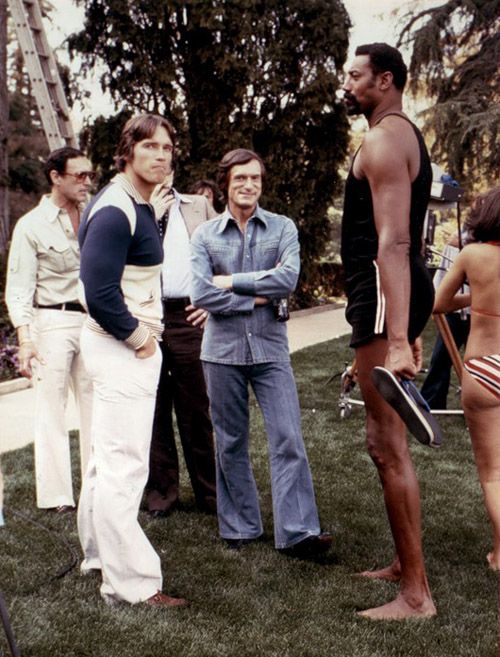 Wilt Chamberlain was a hybrid of topdog and underdog, fully aware that all his greatness could never make the public quite love a Goliath. To merely be himself was to be unfair. In Allen Barra's 2012 Atlantic appreciation of the late NBA, volleyball and track & field star, the writer compares the legendary basketball player favorably with Babe Ruth, and recalls the humble environs in which he recorded the NBA's only triple-digit scoring performance. An excerpt:
The celebration of Wilt Chamberlain's career that accompanied the 50th anniversary of his 100-point game last weekend was too short and passed too quickly.

Wilt Chamberlain was the Babe Ruth of pro basketball. Like Ruth, he was by far the most dominant force in his time, and quite possibly of all time. Like the Babe, Wilt was the lightning rod for interest in the sport in a time when it was badly needed. In Chamberlain's case, he was more important to basketball than Ruth was to baseball.

Contrary to popular opinion, baseball was doing quite well at the turnstiles when Ruth came along and would have survived the stink of the Black Sox gambling scandal with or without him (though the recovery certainly would have taken longer). But without Wilt, who knows if the NBA would have made it from the 1960s—when it was scarcely one of the big three pro sports behind baseball and football—to the Magic Johnson-Larry Bird boom of the late 1970s and the Michael Jordan tidal wave a few years later?

If you doubt this, consider one extraordinary fact: Wilt played his 100-point game not in New York or even in the Warriors' home city of Philadelphia but in an odd-looking, plain concrete barn-like structure with an arched roof in Hershey, Pennsylvania, where the Warriors played several games a year in order to increase a fan base that wasn't showing them overwhelming support in Philly.

Try and imagine the equivalent in baseball: Babe Ruth hitting his 60th home run in, say, Newark, New Jersey, at a Yankees "secondary" park in front of a handful of fans. If not for an unknown student listening to a late night rebroadcast of the game who thought to tape the fourth quarter on a reel-to-reel, we'd have no live coverage of the game at all.

Chamberlain's triumph came at the Hershey Sports Arena. Today the HersheyPark Arena looks virtually the same, a practice facility for the AHL's Hershey Bears and home ice for a local college that is also open for public skating. It's easy to miss the notices that here Chamberlain played his landmark game: a small sign on a pole outside the main gates and a copy of the photo of Wilt holding up the handmade "100" in the back side of the lobby.

There is one primary difference between the careers of Babe Ruth and Wilt Chamberlain: Ruth was—and is—regarded by most baseball analysts as the greatest player in his game. But basketball people have never quite been able to make up their minds about Wilt.•
Ed Sullivan interviews Chamberlain soon after his heroics in Hershey.