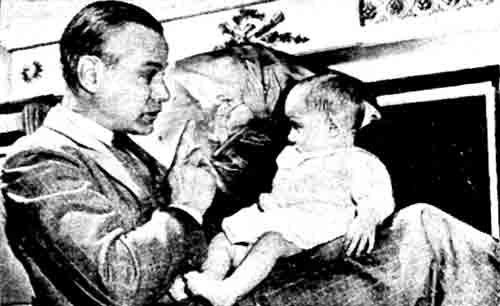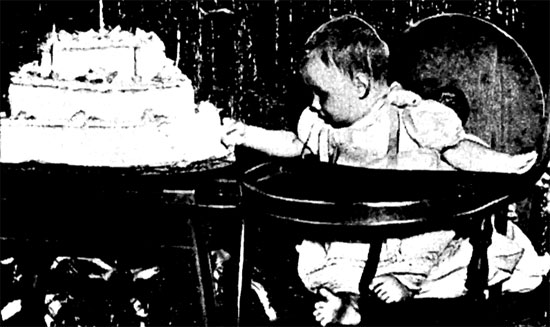 Joy, peace and a vegetable diet are ingredients of a good life but not a prescription for an everlasting one. James B. Schafer, however, disagreed.
The leader of a Long Island sect, Schafer believed that positive thinking and vegetarianism from birth would not just delay death but defeat it. To prove his point, he and his followers adopted the baby of a struggling waitress in 1939 and announced that the cult's child-rearing methods would make her immortal. The plug was pulled on the delusional plan a year later when the birth mother sued to regain custody. In 1942, the metaphysician was sentenced to a stint in Sing Sing for larceny. In 1955, Schafer and his wife guaranteed that they would definitely not enjoy days without end when they committed a double suicide.
From an article in the November 25, 1939 Brooklyn Daily Eagle which detailed the short-lived immortal baby experiment (a story also covered by the New Yorker):
"Oakdale--Chubby, red-headed Baby Jean, five-month-old girl adopted by the Royal Fraternity of Master Metaphysicians, gurgles complacently in her crib in the mansion-headquarters of the Fraternity completely unconcerned over the fact that she has been designated a candidate for immortality.
The baby's parents, too poor to bring her up, asked the organization to care for her. Members of the cult, headed by James B. Schafer, have determined not only to bring her up–but to give her eternal life.
EMPHATIC IN BELIEF
Schafer, who, in his new role of foster-daddy, tucks Jean into bed each night, seemed to feel that the aims of the metaphysicians might be difficult for non-believers to understand, but he was emphatic that 'immortality' for Jean means eternal physical life as well as immortality of the soul and mind.
The metaphysician explained that illness and disease are the result of destructive thinking and destructive forces.
'The child shall be raised in an atmosphere of complete joy, peace and happiness, where people do not talk of the destructive side of life, but the constructive,' Schafer said. 'Man has a right to immortality of body as well as of soul and mind. We shall work with Jean to express that right.'
70 HER GUARDIANS
The blue-eyed girl, meanwhile, has begun her apprenticeship in eternal life according to the rules of metaphysics. Cared for by the 70 students lodging at Peacehaven and supervised by a trained baby nurse, Jean each day attends classes in metaphysics along with her elders. When she is graduated from her present earthly formula of quite ordinary baby food, she will become a strict vegetarian, with eggs, meat, and fish barred from her diet.
The little girl's playground is the luxurious estate which formerly belonged to W.K. Vanderbilt and was taken over as headquarters for the metaphysicians.
MYSTERY THROUGH AGES
The impulse to seek proof of immortality, or exemption, from death, has been the concern of philosophers from Socrates and Plato down through the ages, but most have been content to concede the inevitable dissolution of the body in reasoning immortality of soul and mind through reabsorption in the universal life, reincarnation, and continuance of the soul in the hereafter, the thesis upon which the Hebraic and Christian religions are founded.
The Orphic mysteries proclaim the body 'in its limited and perishable condition is no fit organ, but a grave or prison for the soul.' Through special care, according to metaphysical doctrines, the cult will attempt to solve the mystery of physical death, and give Baby Jean immortality of body as well as soul."