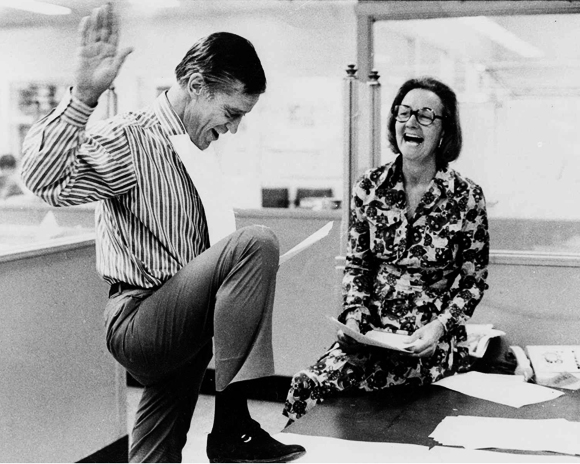 Rupert Murdoch said recently that he believes the New York Post will still exist in ten years, if in a digital form. It's difficult to imagine a scenario where that's possible. Most newspapers won't survive the transition to the Digital Age, obviously, though dissemination of high-quality news reporting will likely continue. From Michael Kinsley's new Vanity Fair piece, "Front Page 2.0," in which he argues the same even if he's as short on particulars as I am:
"It's not true that the publishers have just stood by while the Internet has stolen their business. Way back in 1981, the American Newspaper Publishers Association, under its leader that year—Katharine Graham, the C.E.O. of the Washington Post Co.—made a big lobbying push for a law forbidding AT&T, then a government-sanctioned telephone monopoly, to sell classified ads electronically. The publishers argued that the telephone company's monopoly guaranteed the company profits that it could then use to subsidize the development of an electronic Yellow Pages, which would threaten one of their most profitable products, classified ads.
It was a bold argument. The newspaper industry had a higher rate of return on its investment than the phone company did. Nevertheless, the publishers were correct in seeing classified ads as the first thing they would lose as their business went online, though they missed the fact that the telephone company itself was about to be split into little bits and that it was some guy named Craig who would take this particular profit center from them.
Although it is hard to believe now, when The Washington Post can be bought by Amazon's Jeff Bezos for pocket change of $250 million, but just 15 or 20 years ago, before the commercial arrival of the Internet, there was no sweeter sinecure in American capitalism than owning the one newspaper in a one-newspaper town. And cities as large as Los Angeles and Washington had effectively become one-newspaper towns. It was heaven: you could earn huge monopoly profits from advertisers like the big department stores, which had nowhere else to go. You were automatically a civic leader. And if you got bored, or your family needed cash, you could sell out to Gannett, which always stood ready to gobble up monopoly newspapers and lower the tone. At symposia and seminars on the Future of Newspapers, professional worriers used to worry that these monopoly or near-monopoly newspapers were too powerful for society's good.
It couldn't go on, and therefore it didn't."