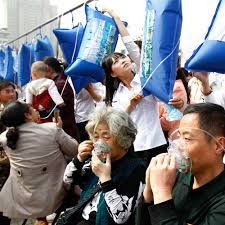 China remaining under authoritarian rule may be great for the environment. Seems odd, right? One of the government's chief fears is that pollution caused by the nation's hasty mass urbanization might lead to rebellion, so we'll likely see large-scale green innovation until the situation is markedly improved. In the case of this one country, the world's most populous, oppression may have an unintended positive consequence. Strange planet, isn't it?
It's still surprising that capitalism's rise in China hasn't been attended by a growth of democracy. From John Osburg's Foreign Affairs review of the new book on the topic by Evan Osnos:
"Meanwhile, although growth has created a middle class of sorts and even an upper crust of very wealthy Chinese, neither group has followed the anticipated script. For the most part, the new middle class seems too preoccupied with the intense pressures of owning a home and raising a child in a hypercompetitive society to get involved in politics. As for the new rich, they have hardly pushed for a fairer and more representative government to protect their new prosperity. Instead, most of them have been co-opted by the Communist Party — or have simply emigrated to countries with more reliable legal systems. 
Perhaps most telling, today young Chinese across the socioeconomic spectrum exhibit almost none of the political fervor that led thousands of students to take to the streets in 1989. China's educational system has fed the country's youth a steady diet of patriot-ism to ward off rebellious thoughts. But such measures appear almost redundant, since many young Chinese seem more interested in buying iPhones and Louis Vuitton products than in fighting for democratic change. 
On the surface, then, the prediction that Chinese economic and political reform would go hand in hand seems not to have panned out. In truth, however, the story is more complicated. As Evan Osnos suggests in Age of Ambition, the optimistic view of China's evolution wasn't entirely wrong; it merely relied on a conception of politics too narrow to capture a number of subtle but profound shifts that have changed China in ways that are not always immediately visible. In his riveting profiles of entrepreneurs, journalists, artists, dissidents, and strivers, Osnos discovers the emergence in Chinese society of something even more fundamental than a desire for political representation: a search for dignity."