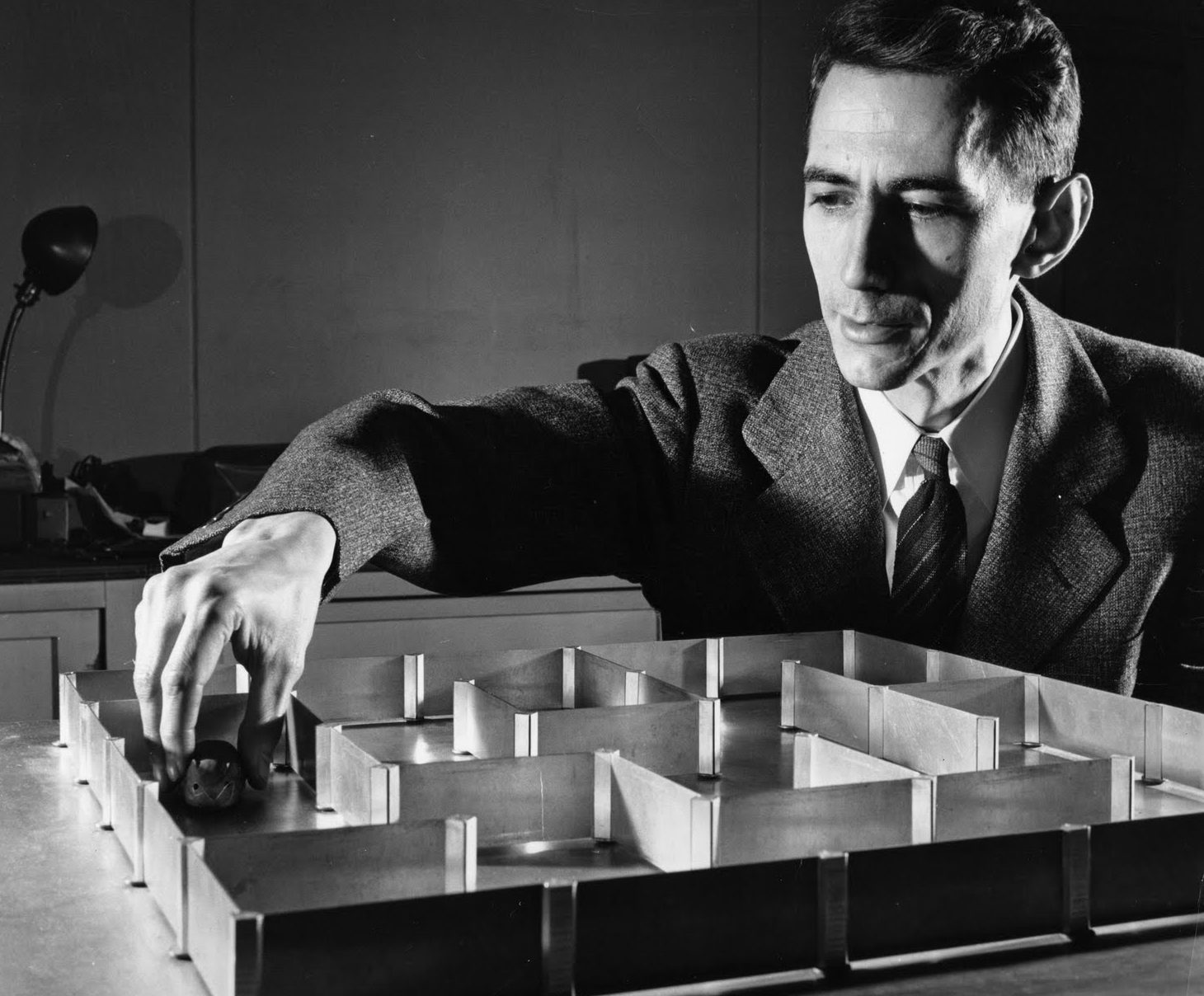 As the Google Doodle attests, Claude Shannon, the Bell Labs mastermind who did his best to invent the Information Age, would have turned 100 today. Shannon's co-workers were often years ahead of the curve, but he was working decades in the future. In addition to knowing what the world would look like generations in advance, Shannon, a wisp of a man, was deeply eccentric and fond of games and parlor tricks. He designed the first computer chess program and the initial computerized mouse that "learned" more every time it went through a maze. (Like this, but 60 years ago.)
Two excerpts about him are embedded below. The first is a passage from Joel Gertner's The Idea Factory in which recalls how the scientist's wife, Betty, would struggle to come up with ideas for presents for her spouse, because what do you get for the man who has everything–in his head? The second is the abstract from a paper by Edward O. Thorp, a mathematics professor who lives to bring down the house–the house being a casino. He's focused a sizable portion of his career on probability in betting games, and in 1955 he created, in tandem with Shannon, what is considered the first wearable computer. The device, which was contained in a shoe or a cigarette pack, could markedly improve a gambler's chance at the roulette wheel, though the bugs were never completely worked out.
---
From Gertner:
One year, Betty gave him a unicycle as a gift. Shannon quickly began riding; then he began building his own unicycles, challenging himself to see how small he could make one that could still be ridden. One evening after dinner at home in Morristown, Claude began to spontaneously juggle three balls, and his efforts soon won him some encouragement from the kids in the apartment complex. There was no reason, as far as Shannon could see, why he shouldn't pursue his two new interests, unicycling and juggling, at Bell Labs, too. Nor was there any reason not to pursue them simultaneously. When he was in the office, Shannon would take a break from work to ride his unicycle up and down the long hallways, usually at night when the building wasn't so busy. He would nod to passerby, unless he was juggling as he rode. Then he would be lost in concentration. When he got a pogo stick, he would go up and down the hall on that, too.

Here, then, was a picture of Claude Shannon, circa 1955, a man–slender, agile, handsome, abstracted–who rarely showed up on time for work, who often played chess or fiddled with amusing machines all day; who frequently went down the halls juggling or pogoing, and who didn't seem to care, really, what anyone thought of him or his pursuits. He did what was interesting. He was categorized, still, as a scientist. But it seemed obvious that he had the temperament and sensibility of an artist.•
---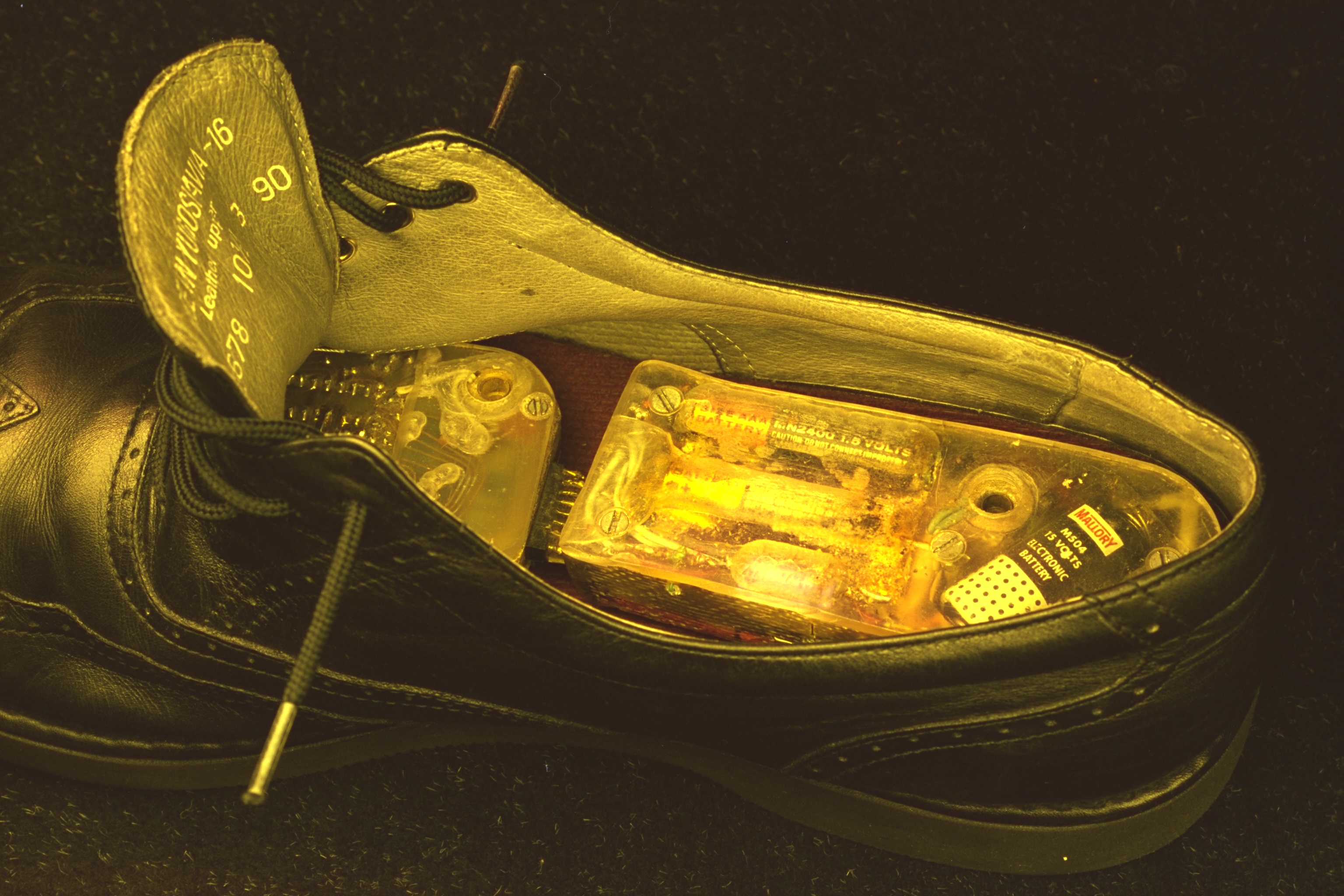 From Thorp:
The first wearable computer was conceived in 1955 by [Thorp] to predict roulette, culminating in a joint effort at M.I.T. with Claude Shannon in 1960-61. The final operating version was rested in Shannon's basement home lab in June of 1961. The cigarette pack sized analog device yielded an expected gain of +44% when betting on the most favored "octant." The Shannons and Thorps tested the computer in Las Vegas in the summer of 1961. The predictions there were consistent with the laboratory expected gain of 44% but a minor hardware problem deferred sustained serious betting. They kept the method and the existence of the computer secret until 1966.•
Thorp appeared on To Tell the Truth in 1964. He didn't discuss wearables but his book about other methods to break the bank. Amusing that longtime NYC radio host John Gambling played one of the impostors.