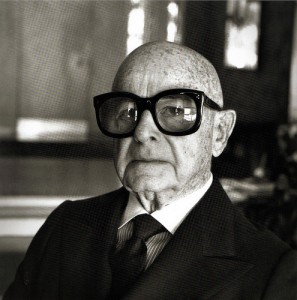 Irving "Swifty" Lazar, whose entire head was made of bifocals, was a lawyer who learned you could make a killing as an agent if you held fast to situational ethics. From Harry Minetree's 1975 People article about Lazar, as he had just closed a book deal for a disgraced Richard Nixon and had agreed to let the former President sit for an interview with David Frost:
"On a bright morning last August, Irving Paul (Swifty) Lazar, the literary agent, was having breakfast beside the pool at his Beverly Hills home when the telephone interrupted. It was Ron Ziegler, ex-President Nixon's ex-press secretary, calling from San Clemente. Mr. Nixon, Ziegler said, was eager to see Lazar to discuss 'some business.' Lazar, who had a pretty good idea what the business was, crisply replied that he was leaving for Europe shortly, but he would be happy to see Mr. Nixon upon his return.
On August 31 the dapper, billiard-bald Lazar and Nixon met over a three-hour lunch at San Clemente. Afterward, agent Lazar returned home in his black limousine with the exclusive rights to sell the former President's memoirs in his attaché case. No matter that Swifty, a lifelong Democrat, had been an indefatigable fund-raiser for John F. Kennedy. Or that his Washington representative, Ann Buchwald, the wife of political satirist Art Buchwald, quit as a result of the Nixon deal. There was a buck to be made, in fact millions of bucks and, true to the 10-percenters' code, Lazar had a flexible philosophy to suit the occasion: 'In a deal you give and take. You compromise. Then you grab the cash and catch the next train out of town.'
Not many literary agents can afford to be so candid about their modus operandi. But then not many of them can afford a California mansion with genuine Picassos, Roualts, Chagalls and Dalis on the walls, a Rolls-Royce and a Mercedes in the garage, an elegant pied-a-terre in New York, offices in Beverly Hills, New York, London, Paris and Rome, $40,000-a-year phone bills and a custom-made wardrobe. There is only one 'Swifty'—a soubriquet Humphrey Bogart laid on him after Lazar acquired three hot screen properties for him in the space of 24 hours—and indeed there is hardly room for more than one Swifty in the agents' trade.
With characteristic speed, Lazar put together a package for Nixon: he sold the paperback rights to the book, which will probably appear in three volumes, to Warner Paperback Library for $2.5 million, the television rights for a Nixon interview to David Frost for another $750,000 and is asking for a hard-cover advance in the neighborhood of $1 million. (Although Lazar says Nixon was persuaded to accept Frost's proposition because of the 'interesting approach,' the word around Hollywood is that the interesting approach was simply the highest bid.) Still to be negotiated are foreign rights, book clubs, a possible movie and other spin-offs that will propel the former President back into millionaire status and guarantee Swifty Lazar fees well in the area of half a million. Even so, Lazar went through considerable soul-searching before he decided to represent Nixon. 'He asked the advice of everyone he knows,' says Art Buchwald. 'But it's probably for the best. When a politician gets in trouble he deserves the best lawyer and the best literary agent around. You use the agent to pay the lawyer—that's the way it goes.'
Nixon represents only the latest in Lazar's ledger of famous, infamous, literary, political and showbiz clients. Over the years, he has represented Hemingway, Ira Gershwin, Truman Capote, Clifford Odets, Vladimir Nabokov, Neil Simon, Herman Wouk, Lerner and Lowe, John Huston, Edna Ferber, Buchwald, Noël Coward and Richard Rodgers, among others."