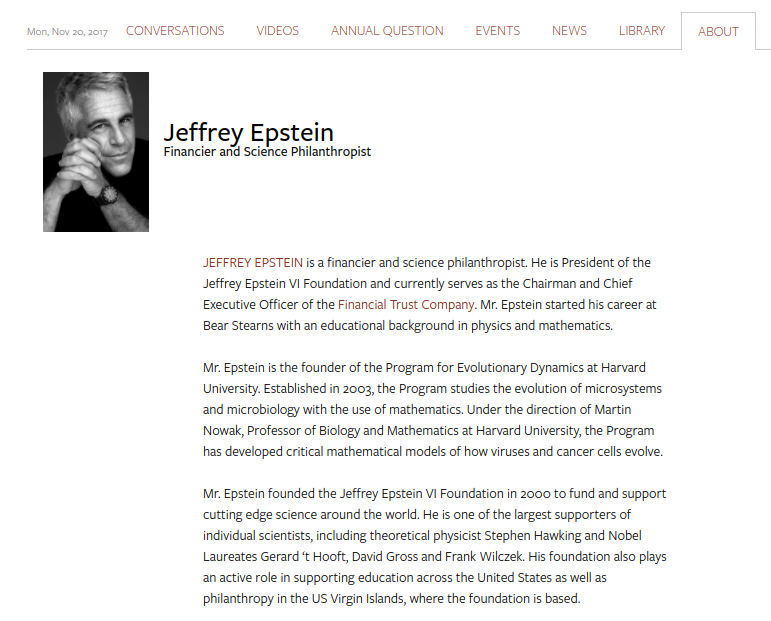 Came across "3 Days in the Future," a 2002 New York Times article about the then-12-year-old TED Conference, and it led me down a very disquieting Google black hole. Jeffrey Epstein, friend of Donald Trump, Bill Clinton and Woody Allen, was mentioned in the piece, which isn't surprising since at that point he was mostly recognized as a billionaire supporter of cutting-edge science. A few years later, the public knew him better than that and much of what was revealed was terrible.
Epstein's public generosity was at least partially a cover for his evil deeds, as he was investigated beginning in 2005 for sex crimes involving children. He ultimately plead guilty to soliciting underage girls for prostitution and spent 13 months in prison, which seemed like an incredibly fortunate outcome for him and one that didn't come close to justice. It's been further reported that he reached settlements with some of his accusers for an amount over $5 million, and in one of these cases he was accused of operating an underage sex-abuse ring. Another of his alleged victims is currently suing in regards to sex-trafficking.
What I discovered when I did some simple search-engine work is that the Edge Foundation, according to its own site, continues to this day to maintain the registered sex offender as a full member. His Edge bio declares that Epstein enjoys conducting "philanthropy in the U.S. Virgin Islands," without mentioning what else he's been accused of conducting there.
Certainly, Edge.org does lots of interesting work in science and technology under founder John Brockman's editorial guidance, but I wonder how many members of the think tank, lots of them truly good and brilliant people, know about Epstein's continued participation.
It's possible that this is an old page that's simply never been removed from the Internet—one would hope so—though Epstein's personal site also lists him as an active member.•