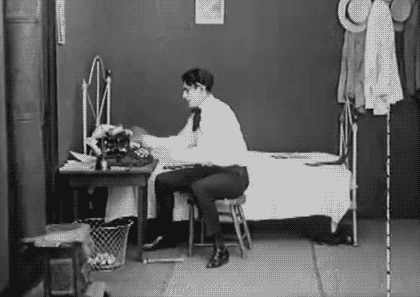 It's certainly possible with current technology to automate many McJobs, including ones at McDonald's and other fast-food restaurants, but robotization is slowed when cheap human labor makes the price point for transition too dear. That's the argument used by those trying to suppress worker wages, keeping them so low that FT employees often need to be subsidized by federal-assistance programs. There has to be a better way than a choice between sub-subsistence pay and technological unemployment, and it's likely a political solution.
People who serve up sentences are becoming as prone to this phenomenon as those who sling hash, with prose on paper and screen alike unsupported by the new advertising reality. The print ad was always an inexact science, but it was a bubble that took a century to burst. We've yet to find a formula that will support 21st-century written media for even a day.
Complicating matters even further is the sleepless army of amateur scribes churning out endless copy for Facebook and other social-media giants. I've said it before, but Mark Zuckerberg's media-swallowing behemoth would be by far the biggest sweatshop in the history of the world, except that even those grimy outfits pay at least a pittance. Perhaps much of newswriting could theoretically soon be automated, but who needs the machines when we have the "wisdom" of the crowds? The fans have rushed the stage and taken over the show.
Eventually, I assume we'll have largely a hybrid of human drones sending out paragraphs of varying length and quality, with computers supplementing the output. Some privileged people will remain tapping on keyboards to do high-level work for a salary, but their numbers will be puny. Let's face it: The privileged have always been few, but their ranks will be significantly thinned.
From Zam EIC Laura Michet's Twitter feed:
Tags: Laura Michet