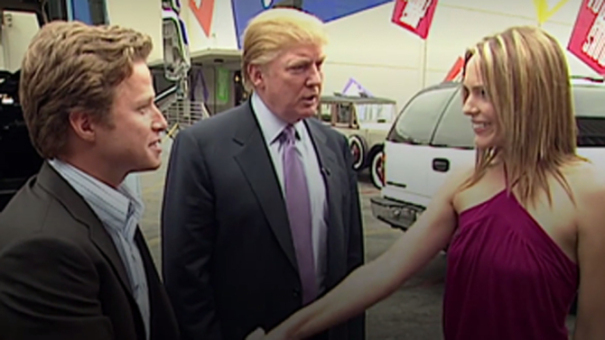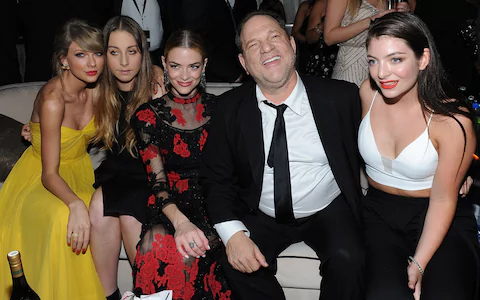 Several of America's most prominent institutions are simultaneously collapsing before our eyes. That's likely mostly for the good, ultimately.
The gravest danger is in Washington, of course, where a Manchurian Russian candidate made his way to the White House with a Putin push and is sick enough to be willing to destroy democracy to save himself. A complicit, corrupt Republican Congress seems intent on allowing the Simon Cowell-ish strongman to do just that. Only Robert Mueller's team and tens of millions of citizens can prevent such an outcome. One way or another, the whole thing is coming down and Trump will be covered in disgrace. The shape the rest of us will be in is TBD.
After Weinstein, Hollywood is also on the chopping block, with a century-old studio like Warner Brothers potentially facing an ignominious death thanks to the perpetually predatory behavior of Brett Ratner. Weinstein, Ratner, Toback and Spacey are almost definitely only the first names on the list, with the film and music business scandals just beginning. There are numerous movie and record company execs and stars on Ratner's professional level (or higher) who've long been rumored to have behaved as badly or far worse. As it concerns the children in show biz, all it would take is one former tween performer to name A-list names to cause an earthquake. And these outrages have a chance to reverberate far beyond entertainment circles, ensnaring any number of politicians and financiers who move in these moneyed circles.
Silicon Valley isn't vanishing anytime soon, but it's clear now the industry is either too inept or too unwilling to enact a course correction in the wake of Kremlin interference in our election. Furthermore, the community is betting a big part of its future on a surveillance capitalism that has already become part of the firmament but is only in the foundational stage. Oversight is desperately needed, and for the first time it seems like it may come to fruition.
The media is also faltering, but some of the reasons are troubling. It's great to see Ailes, O'Reilly, Halperin, Wieseltier and other shitty media men get their comeuppance, but the seismic shift from print to the Internet is still an existential threat. Let's remember that it wasn't tweets or likes that began the cascading Harvey Effect but rather two pieces of exorbitantly expensive journalism produced by the New York Times and the New Yorker, a pair of the country's legacy reporting companies. There is no cheap substitute in a healthy democracy for this kind of work, though that's what we're being offered more and more.
Wall Street so far has remained unscathed by the tottering of these other sectors, which I guess is fitting, seeing how uncoupled it's become from Main Street. There's no guarantee, however, that this raft of scandals won't also cause it to crater.
Janice Min is correct, I think, when she says Weinstein finally being defenestrated from the penthouse is the result of a serial sexual predator like Donald Trump and his anti-woman agenda landing in the Oval Office. While that may have been the original impetus, the landslide has now taken on a life of its own. Much of this was long overdue, but there will be collateral damage. Let's hope liberal governance is not among the casualties.
From Stella Bugbee's latest Editor's Letter at "The Cut":
I want to feel less furious. Less unsettled. I want to write a novel about an ordinary man in a mid-level position of power who knew he had abused women and was waiting to be outed. I want to capture the twilight of uncertain fear, the swirling cesspool of anger and panic he must be swimming in for the first time and the denial necessary for him to have carried on with his life all along.

I want to understand what men know about WANTING. Because men know about wanting. Men have been told for their whole lives that to be a man means to take and do what they want. I retain so few specifics from what I read in high school, but for some reason I have never forgotten this bit from Saul Bellow's Henderson the Rain King:

"Now I have already mentioned that there was a disturbance in my heart, a voice that spoke there and said, I want, I want, I want! It happened every afternoon, and when I tried to suppress it got even stronger. It said only one thing, I want, I want! And I would ask, 'What do you want?' But this is all it would ever tell me."

That voice told Mark Halperin to rub his boner on unsuspecting female assistants. It told Harvey Weinstein to jerk off into a potted plant, among other things. And Bellow told me what I was already beginning to understand: Men want what they want, and that wanting is more powerful than what I want. And the crazy thing is how much I liked that book, even identified with Henderson — bored in my high-school classroom, sitting with all my unexpressed wants.

I want. I want. I want. All I want right now is to be around other women that make me laugh, like Aidy Bryant, the Cut's November cover woman. I want to root out more stories and listen intently. I want to talk ad nauseum with Rebecca Traister about shitty men and how we deal with them.

The other day Traister told me, "This is some renegade '70s-era feminist shit going on — I've never lived through anything like it." I want to revel in this moment, even as I am scared and uncertain where it will lead us.•
Tags: Stella Bugbee