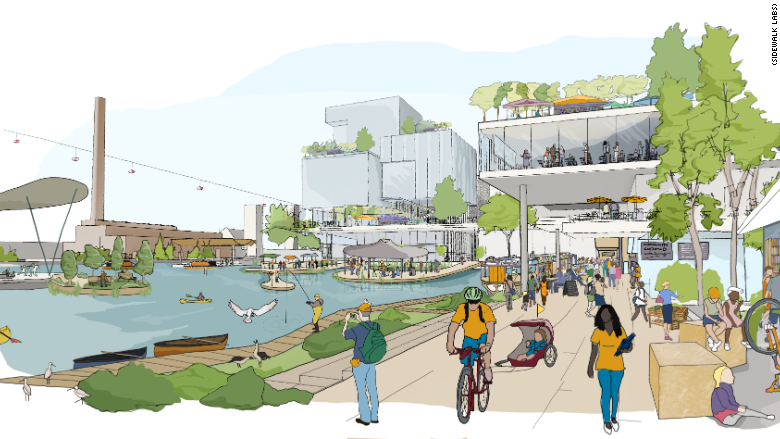 Larry Page long promised to keep the more anarchic elements of Google discrete from mainstream society. In 2013, he openly pined for a patch of America which his company could employ as a lawless laboratory—a Burning Man of sorts in which the fire could really run wild. From a Verge article of that year:
"There are many exciting things you could do that are illegal or not allowed by regulation," Page said. "And that's good, we don't want to change the world. But maybe we can set aside a part of the world." He likened this potential free-experimentation zone to Burning Man and said that we need "some safe places where we can try things and not have to deploy to the entire world." Google is already well-known for coming up with some pretty interesting ideas — the idea of seeing what Page could come up with in this lawless beta-test country is simultaneously exciting and a bit terrifying.•
Of course, Page's promise was always an empty one. Eric Schimdt was more forthcoming three years earlier when he wrote that the Internet was the "largest experiment in anarchy we've ever had." Since Google was the biggest search engine by far, it's place in this brave new world was central. Our gamble on an interconnected, unregulated global village played out astoundingly badly over the last calendar year as weaponized Russian bots were deployed on the lane-less highways of Google, Facebook and Twitter to disrupt important elections in the UK and USA. The interference led to Brexit and President Trump, so the Kremlin was elated, but it wasn't without a backup plan should it fall short of those gargantuan goals: Simply fomenting a race war would have also been acceptable. That Google nearly a year after America's Election Day is still publishing obvious misinformation for profit suggests the perilous experiments which have played out on Main Street in broad daylight will continue to do so as long as there's money to be made.
· · ·
As for Google getting a barren stretch of remote land to use as its physical testing grounds, the dream has been changed and upgraded. Why settle for the sticks when you can get a place downtown? Once of Ray Bradbury's worst ideas, which he discussed in 1996, was that "enlightened corporations" could take over cities. Along those lines, Google aims to have its Sidewalk Labs build a futuristic neighborhood in Toronto. Not to say that Page, Brin, Schmidt et al., want to detonate explosives on Spadina or bring flying cars to Yonge, but that a scenario in which billionaire technologists are allowed control over a city or even a few city blocks is in and of itself a dangerous experiment.
The opening of Emily Badger's New York Times piece "Google's Founders Wanted to Shape a City. Toronto Is Their Chance.":
Google's founders have long fantasized about what would happen if the company could shape the real world as much as it has life on the internet.

"Years ago, we were sitting there thinking, Wouldn't it be nice if you could take technical things that we know and apply them to cities?" Eric Schmidt, the executive chairman of Alphabet (now Google's parent company), said Tuesday. "And our founders got really excited about this. We started talking about all of these things that we could do if someone would just give us a city and put us in charge."

That is, of course, an outlandish idea. "For all sorts of good reasons, by the way, it doesn't work that way," Mr. Schmidt acknowledged. But there he was standing Tuesday before an array of Canadian flags, in front of Prime Minister Justin Trudeau and Ontario officials, to announce the closest thing anyone has seen to a tech company that takes the reins in a major city.

Toronto has about 800 acres of waterfront property awaiting redevelopment, a huge and prime stretch of land that amounts to one of the best opportunities in North America to rethink at scale how housing, streets and infrastructure are built. On Tuesday the government and the group overseeing the land announced that they were partnering with an Alphabet subsidiary, Sidewalk Labs, to develop the site.

They want it to embody the city of the future, a technological test bed for other communities around the world, "the world's first neighborhood built from the internet up."•
Tags: Emily Badger