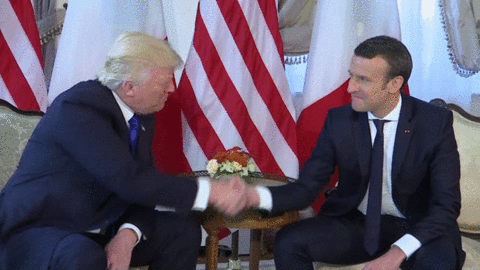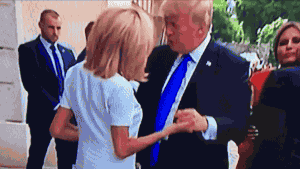 Emmanuel Macron is neither a gorilla-brained dotard like Donald Trump nor is he the intellectual heavyweight he seems to think. He was the best alternative to the nativism of Marine Le Pen in a moment when liberal governance was under heavy assault, and hopefully, despite early mixed-at-best reviews, he'll prove capable.
Macron would do himself and the whole world a favor if he curtailed his penchant for showboating enough to not appear alongside Vladimir Putin in any arena. At the end of May, the French President summoned the Kremlin monster to Versailles to upbraid him for his attacks on democracy. The thuggish Russian kleptocrat will make that trade every time since all his people will ever see are photos and videos of the leader of their country with the leader of another, sans all the context and criticism. Putin's stranglehold on the state media demands that outcome which is why no NATO head-of-state should be sharing a stage with him.
In a Spiegel interview conducted by Klaus Brinkbäumer, Julia Amalia Heyer and Britta Sandberg, Macron is probably correct when he stresses a central narrative as being necessary for uniting huge masses of humans who may be more inclined psychologically to live in tribes of dozens rather than nation-states of millions. Certainly Trump was able to successfully peddle a bogus story about America in absence of a reasonable narrative from his fellow Republican challengers or Hillary Clinton. 
An excerpt:
Emmanuel Macron:

For me, my office isn't first and foremost a political or technical one. Rather, it is symbolic. I am a strong believer that modern political life must rediscover a sense for symbolism. We need to develop a kind of political heroism. I don't mean that I want to play the hero. But we need to be amenable once again to creating grand narratives. If you like, post-modernism was the worst thing that could have happened to our democracy. The idea that you have to deconstruct and destroy all grand narratives is not a good one. Since then, trust has evaporated in everything and everyone. I am sometimes surprised that it is the media that are the first ones to exhibit a lack of trust in grand narratives. They believe that destroying something is part of their journalistic purpose because something grand must inevitably contain an element of evil. Critique is necessary, but where does this hate for the so-called grand narrative come from?

Spiegel: 

Why is this narrative so important?

Emmanuel Macron: 

I think we need it badly! Why is a portion of our youth so fascinated by extremes, jihadism for example? Why do modern democracies refuse to allow their citizens to dream? Why can't there be such a thing as democratic heroism? Perhaps exactly that is our task: rediscovering something like that together for the 21st century.•
Tags: Britta Sandberg, Emmanuel Macron, Julia Amalia Heyer, Klaus Brinkbäumer