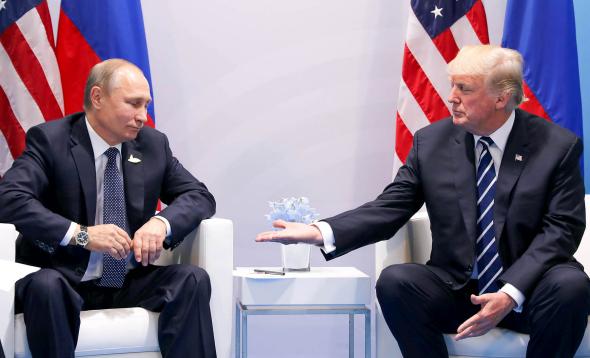 The truth was supposed to set us free.
There are more facts readily available to people in our age than ever before. It's not even close. But the powerful tools that disseminate these bits of knowledge can also be repurposed to obliterate truth, to make all things seem equal, to even make the worse seem the better.
Prior to social media going viral, America already had built an infrastructure amenable to disinformation and conspiracy theories, with Fox News and right-wing radio not selling conservative policy but offering distortions and racial dissension. The Internet immensely broadened the stage for such ill-intended players, making room for Steve Bannon and Milo Yiannopoulos to deliver a meteoric impact on the center from the deepest and darkest corners of the fringe. Donald Trump was even able to exploit this new abnormal to activate a racist base all the way to the White House, with, of course, copious aid from Russia.
In regards to those Russians: We pale in comparison to them in weaponizing the new Information Age, as Putin's Kremlin, a regime leading its country into many other kinds of disaster, has been able to successfully use our inventions to organize the new rules of engagement, utilizing social media not only to spread messages helpful to its cause but also in mobilizing the complicit and unwitting in other nations to do its bidding. It's a virtual-and-actual hybrid aimed at disturbing the world, and even the Kremlin has to be shocked by how wonderfully well it's worked thus far. It couldn't have occurred without numerous Americans in high positions being duplicitous, but it also wouldn't have been possible without our new tools.
The opening of Jim Rutenberg's New York Times Magazine piece "RT, Sputnik and Russia's New Theory of War":
One morning in January 2016, Martin Steltner showed up at his office in the state courthouse building in western Berlin. Steltner, who has served for more than a dozen years as the spokesman for the Berlin state prosecutor, resembles a detective out of classic crime fiction: crisp suit, wavy gray hair and a gallows humor that comes with having seen it all. There was the 2009 case of the therapist who mistakenly killed two patients in an Ecstasy-infused session gone wrong. The Great Poker Heist of 2010, in which masked men stormed a celebrity-studded poker tournament with machetes and made off with a quarter-million dollars. The 2012 episode involving the Canadian porn star who killed and ate his boyfriend and then sent the leftovers home in the mail. Steltner embraced the oddball aspect of his job; he kept a picture of Elvis Presley on the wall of his office.

But even Steltner found the phone calls he received that morning confounding. They came from police officers from towns far outside Berlin, who reported that protests were erupting, seemingly out of nowhere, on their streets. "They are demonstrating — 'Save our children,' 'No attacks from immigrants on our children' and some things like that," Steltner told me when I met him in Berlin recently.

The police were calling Steltner because this was ostensibly his office's fault. The protesters were angry over the Berlin prosecutor's supposed refusal to indict three Arab migrants who, they said, raped a 13-year-old girl from Berlin's tight-knit Russian-German community.

Steltner, who would certainly have been informed if such a case had come up for prosecution, had heard nothing of it. He called the Berlin Police Department, which informed him that a 13-year-old Russian-German girl had indeed gone missing a week before. When she resurfaced a day later, she told her parents that three "Southern-looking men" — by which she meant Arab migrants — had yanked her off the street and taken her to a rundown apartment, where they beat and raped her.

But when the police interviewed the girl, whose name was Lisa, she changed her story. She had left home, it turned out, because she had gotten in trouble at school. Afraid of how her parents would react, she went to stay with a 19-year-old male friend. The kidnapping and gang rape, she admitted, never happened.
 
By then, however, the girl's initial story was taking on a life of its own within the Russian-German community through word of mouth and Facebook — enough so that the police felt compelled to put out a statement debunking it. Then, over the weekend, Channel One, a Russian state-controlled news station with a large following among Russian-Germans, who watch it on YouTube and its website, ran a report presenting Lisa's story as an example of the unchecked dangers Middle Eastern refugees posed to German citizens. Angela Merkel, it strongly implied, was refusing to address these threats, even as she opened German borders to hundreds of thousands of migrants. "According to Lisa's parents," the Channel One reporter said, "the police simply refuse to look for criminals."

The following day in Berlin, Germany's far-right National Democratic Party held a protest at a plaza in Marzahn, a heavily Russian neighborhood. The featured speaker was an adult cousin of Lisa's, who repeated the original allegations while standing in front of signs reading "Stop Foreign Infiltration!" and "Secure Borders!" The crowd was tiny, not much more than a dozen people. But it was big enough to attract the attention of RT, Russia's state-financed international cable network, which presents local-language newscasts in numerous countries, including Germany and the United States. A crew from the network's video service, Ruptly, arrived with a camera. The footage was on YouTube that afternoon.

That same day, Sputnik, a brash Russian-government-run news and commentary site that models itself on BuzzFeed, ran a story raising allegations of a police cover-up. Lisa's case was not isolated, Sputnik argued; other refugee rapists, it warned, might be running free. By the start of the following week, protests were breaking out in neighborhoods with large Russian-German populations, which is why the local police were calling Steltner. In multiple interviews, including with RT and Sputnik, Steltner reiterated that the girl had recanted the original story about the kidnapping and the gang rape. In one interview with the German media, he said that in the course of the investigation, authorities had found evidence that the girl had sex with a 23-year-old man months earlier, which would later lead to a sexual-abuse conviction for the man, whose sentence was suspended. But the original, unrelated and debunked story continued circulating, drawing the interest of the German mainstream media, which pointed out inconsistencies in the Russian reports. None of that stopped the protests, which culminated in a demonstration the following Saturday, Jan. 23, by 700 people outside the Chancellery, Merkel's office. Ruptly covered that, too.

An official in the Merkel government told me that the administration was completely perplexed, at first. Then, a few days later, Russia's foreign minister, Sergey Lavrov, held a news conference in Moscow. Bringing up Lisa's story, he cast doubt on the official version of events. There was no way, he argued, that Lisa left home voluntarily. Germany, he suggested, was "covering up reality in a politically correct manner for the sake of domestic politics." Two days later, RT ran a segment reporting that despite all the official denials, the case was "not so simple." The Russian Embassy called Steltner and asked to meet, he told me. The German foreign ministry informed him that this was now a diplomatic issue.

The whole affair suddenly appeared a lot less mystifying. A realization took hold in the foreign ministry, the intelligence services and the Chancellery: Germany had been hit.

Officials in Germany and at NATO headquarters in Brussels view the Lisa case, as it is now known, as an early strike in a new information war Russia is waging against the West.•
Tags: Donald Trump, Jim Rutenberg, Vladimir Putin