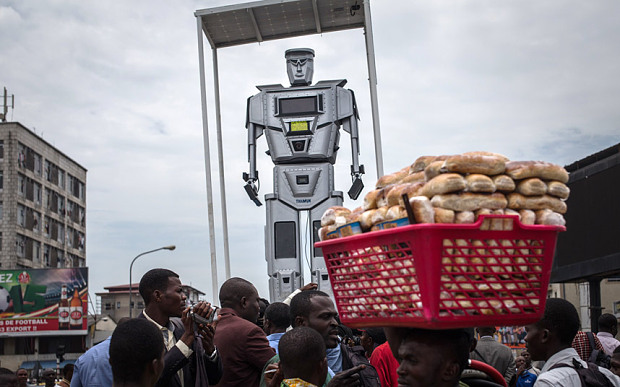 "The future is speeding at us, and it's almost abusive how deeply cynical both sides are," the Republican political consultant Rick Wilson recently said, speaking of the response from his party and the Democrats to manufacturing and automation. Specifically, he was referring to how the Trump Administration has promised a return to glory for plants and mines and the Democrats belief that every worker formerly on the assembly line can be upskilled into a software engineer. I doubt most conservatives beyond Trump believe the former and it's dubious the majority of Democrats believe the latter. Those ideas, however, have been prominent in the last year.
· · ·
The idea that robotics will displace many American workers is true now as it has been for at least a century. As long as there have been machines, really, they've always gradually taken over some work as new opportunities were created. The question is whether we're on the verge of an AI boom that will speed this transition beyond management. Such rapid progress would mean we're becoming wealthy in the aggregate, but distribution would likely be a huge problem. That's why so many in the tech field have suggested a Universal Basic Income, something for everyone, not just a reverse tax credit to boost the less fortunate from poverty. But while this work-less future is possible, it seems far from plausible. 
· · ·
Currently there's wide agreement on all sides that production numbers don't show a radical expansion of technology displacing workers and boosting output. The only caution is that advances are sometimes overpromised, then ridiculed and then they deliver in a massive way. Not so with cold fusion, but that certainly was the case with computers and the Internet.
In 1985, the lively New York Times reporter Erik Sandberg-Diment sarcastically eulogized the laptop, laughing at what Silicon Valley had believed could be the future. The opening:
"WHATEVER happened to the laptop computer? Two years ago, on my flight to Las Vegas for Comdex, the annual microcomputer trade show, every second or third passenger pulled out a portable, ostensibly to work, but more likely to demonstrate an ability to keep up with the latest fad. Last year, only a couple of these computers could be seen on the fold-down trays. This year, every one of them had been replaced by the more traditional mixed drink or beer.

Was the laptop dream an illusion, then?
Imagine his humbling just two decades later when the Feynman's "Plenty of Room at the Bottom" theory was proven correct and the iPhone was introduced.
· · ·
"Robots will show up in China just in time," Daniel Kahneman has said. In order to sustain its giant population, China will need robotics on a mass scale. It's neighbor Japan will probably require automation on a much grander scale despite a much smaller population. An ardently anti-immigrant country with a graying citizenry, Japan is among the states that could be asking an inverse question: What will happen if robots don't take all the jobs?
· · ·
My best guess is that there will always be work to do in the future, but sometimes not enough. Not every job needs to disappear to destabilize society in a serious way, just enough. If entire industries vanish into the zeros and ones in too fast a fashion the way video stores across America were decimated by Netflix's 3,500 employees and endless algorithms (and, yes, I define algorithms as robots), that can leave sectors in the dust. Many of those positions at first will be lousy jobs (e.g., truck driver), but that doesn't mean those already settled into such careers will have an easy time of it. AI may not be an avalanche that crushes us all, but it could be a continuous series of small earthquakes.
Two excerpts on opposite sides of the argument follow.
_______________________
An exchange about a potential AI revolution from a Reddit AMA by Life 3.0 author Max Tegmark:
Question:
Tags: Max Tegmark, Nicholas Carr