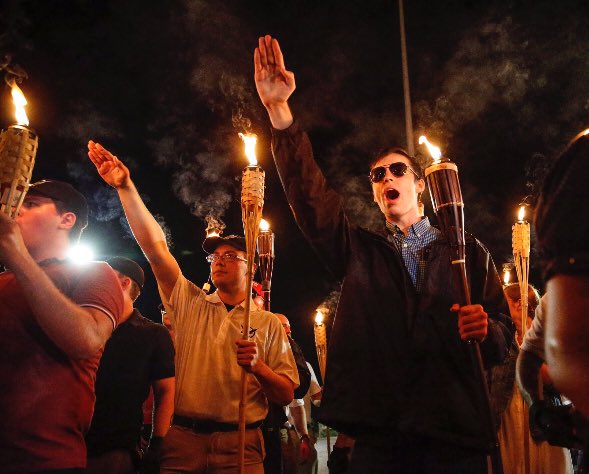 Donald Trump explicitly deputized his supporters during the campaign to commit violence in his name, promising to pay their legal fees. As many of his past contractors could have warned them, even with a signed contract this vow wasn't worth much. Nobody got too caught up in the fine print on the march to Election Day, however, as nearly 63 million Americans looked the other way, pretending a vicious, white-nationalist campaign wasn't what was occurring. Perhaps some were fooled. Most were not.
Seemingly beholden to the Kremlin, Trump recently stumbled upon some perfectly Putin-like thugs when the absolute worst of the Goy Division descended upon Charlottesville to preach hate and commit a murder. He's since doubled down on his support of these racist miscreants and others who reenacted Kristallnacht, claiming "many sides" deserve blame, further normalizing the aberrant behavior of his goon squad and encouraging them to further brutish intimidation.
Soon thereafter, Trump pardoned Joe Arpaio, the country's most obvious symbol of bigoted lawlessness, and authorized state and local police forces to load up on military-grade weapons, which he may believe will provide him with a second unit to take down resistance by force. Whether these departments actually allow themselves to be used in this fascistic manner is questionable at best, but these are clearly the actions of an aspiring autocrat, one who believes he will soon need to protect his power with force. The orange supremacist hopes to provoke a Constitutional crisis and political unrest, then use these conflicts of his own making to rationalize even greater savagery to quell them.
· · ·
In "Trump's Hoodlums," Masha Gessen's latest New York Review of Books piece about our imperiled democracy, she writes that the President, now surrounded by generals-cum-babysitters who run the Administration like a "large family-owned business after the patriarch has developed dementia," has begun to place his trust in hooligans, militias and extrajudicial actions. The opening: 
Turn on Russian television any day of the week and you are certain to stumble upon a show in which a group of people who appear to be regular citizens (that is, they have no uniforms or government-issued documents) stage a raid of one sort or another. They barge into a store or a restaurant, for example, and demand to see employees' identity documents, the storage area, or the cooking facilities. Without fail, they find violations of laws or regulations: the staff, natives of Central Asia, don't have work permits! The store stocks vodka bottles with no alcohol-tax stamps affixed to them! The cook doesn't cover her hair! At the end of the show, the raiders often pass their tearful, terrified victims to uniformed law enforcement officers, who sometimes appear less than enthusiastic about the task being handed to them.

These raiders have no official titles or legal powers. What directs their actions are the militant rhetoric and the promise of broad impunity that emanate from the Kremlin—and, of course, the glory and recognition of being on television. YouTube and RuTube contain a trove of other vigilante videos, including of self-appointed vice squads who beat up gay men or suspected drug dealers on camera.

Sometimes these vigilantes get in trouble with the law: occasionally a murderer of gay men is caught and jailed, and once in a while a vigilante-gang leader is reined in, though his partners in crime continue to roam free. But in general, the arrangement is low-risk for the perpetrators and convenient for the Kremlin. Vigilantes work fast. Russian law enforcement is not exactly subject to a lot of institutional constraints, but it can be sluggish, and it carries out violence in a dragged-out, bureaucratic way. The vigilantes, on the other hand, make a spectacle of their work, creating the sort of generalized dread on which autocracies thrive. At the same time, vigilantes, who work in small clumps, do not pose the sort of threat to the autocrat that powerful institutions of state sometimes can.

Putin did not invent vigilantes, of course: autocrats frequently rely on delegating violence to extralegal actors or, as in the case of Rodrigo Duterte of the Philippines, on the willingness of law enforcement officers to carry out extralegal violence in exchange for the promise of impunity. Duterte has made this promise explicit; more often, incitement to violence contains a tacit guarantee of protection.

Over the last two weeks, we have seen Donald Trump send out both kinds of signals to the vigilantes of his own choosing.•
Tags: Donald Trump, Masha Gessen