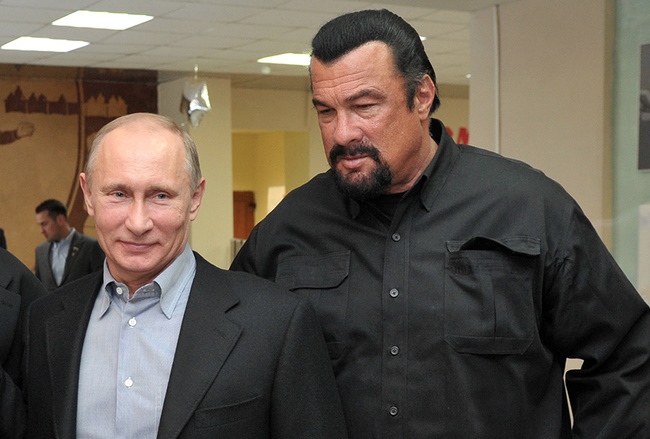 Not familiar enough with the proprietors of Radio Poland to accept at face value its story promising that a government commission is soon to report that "traces of an explosion" were found on the left wing of the country's presidential plane that crashed and killed all 96 people on board, including Lech Kaczynski, in Russia seven years ago, but it wouldn't shock me if it were true.
The inference to be taken is that Putin's Kremlin murdered President Kaczynski as a means of destabilizing Poland, which, belatedly, has occurred, with Andrzej Duda trying to curb democracy as protesters attempt to do the same to him. When the scope of Putin's crimes are eventually known, the body count won't, of course, rival Stalin's, but the depth of his evil will likely stun casual observers.
When working to upend America, the democracy that has done most to thwart him, Putin used vast sums of money stolen through kleptocracy, U.S. social media platforms and a chaos agent named Donald Trump to enact a relatively bloodless coup. 
· · ·
From "Businessman Paints Terrifying And Complex Picture Of Putin's Russia," Miles Parks' NPR story about William Browder, who lobbied for the Magnitsky Act after witnessing Putin's terror at an unsafe distance:
Browder's story — how he ended up living in London, after almost a decade of vast success as a businessman in Moscow, is arguably a case study in how Putin's government works: a system of intermediary influential businessmen who aren't directly employed by the Russian government, but who benefit financially from Putin's regime.
 
Browder founded and ran one of the largest investment firms in Russia, Hermitage Capital Management, from 1996-2005. When he and his lawyer Sergei Magnitsky discovered a massive corruption scheme, they went to the authorities.

"And we waited for the good guys to get the bad guys," he told the Senate Judiciary Committee. "It turned out that in Putin's Russia, there are no good guys."

After making their complaint, Browder was accused of tax evasion; he alleges the $230 million he thought his business was paying in taxes to the Russian Treasury was misappropriated and funneled to those in power, at once making him a criminal and making Putin's circle richer.

He was denied access back into the country after an international trip, but Magnitsky wasn't so lucky. Browder told the senators the Russian lawyer was detained by the authorities, denied medical treatment for pancreatitis while he was jailed, and then allegedly beaten to death in 2009 while chained to a prison cell bed.

Putin has continuously denied the allegations regarding Magnitsky.

"Investigators concluded that there was no malicious intent, or criminal negligence in Magnitsky's death. It was just a tragedy," Putin said in 2013, in an interview with a Russian television station. "One might think no deaths occur in U.S. prisons."

Human rights groups, however, have agreed with Browder's telling of events.

After advocacy by Browder, in 2012, Congress passed the Magnitsky Act. The law targets Russian human rights abusers by freezing their American assets and banning them from entering the U.S. The bill was named after the deceased Russian lawyer who had fought corruption in the country alongside Browder.•
Tags: Lech Kaczynski, Miles Parks, William Browder