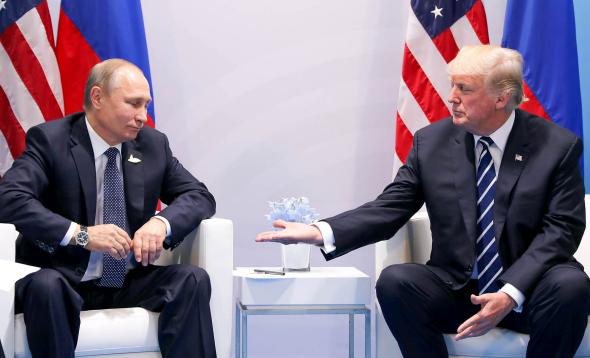 Trump should fear cases being built against him by Robert Mueller and state Attorney Generals, but perhaps what should horrify him most is a case of buyer's remorse on the part of the Kremlin.
The Putin-Trump bromance was never about any personal respect–at least not on the part of the Russian dictator. Sanctions by America and European nations stemming from the aggression against Ukraine have done serious damage to the country's banking sector. Strong, often-illicit support for Trump by the Kremlin was supposed to harm the U.S. at the minimum and potentially elect a friendly and compromised figure–which, amazingly, is what happened. The more successful outcome was supposed to result in the removal of all sanctions.
As has happened so often with Trump in his business career, his payments have thus far not yet materialized. Even worse for his budding relationship with the murderous dictator, the President was cowed into signing a fresh sanctions bill that had overwhelming bilateral support. In addition to Dmitry Medvedev lashing out at the Trump's "total impotence," Putin's propaganda outlet RT also struck back.
Here's RT strongly supporting Trump's Youngstown yuckfest on July 26, prior to his reluctantly signing a bill enacting new sanctions against Russia.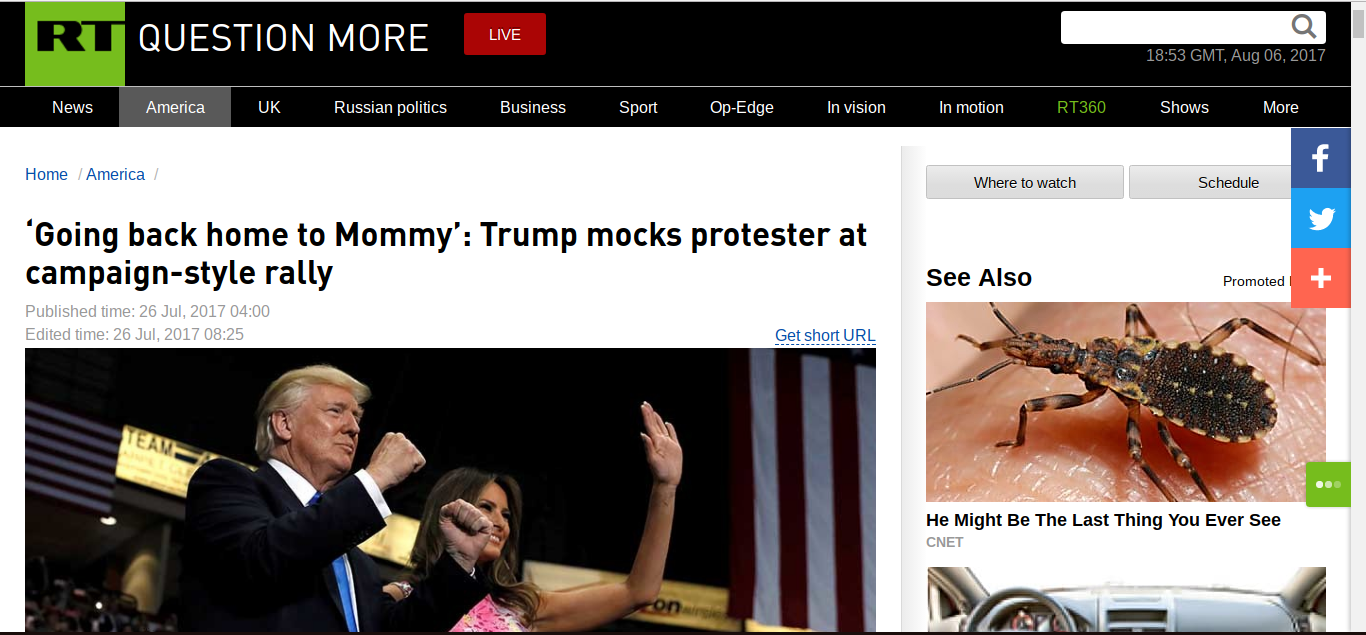 Today, just after the bill signing, RT published a strikingly critical opinion piece by John Lee that would have been right at home in Mother Jones.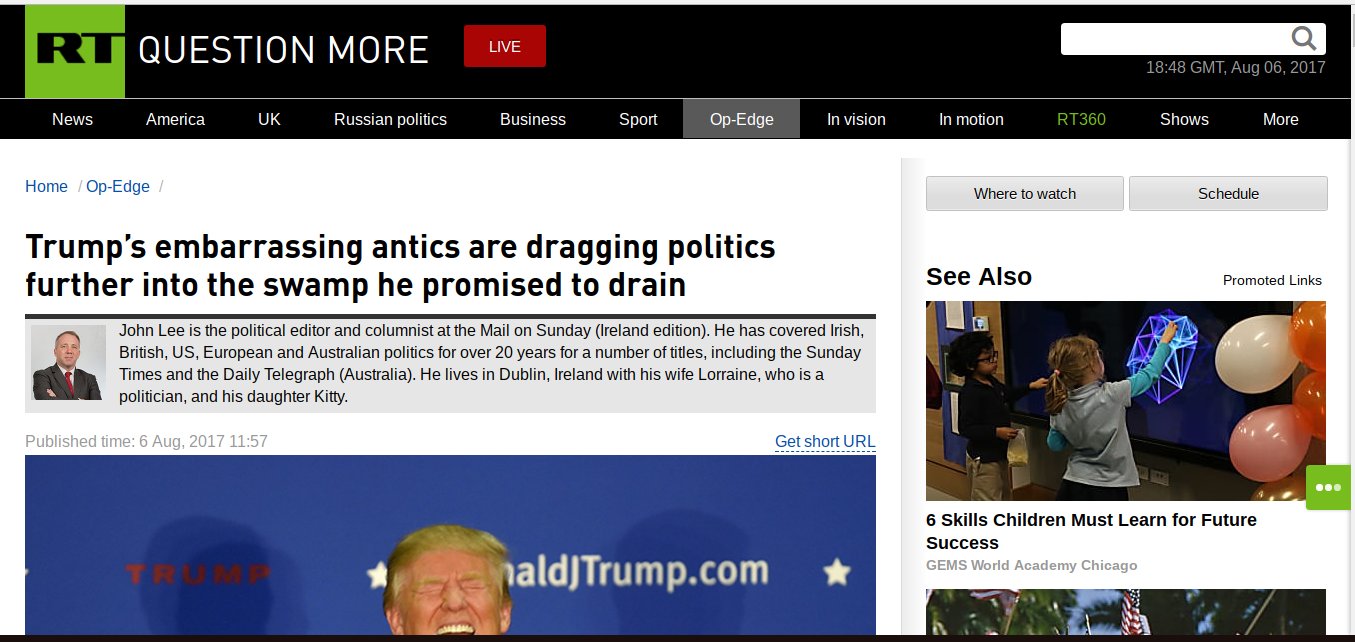 Whether this essay is a stern warning to Trump or a "Dear John" letter, time will tell, but any revenge on Trump by the Kremlin will be executed in such a way as to most injure America, not just its President.
Two excerpts from Lee's op-ed:
When Donald Trump was elected the 45th President of the United States we clung to fragile hope. We hoped he could morph from the wild, aggressive and boorish candidate into a moderately good president.

After he vanquished Hillary Clinton, I was one of those who hoped that he might bring a fresh approach to politics in a stagnant, divided and risk-averse Washington. He couldn't really be that bad, could he?

Millions of American voters and I were wrong. He really is that bad.

It seems an eon ago if we cast our thoughts back to the turn of the year, but there was actually some optimism about the Trump presidency.

When Bill Clinton's Democratic presidency was engulfed in controversy almost 20 years ago, the Republicans unsuccessfully tried to have him impeached. The savage battles that raged over Clinton – a president who embarrassed the nation – poisoned Washington. DC became rabidly bipartisan and never recovered its moderation. Democrats opposed Republicans and vice versa for the sake of it. And nothing could be done, business ground to a halt. President Barack Obama, though in comparison to Trump a credit to his country, never fulfilled his promise. The Republicans blocked his projects. He failed in his promise to fix broken politics.

Trump capitalized on this paralysis. In the post-crash recovery, the forgotten white working man turned to Trump and voted for him, to expel the establishment candidate Hillary Clinton and her like from Washington. Many minority groups backed Trump too.

Last year Republicans secured majorities in both the House of Representatives and the Senate. Trump had everything going for him.

Perhaps he could drain the Washington swamp.

Perhaps he could bring a businessman's efficiency to getting Washington working again. Most of all he promised to drain the swamp. Perhaps Trump, outsider with no political experience, could finally fix American politics in a way that Obama couldn't.

This week, barely eight months after Trump's inauguration, the poll ratings of the reality TV star turned president hit rock bottom. Trump isn't great on detail, but the former TV personality will understand ratings.

Now 61 percent of Americans disapprove of the job Donald Trump is doing. The national poll was conducted by the highly regarded Quinnipiac University Polling Institute and is fascinating when you drill down into the numbers. It is an appalling indictment of the US Commander in Chief that 62 percent believe Trump is not honest.

And, most damagingly, 50 percent of white voters with no college degree disapprove of the president. Since seven percent didn't express an opinion in this section just 43 percent approve of him.

Not only is America as a whole resoundingly turning on Trump, his key support base the blue collar worker of the Rust Belt is turning on him too.

America, that brash nation, is embarrassed. A majority of respondents said they were embarrassed by their president.

Now in the latest round of leaks, it appears he can't even observe decorum in what are supposed to be routine phone calls with world leaders.

The broken politics of Washington's near past is now being shattered under Trump.

· · ·

One is tempted to call Sean Spicer Trump's "long serving" Communications Director such is the impact he has made. Spicer only lasted 183 days. I met him at the White House during the St Patrick's Day Irish American event, and even then he looked haunted. He got off to a rocky start when he tried to defend Trump's strange claims about the crowd at his inauguration and didn't recover. He had become a feature of the Saturday Night Live comedy TV program in that short time. Quite something for a press officer.

Spicer opposed the appointment of Anthony 'the Mooch' Scaramucci as another Communications Director.

Scaracmucci, a New York financier who is friends with Trump, opposed Chief of Staff Reince Priebus.

Priebus was fired. Former Homeland Security chief John Kelly was brought in to replace Preibus. He demanded Scaramucci be got rid of so the Mooch was fired after ten days.

In those ten days, Scaramucci had brought further shame and dishonor to the White House with an expletive filled interview with a journalist.

As I watch this ludicrous, juvenile farce play out it occurred to me that all these people have become household names.

I asked myself a question. Had any of Barack Obama's communications directors made any impact on US national consciousness or the global media landscape? Do you recall Obama's communications directors Ellen Moran, Anita Dunn, Dan Pfeiffer, Jennifer Palmieri or Jen Psaki with any great alacrity? But the world knows Spicer and the Mooch.

Similarly Preibus and John Kelly are now well known. Obama's three chiefs of staff – Bill Daley, Jack Lew and Denis McDonough were, well, hardly known outside political circles.

It is because the White House has become a grotesque, excruciating freak show that these people and their infighting and tit for tat leaking are receiving any notice. The circus and its clowns are important for two reasons. Firstly, because they represent the president, leak on his behalf and defend his behavior and twitter rants. And secondly, they represent the type of management style he favors.•
Tags: Donald Trump, Vladimir Putin