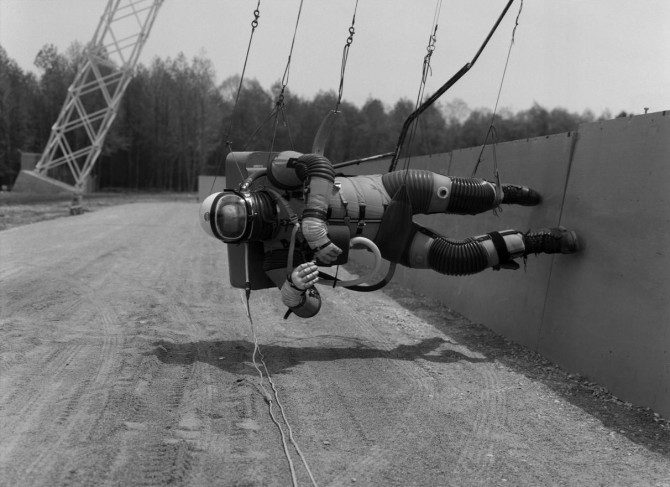 Some more predictions from Norman Mailer's 1970 Space Age reportage, Of a Fire on the Moon, which have come to fruition even without the aid of moon crystals:
Thus the perspective of space factories returning the new imperialists of space a profit was now near to the reach of technology. Forget about diamonds! The value of crystals grown in space was incalculable: gravity would not be pulling on the crystal structure as it grew, so the molecule would line up in lattices free of  shift or sheer. Such a perfect latticework would serve to carry messages for a perfect computer. Computers the size of a package of cigarettes would then be able to do the work of present computers the size of a trunk. So the mind could race ahead to see computers programming go-to-school routes in the nose of every kiddie car–the paranoid mind could see crystal transmitters sewn into the rump of ever juvenile delinquent–doubtless, everybody would be easier to monitor. Big Brother could get superseded by Moon Brother–the major monitor of them all might yet be sunk in a shaft on the back face of the lunar sphere.
_________________________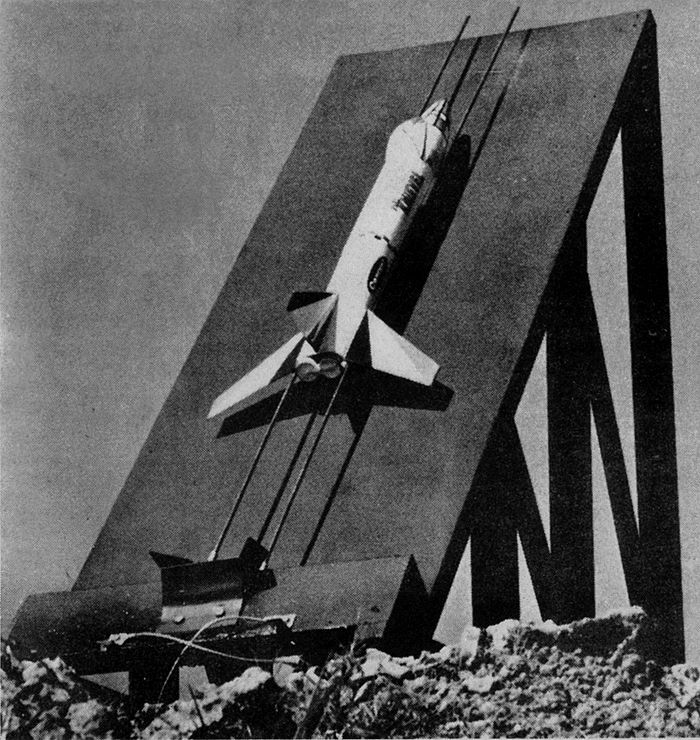 In his 1970 Apollo 11 account, Of a Fire on the Moon, Norman Mailer realized that his rocket wasn't the biggest after all, that the mission was a passing of the torch, that technology, an expression of the human mind, had diminished its creators. "Space travel proposed a future world of brains attached to wires," Mailer wrote, his ego having suffered a TKO. And just as the Space Race ended the greater race began, the one between carbon and silicon, and it's really just a matter of time before the pace grows too brisk for humans.
Supercomputers will ultimately be a threat to us, but we're certainly doomed without them, so we have to navigate the future the best we can, even if it's one not of our control. Gary Marcus addresses this and other issues in his latest New Yorker blog piece, "Why We Should Think About the Threat of Artificial Intelligence." An excerpt:
It's likely that machines will be smarter than us before the end of the century—not just at chess or trivia questions but at just about everything, from mathematics and engineering to science and medicine. There might be a few jobs left for entertainers, writers, and other creative types, but computers will eventually be able to program themselves, absorb vast quantities of new information, and reason in ways that we carbon-based units can only dimly imagine. And they will be able to do it every second of every day, without sleep or coffee breaks.

For some people, that future is a wonderful thing. [Ray] Kurzweil has written about a rapturous singularity in which we merge with machines and upload our souls for immortality; Peter Diamandis has argued that advances in A.I. will be one key to ushering in a new era of "abundance," with enough food, water, and consumer gadgets for all. Skeptics like Eric Brynjolfsson and I have worried about the consequences of A.I. and robotics for employment. But even if you put aside the sort of worries about what super-advanced A.I. might do to the labor market, there's another concern, too: that powerful A.I. might threaten us more directly, by battling us for resources.

Most people see that sort of fear as silly science-fiction drivel—the stuff of The Terminator and The Matrix. To the extent that we plan for our medium-term future, we worry about asteroids, the decline of fossil fuels, and global warming, not robots. But a dark new book by James Barrat, Our Final Invention: Artificial Intelligence and the End of the Human Era, lays out a strong case for why we should be at least a little worried.

Barrat's core argument, which he borrows from the A.I. researcher Steve Omohundro, is that the drive for self-preservation and resource acquisition may be inherent in all goal-driven systems of a certain degree of intelligence. In Omohundro's words, "if it is smart enough, a robot that is designed to play chess might also want to build a spaceship," in order to obtain more resources for whatever goals it might have.
_________________________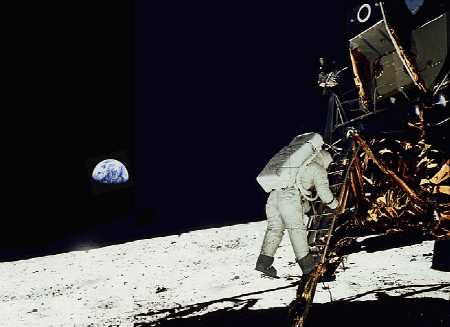 While Apollo 11 traveled to the moon and back in 1969, the astronauts were treated each day to a six-minute newscast from Mission Control about the happenings on Earth. Here's one that was transcribed in Norman Mailer's Of a Fire on the Moon, which made space travel seem quaint by comparison:
Washington UPI: Vice President Spiro T. Agnew has called for putting a man on Mars by the year 2000, but Democratic leaders replied that priority must go to needs on earth…Immigration officials in Nuevo Laredo announced Wednesday that hippies will be refused tourist cards to enter Mexico unless they take a bath and get haircuts…"The greatest adventure in the history of humanity has started," declared the French newspaper Le Figaro, which devoted four pages to reports from Cape Kennedy and diagrams of the mission…Hempstead, New York: Joe Namath officially reported to the New York Jets training camp at Hofstra University Wednesday following a closed-door meeting with his teammates over his differences with Pro Football Commissioner Pete Rozelle…London UPI: The House of Lords was assured Wednesday that a major American submarine would not "damage or assault" the Loch Ness monster.
_________________________
"There Was An Uneasy Silence, An Embarrassed Pall At The Unmentioned Word Of Nazi"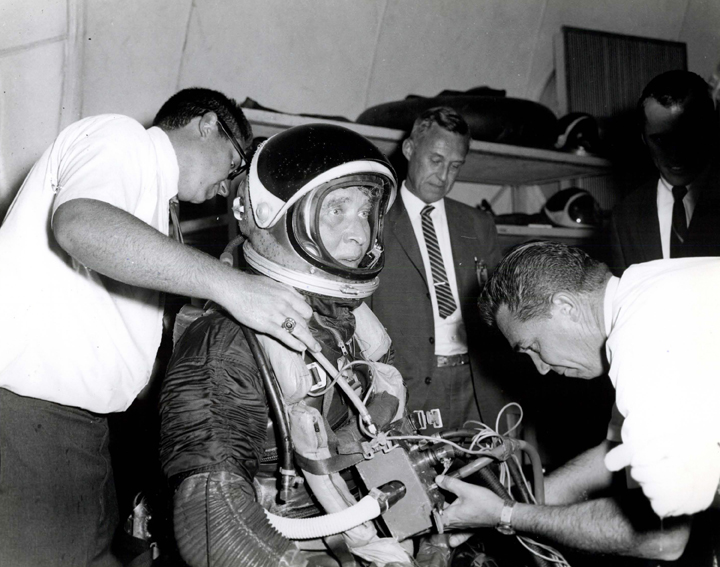 Norman Mailer's book Of a Fire on the Moon, about American space exploration during the 1960s, was originally published as three long and personal articles for Life magazine in 1969: "A Fire on the Moon," "The Psychology of Astronauts," and "A Dream of the Future's Face." Mailer used space travel to examine America's conflicted and tattered existence–and his own as well. In one segment, he reports on a banquet in which Wernher von Braun, the former Nazi rocket engineer who became a guiding light at NASA, meets with American businessmen on the eve of the Apollo 11 launch. An excerpt:
Therefore, the audience was not to be at ease during his introduction, for the new speaker, who described himself as a "backup publisher," went into a little too much historical detail. "During the Thirties he was employed by the Ordinance Department of the German government developing liquid fuel rockets. During World War II he made very significant developments in rocketry for his government."

A tension spread in this audience of corporation presidents and high executives, of astronauts, a few at any rate, and their families. There was an uneasy silence, an embarrassed pall at the unmentioned word of Nazi–it was the shoe which did not drop to the floor. So no more than a pitter-patter of clapping was aroused when the speaker went quickly on to say: "In 1955 he became an American citizen himself." It was only when Von Braun stood up at the end that the mood felt secure enough to shift. A particularly hearty and enthusiastic hand of applause swelled into a standing ovation. Nearly everybody stood up. Aquarius, who finally cast his vote by remaining seated, felt pressure not unrelated to refusing to stand up for The Star-Spangled Banner. It was as if the crowd with true American enthusiasm had finally declared, "Ah don' care if he is some kind of ex-Nazi, he's a good loyal patriotic American."

Von Braun was. If patriotism is the ability to improve a nation's morale, then Von Braun was a patriot. It was plain that some of these corporate executives loved him. In fact, they revered him. He was the high priest of their precise art–manufacture. If many too many an American product was accelerating into shoddy these years since the war, if planned obsolescence had all too often become a euphemism for sloppy workmanship, cynical cost-cutting, swollen advertising budgets, inefficiency and general indifference, then in one place at least, and for certain, America could be proud of a product. It was high as a castle and tooled more finely than the most exquisite watch.

Now the real and true tasty beef of capitalism got up to speak, the grease and guts of it, the veritable brawn, and spoke with fulsome language in his small and well-considered voice. He was with friends on this occasion, and so a savory and gravy of redolence came into his tone, his voice was not unmusical, it had overtones which hinted of angelic super-possibilities one could not otherwise lay on the line. He was when all was said like the head waiter of the largest hofbrau in heaven. "Honored guests, ladies and gentlemen," Von Braun began, "it is with a great deal of respect tonight that I meet you, the leaders, and the captains in the mainstream of American industry and life. Without your success in building and maintaining the economic foundations of this nation, the resources for mounting tomorrow's expedition to the moon would never have been committed…. Tomorrow's historic launch belongs to you and to the men and women who sit behind the desks and administer your companies' activities, to the men who sweep the floor in your office buildings and to every American who walks the street of this productive land. It is an American triumph. Many times I have thanked God for allowing me to be a part of the history that will be made here today and tomorrow and in the next few days. Tonight I want to offer my gratitude to you and all Americans who have created the most fantastically progressive nation yet conceived and developed," He went on to talk of space as 'the key to our future on earth,' and echoes of his vision drifted through the stale tropical air of a banquet room after coffee–perhaps he was hinting at the discords and nihilism traveling in bands and brigands across the earth. "The key to our future on earth. I think we should see clearly from this statement that the Apollo 11 moon trip even from its inception was not intended as a one-time trip that would rest alone on the merits of a single journey. If our intention had been merely to bring back a handful of soil and rocks from the lunar gravel pit and then forget the whole thing"–he spoke almost with contempt of the meager resources of the moon–"we would certainly be history's biggest fools. But that is not our intention now–it never will be. What we are seeking in tomorrow's trip is indeed that key to our future on earth. We are expanding the mind of man. We are extending this God-given brain and these God-given hands to their outermost limits and in so doing all mankind will benefit. All mankind will reap the harvest…. What we will have attained when Neil Armstrong steps down upon the moon is a completely new step in the evolution of man."•