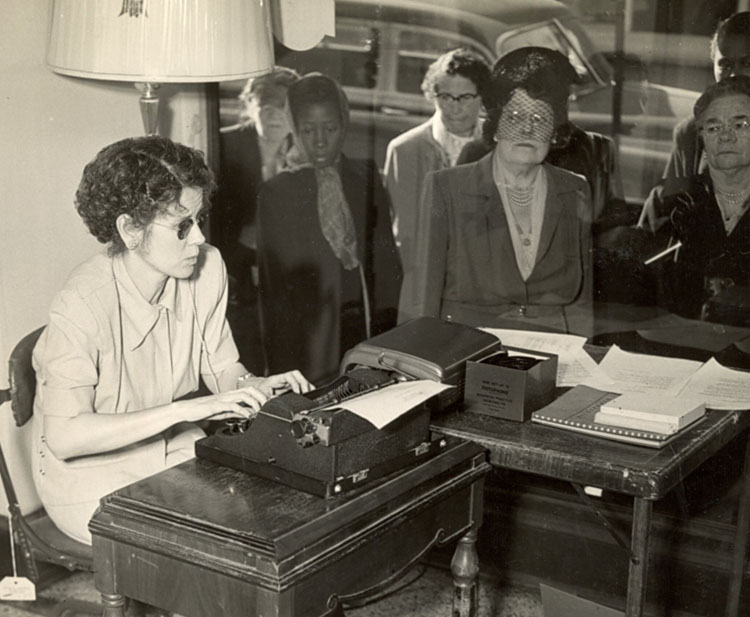 What's a good example of a job that was fully automated in last 50 yrs.? A job that humans once did that robots/algorithms now do entirely?

— James Surowiecki (@JamesSurowiecki) July 18, 2017
James Surowiecki, a very bright guy, asked on Twitter which jobs have been completely automated out of existence in the last 50 years. I think the final tally included just elevator and telephone operators, though you could probably add anyone who worked a dictaphone or in a typing pool. The bowling-alley pin boy just exceeds the time frame he uses. 
The thing is, if we're talking about automation as a threat to human employment, this question is the wrong one, even if it's an amusing intellectual exercise. Factories that have been reshored to America in the past decade still employ workers in many of the same positions as when they left, but the numbers needed are far fewer thanks to improved machinery and systems. It's a thinning of the herd, not it's utter elimination, that's most troubling. The argument that a lack of productivity increase proves that automation isn't killing jobs doesn't really make sense because manufacturing positions in America certainly have seriously diminished and that's not all due to globalization.
The right question to ask is this: Will AI and automation cause enough jobs to disappear and rapidly shift to the point that trying to get by becomes too chaotic for most? That's really all that's required for things to go haywire. It's not a an all-or-nothing type of situation. Not every position has to go the way of the pin boy for all of us to wind up toppled.
Two excerpts follow from new Guardian pieces, one about the impact on small American towns of Walmart's decline in the face of Amazon's algorithmic might and the second a Paul Mason essay about robots and Brexit that's interesting if probably too dire.
---
From "What Happened When Walmart Left," an Ed Pilkington article:
Much has been written about what happens when the corporate giant opens up in an area, with numerous studies recording how it sucks the energy out of a locality, overpowering the competition through sheer scale and forcing the closure of mom-and-pop stores for up to 20 miles around. A more pressing, and much less-well-understood, question is what are the consequences when Walmart screeches into reverse: when it ups and quits, leaving behind a trail of lost jobs and broken promises.

The subject is gathering increasing urgency as the megacorporation rethinks its business strategy. Rural areas like McDowell County, where Walmart focused its expansion plans in the 1990s, are experiencing accelerating depopulation that is putting a strain on the firm's boundless ambitions.

Hit hard by the longterm decline in coal mining that is the mainstay of the area, McDowell County has seen a devastating and sustained erosion of its people, from almost 100,000 in 1950 when coal was king, to about 18,000 today. That depleted population is today scattered widely across small towns and in mountain hollows (pronounced "hollers"), accentuating the sense of sparseness and emptiness.

The Walmart supercenter is located about five miles from the county seat, Welch, which still boasts imposing brick buildings as a memory of better times. But the glow of coal's legacy has cooled, as the boarding up of many of the town's shops and restaurants attests.

When you combine the county's economic malaise with Walmart's increasingly ferocious battle against Amazon for dominance over online retailing, you can see why outsized physical presences could seem surplus to requirements. "There has been a wave of closings across the US, most acutely in small towns and rural communities that have had heavy population loss," said Michael Hicks, an economics professor at Ball State University who is an authority on Walmart's local impact.

On 15 January 2016, those winds of change swept across the country with a fury.•
---
The opening of Mason's "Brexit Won't Help Britain Survive the Rise Of the Robots":
What do a Japanese robot and the world's first tidal turbine have in common? They are not in Britain. While the British government destroys itself over Brexit, the parts for a third industrial revolution are being assembled elsewhere. This is an industrial revolution where you don't "catch up" – you catch the economic backwash. This is what would keep ministers awake at night – if they were serious.

In the past 12 months, Japan has started to produce a lot of robots. Its production index for industrial robots stood at 25 in 2009, achieved 175 last year and rocketed to 225 in June this year. Three-quarters of the units made were exported, helping Japan boost its total exports by 11% in the past year. In turn, the industrial surge of robots has stimulated a surge in semiconductor production in Japan and South Korea. This is big and real.

Japan is ahead in robotics not only because it has a decades-old semiconductor industry and an ageing population, but because it has an industrial strategy. Its government demanded a new industrial revolution in 2014. In 2015, its Ministry of Economy, Trade and Industry issued a "New Robot Strategy," stipulating sales targets for robotics in various sectors and urgent measures to train and retain technologists.

In robots for nursing care, for example, the strategy spells out a detailed five-year plan – from supporting manufacturers and changing International Organization for Standardization regulations to new health regulations and the creation of a marketplace between healthcare providers and robotics firms. The policy was not made in a vacuum. Japan's industrial strategists were worried about big US spending commitments on robot research and development and a €2.8bn (£2.5bn) robotics project, funded by the European commission, called Sparc.
Tags: Ed Pilkington, Paul Mason