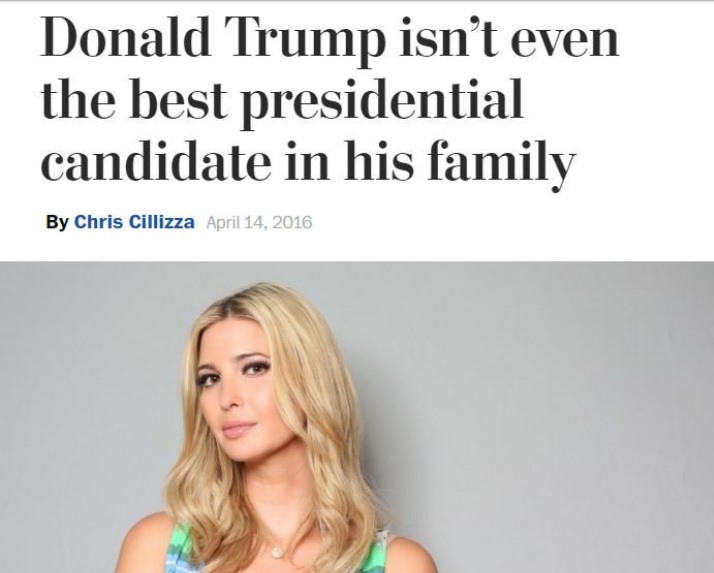 If you ever find yourself in a wistful, David Brooks kind of mood, believing America a meritocracy in which the best and brightest strive and thrive just remember that Lou Dobbs attended Harvard, Chris Cillizza is a millionaire and Donald Trump is the President of the United Fucking States.
Perhaps Jesse Ventura put it more aptly when he said, "The scum always rises to the top of the water." And he should know since he became governor of a fairly significant state despite his busy career of pretending to wrestle, peddling idiotic conspiracy theories and hosting a show for RT, Vladimir Putin's TV propaganda channel.
On Cillizza: This brainiac was employed by the Washington Post initially during its winter of discontent and somehow survived during a sunny revival fostered by Marty Baron's editorial chops and Jezz Bezos' considerable couch-cushion change. The quasi-journalist treats politics as if it were all just a game, which might be useful if he were an astute critic of the rules of engagement. He is not. An upchucker of hot takes and clickbait who seems to not care at all that lives are saved or lost depending on policies chosen, Cillizza is in the media merely to give opinions, regardless of their rightness or wrongness, slobber over Ivanka Trump, and get paid. 
In December 2016, he wrote in the Post that he was puzzled that Trump received so much flak for his cabinet picks since, as he stated, all Presidents appoint a few loyalists. Cillizza conveniently overlooked that Bannon, Flynn and Sessions were extraordinarily atypical when compared to appointees of previous Presidents. It's not the quantity of the loyalists that was disturbing but their qualities.
It's amazing it took so long for Jeff Zucker to pluck Cillizza from the stupid tree, but he ultimately made sure the commentator was a jewel in CNN's jester cap. It's the finest marriage since the von Bulows, except this time both parties are holding a bulging syringe of insulin and America is Sunny. Even though the network is now considered an EoT (Enemy of Trump), it did as much as any entity to normalize the bigot, ignoramus and traitor during the campaign, all for some free content and a ratings boost; and Cillizza's type of vapid punditry and dumbing down of the news qualifies him as complicit in the odious rise of Trump.
Cillizza, being three times as dense as the planet Neptune, thought it a good idea to conduct a Reddit AMA, in which he was gleefully excoriated by questioners. Below are a dozen inquiries he didn't answer.
____________________________________

Question:

Hi, I'm Libby Watson, I'm a staff writer at Fusion. Why do you think so many other journalists think you suck?

____________________________________

Question:

You, Wolf Blitzer and S. E. Cupp play Jeopardy. Do any of you end with a positive amount of money?

____________________________________

Question:

You did an emoji analysis of the Republican health care bill. How can you even justify that?

____________________________________

Question:

Chris, have you considered the fact that your reporting style of repeated and absurd focus on completely inane subjects, like "an analysis of the Trump-Macron handshake" not only makes us all collectively stupider, but fundamentally devalues the role politics has in shaping our lives in favor of absurd horse race coverage that focuses on inside baseball to the exclusion of real working families?

____________________________________

Question:

I'd like to present to you some of your headlines from last year during the election.

I'm wondering if you think that your relentless hammering of Hillary Clinton over a bunch of supposed "scandals" that went nowhere (along with your obvious Bernie-bias) helped turn people against Clinton, and put Trump in the White House?

Some of your articles:

Hillary Clinton's terrible, horrible, no good, very bad answer on whether she's ever lied

Hillary Clinton can't make you love her if you don't

Hillary Clinton's week just went from bad to worse Drip, Drip, Drip.

Hillary Clinton's campaign needs a slogan. Here's your chance to help. It's time to think up a message for Hillary!

Hillary Clinton's biggest campaign problem may be, well, Hillary Clinton Sometimes the problem is you.

Why ignoring Hillary Clinton's emails might cost Bernie Sanders Iowa An opportunity, missed.

Why we shouldn't give Hillary Clinton a pass for losing New Hampshire

Why Hillary Clinton should be worried about Nevada

Why Hillary Clinton won't release transcripts of her paid Goldman Sachs speeches She has her reasons.

Hillary Clinton's email defense just hit a major bump in the road Cue Democratic worry.

Note to Bernie Sanders: Negative ads are good. Negative ads work.

Hillary Clinton STILL doesn't have a good answer for questions about her emails

Why Bernie Sanders should talk A LOT more about Hillary Clinton and Goldman Sachs

What a tuxedo tells you about the race between Bernie Sanders and Hillary Clinton Authenticity.

Hillary Clinton says she's 'not nervous at all' about Bernie Sanders. She should be. Danger, Hillary Clinton. Danger!

Here's exactly how Bernie Sanders can beat Hillary Clinton

Why aren't Hillary Clinton's exaggerations of her life story bigger news?

Bill de Blasio's 'Okay fine, I will endorse her' endorsement of Hillary Clinton

Why Joe Biden must destroy Hillary Clinton

Just when you thought the e-mail story couldn't get worse for Hillary Clinton … Drip. Drip. Drip.

Hillary Clinton's e-mail issues have become a massive political problem It's not getting better.

It might be time for Hillary Clinton to start panicking

Hillary Clinton finally apologizes for her private e-mail server. What took so long?

The reinvention of Hillary Clinton almost certainly won't work

Hillary Clinton's new approach to her e-mail controversy? It's complicated.

Hillary Clinton's e-mail problem isn't going away FBI!

Hillary Clinton's Worst Week in Washington

Hillary Clinton's honesty problem just keeps getting worse

Maybe Hillary Clinton just isn't a very good candidate

Hillary Clinton is trying to make the e-mail controversy political. But, really, it isn't.

This isn't a good trend line for Hillary Clinton's 2016 prospects The more people see, the less they like.

These 9 words prove that Bill Clinton still doesn't get it on the Clinton Foundation
____________________________________
Question:

Why does CNN insist on bringing on some partisan stooge who would defend Trump for killing and eating said stooge's own child? What good does having such a person do, especially when you treat their ludicrous opinion as a valid counterpoint to the truth? I would say, "You wouldn't run a story about Flat Earthers and treat their opinion as the equal and opposite counterpoint to every available piece of scientific evidence for the past 1000 years," but you probably would and that's a real problem.

Is it all about the ratings? Is that why, in 2016, you became the Trump News Network and aired almost every single one of his rallies? Are you afraid of being called biased? Are CNN anchors just incapable of spotting bullshit in real time? I don't get it.

____________________________________

Question:

You said "My job is to assess not the rightness of each argument but to deal in the real world of campaign politics in which perception often (if not always) trumps reality. I deal in the world as voters believe it is, not as I (or anyone else) thinks it should be."

Do you seriously believe that neither you nor any other media figure have any impact on the perceptions of voters? Does the observer effect not exist in political media?
____________________________________
Question:

Are you aware that real, actual horse races exist? I ask this because you seem desperate to cover a horse race, to the point that you take life-and-death political struggles that affect a nation of 300 million people and a planet of billions and treat them like they're a horse race.

Why not just "cut out the middle man", so to speak, and cover an actual horse race?
____________________________________
Question:

Do you regret your monomaniacal focus on the emails story in 2015-16, a focus with a clickbait orientation that both leaned heavily on emerging stories with insufficient information at hand and arguably gave other stories (ones equally or more important) short shrift?

____________________________________

Question:

Why is it that journalists and pundits who habitually get things wrong are rewarded with higher paying, more prestigious jobs rather than being forced out of the national conversation?

____________________________________

Question:

What is your obsession with Ivanka Trump and do you think it affects your reporting?
____________________________________
Question:

Hi Chris, it's Ashley Feinberg. My question is how could you have possibly thought that this would be a good idea?•
Tags: Chris Cillizza