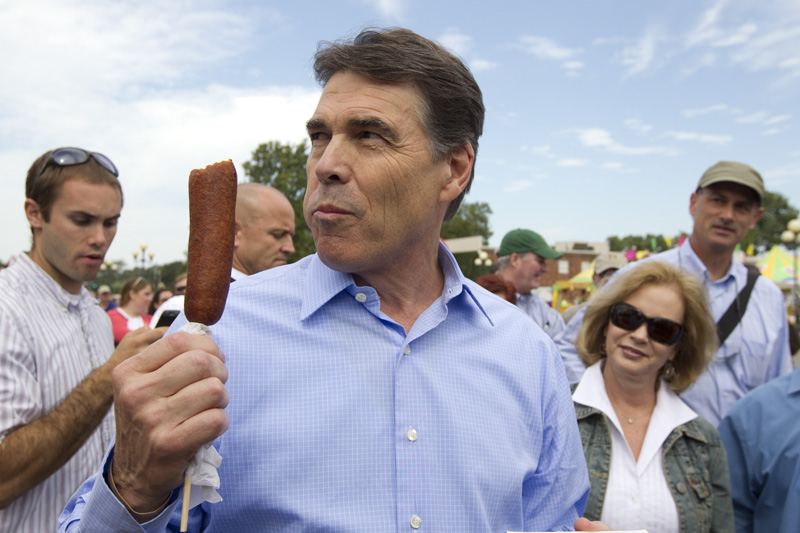 Former Governor Rick Perry may be the most perfect living embodiment of the dumb-as-dirt side of Texas, the kind of supremely confident stumblefuck you could imagine firing a corn dog and sucking on a pistol. Inexplicably appointed Secretary of Energy by an even more inexplicable President, the king of brain cramps made this bold statement at a West Virginia coal plant yesterday: "Here's a little economics lesson: supply and demand. You put the supply out there and the demand will follow."
That is definitely not how that thing works.
Perry is, of course, far from the looniest Longhorn to hold office–Robert Morrow makes him seem the wise elder–and it would all be fantastically colorful to outsiders were it not for the outsize influence the state's ballooning population has on everything from textbooks to temperatures. 
In a 2013 Time cover story "Why Texas is Our Future," economist Tyler Cowen wondered if what he viewed as the Libertarian impulse of the state would spread throughout the country. I argued that California (or perhaps Massachusetts) might be a more likely template, that Texas may not even be the future of Texas given its brisk population growth and changing demographics, though we won't know for sure for awhile.
In making his argument, the economist hadn't addressed numerous potential threats to his theory:
• Growing Mexican-American voting power goes unmentioned. It likely won't help Republicans in that state or nationally in the near future.

• The politicians who favor the type of policies Cowen thinks are the future (little or no social safety net) are usually rejected at the ballot box. Trump won be running against his true intentions.

• You can't assume that the influx of new citizens from disparate places to Texas won't alter its political landscape. New arrivals may initially be attracted by no state income taxes, but they may grow weary of some of its less-appealing side effects.

• It's hard to see how Texas' seemingly endless cheap land could apply to most smaller American states. The supply just isn't there. Zoning-law changes can help somewhat, but you can do just so much with so little.

• Vast stretches of Texas may be uninhabitable or, at the very least, far less inviting in a few decades, those oil wells doing their damage despite what the state's elected climate-change deniers believe.

• It's certainly not Cowen's responsibility in predicting the future to skew his opinions to the more humanistic path, but I think he's way too fatalistic about Americans accepting greater and greater income inequality. His view of the future is pretty chilling and only some of it has to be true. Sure, automation will become more prominent, but we do not have to politically allow our country to become an even more extreme version of haves and have-nots, adopting the policies of the state with the nation's highest uninsured rate and an appalling poverty rate for women and girls. I don't think people will forever be satisfied by bread and Kardashians.
Even beyond these obvious reasons that Texas today will likely not be America tomorrow is the simple fact that the state has been wildly gerrymandered by Republicans to distort the reality of its actual character, a process that has been duplicated across the country. Texas is purpler than it used to be though still red, but much of its population runs up against its more backwards Jesus-rode-dinosaurs daffiness. Redistricting is a trick both parties have historically employed, and one that needs to end. The U.S. not truly and accurately represented is a Republic headed for disaster.
In his New Yorker piece "America's Future Is Texas," Lawrence Wright, whose spent most of his life living in the state and wrote for Texas Monthly, considers, as Cowen did, that the state may be a bellwether nationally–but does so from a very different perspective. The journalist's headline implies Texas' volatile, fractious politics, an "irrepressible conflict" writ even larger than what we now know, may await us all.
While covering this year's 140-day state-legislative session that played out like a dynamite factory visited by a wildfire, Wright provides an excellent tour through many of the historical and contemporary characters, policies and processes that make up the extreme politics of a state where it's legal to shoot wild pigs from helicopters with machine guns. It's more or less wartime reportage.
The combustible session often saw average conservatives trying to restrain the fringe-right ones, a group of white men aiming to build a wall around the future, which seems successful in the state at the moment, though it may actually be a death rattle from a population that's been eclipsed. 
An excerpt:
In session after session, the Texas legislature has sought to impose strict rules on voter identification, with the putative goal of preventing election fraud. A 2011 law required voters to present a U.S. passport, a military identification card, a state driver's license, a concealed-weapon permit, or a Texas election identification certificate. The same law excluded federal and state government I.D.s, as well as student I.D.s, from being used at polling stations. In 2014, a federal judge, Nelva Gonzales Ramos, in the Southern District of Texas, struck down the law, calling it "an unconstitutional poll tax." Texas appealed, but the appeal was rejected, in part because there was no actual evidence of voter fraud. (The Supreme Court refused to hear the case.) The appeals court sent the case back to Judge Ramos, asking her to determine if the law was intentionally discriminatory. If Ramos said yes, it could trigger federal monitoring of the state's election laws under the Voting Rights Act.

The question of voter fraud became a national issue after the 2016 Presidential election. Gregg Phillips, a former official of the Texas Health and Human Services Commission, gave Trump the false idea that he would have won the popular vote if illegal votes were discounted. Phillips, the founder of a group called VoteStand, tweeted that three million unqualified voters had cast ballots in the election. He refused to provide proof, though he told CNN that he had developed "algorithms" that could determine citizenship status. Trump soon demanded a widespread investigation into voter fraud.

In February, 2017, while Judge Ramos was still considering the Texas voter-I.D. law, a resident of a Fort Worth suburb was found to have voted illegally: Rosa Maria Ortega, a thirty-seven-year-old mother of four with a seventh-grade education. She had lived in the U.S. since she was an infant, and was a legal resident, entitled to serve in the military and required to pay taxes. She assumed that she could also vote, and had done so previously, in 2012 and 2014. The local prosecutor decided to make an example of her, and she was sentenced to eight years in prison. When she gets out, she may be deported to Mexico. I suppose it's an irony that she is a Republican, and voted for Ken Paxton, the Texas attorney general, who has made voter fraud a signature issue.

In April, Judge Ramos issued her opinion: the Texas voter-I.D. law was intentionally designed to discriminate against minorities. Almost simultaneously, a panel of federal judges in San Antonio ruled that three of the state's thirty-six U.S. congressional districts were illegally drawn in order to disempower minorities.

Evan Smith, of the Texas Tribune, has closely followed thirteen legislative sessions. He noted that, even as Dan Patrick and his Republican allies slashed government services, they allocated eight hundred million dollars for border security. "White people are scared of change, believing that what they have is being taken away from them by people they consider unworthy," he told me. "But all they're doing is poking a bear with a stick. In 2004, the Anglo population in Texas became a minority. The last majority-Anglo high-school class in Texas graduated in 2014. There will never be another. The reality is, it's all over for the Anglos."

Texas leads the nation in Latino population growth. Latinos account for more than half the 2.7 million new Texans since 2010. Every Democrat in Texas believes that, if Latinos voted at the same rate in Texas as they do in California, the state would already be blue. "The difference between Texas and California is the labor movement," Garnet Coleman, a Houston member of the Texas House, told me. In the nineteen-sixties, Cesar Chavez began organizing the California farmworkers into a union; that kind of movement didn't happen in Texas, a right-to-work state. "Labor unions create a culture of voting and political participation," Coleman observed. In Texas politics, he says, "everything is about race—it's veiled as public policy, but it encourages people to believe that their tax dollars are going to support lazy black and brown people." Political views have become more entrenched because of redistricting, and yet the demographic majority in Texas is far more progressive than its representatives. Coleman predicts a showdown: "This is a battle about the future of the country, based on a new majority, and we have to have this out."•
Tags: Lawrence Wright