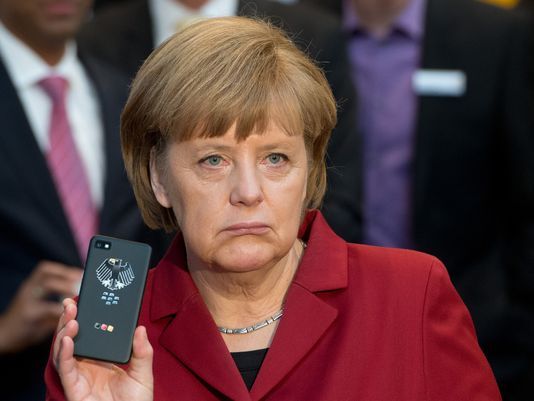 "Spying among friends, that isn't done," Angela Merkel has said, but the absolutely least surprising thing in this period of constant shocks is that Germany was apparently spying on America as America was spying on Germany. Of course.
Nearly three years ago, I assumed that at the very least "Germany didn't want to delve too deeply into NSA spying because Germany has been complicit in it." It isn't surprising the surveillance was bilateral at least during the first decade of this century because one truism about the technological tools we've created is they will be used. The argument that we've managed to (mostly) not employ nuclear weapons so we can control privacy-obliterating devices is silly because these instruments and methods are decentralized and available to all, and governments and corporations and individuals will give in to the temptation to use them regardless of the law.
Also: Spying isn't one big boom but instead death by a thousand cuts. Each individual act won't feel calamitous. In Errol Morris parlance, these surveillance tools are fast, cheap and will continually be out of control.
From "German Intelligence Also Snooped on White House," a Spiegel piece by Maik Baumgärtner, Martin Knobbe and Jörg Schindler:
Documents that Spiegel has been able to review show that the BND, until a few years ago, actually had considerable interest in the United States as a target of espionage. The document states that just under 4,000 search terms, or selectors, were directed against American targets between 1998 and 2006. It is unknown whether they continued to be used after those dates.

The German intelligence agency used the selectors to surveil telephone and fax numbers as well as email accounts belonging to American companies like Lockheed Martin, the space agency NASA, the organization Human Rights Watch, universities in several U.S. states and military facilities like the U.S. Air Force, the Marine Corps and the Defense Intelligence Agency, the secret service agency belonging to the American armed forces. Connection data from far over 100 foreign embassies in Washington, from institutions like the International Monetary Fund (IMF) and the Washington office of the Arab League were also accessed by the BND's spies.

The entries also prove the existence of a top-secret anti-terror alliance between Western intelligence services, including those of Germany, the United States and France. Spiegel already reported back in 2005 on the elite unit, which is named Camolin. The papers now show several BND selectors were "Camolin-related."

It's Unlikely Spying Was Unintentional
 
Also on the selector list were lines at the U.S. Treasury Department, the State Department and the White House. Were they really all just "coincidental capture" as the former BND head claimed? Was it just an oversight?

That's unlikely.•