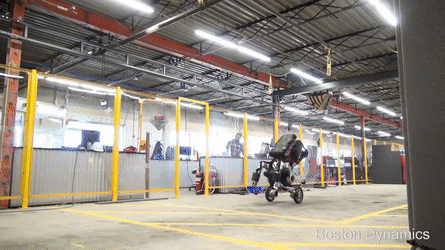 Despite the robot apocalypse we've been promised, statistics don't show an increase in productivity or decrease in employment. Many of the jobs recently created have been lesser ones, but even wages have shown some rise at times over the last year. Perhaps the decline of the American middle class over the last 50 years has been largely a political result rather than a technological one? It would be tough to convince people living in former manufacturing strongholds, but it may be so.
Three possible reasons the numbers don't reveal a coming widespread technological unemployment:
The numbers aren't able to accurately capture the new automated economy. Doubtful.

Automation may be overhyped for the moment the way computers or the Internet or smartphones originally were, but soon enough it will make a dent on society that will be felt deeply. Possible.

The impact of automation will be gradual and manageable, improving society while not creating what Yuval Harari indelicately describes as a "useless class."

Possible.
In a Rough Type post, Nicholas Carr thinks machines may be depressing wages but have otherwise been overstated. An excerpt:
I'm convinced that computer automation is changing the way people work, often in profound ways, and I think it's likely that automation is playing an important role in restraining wage growth by, among other things, deskilling certain occupations and reducing the bargaining power of workers. But the argument that computers are going to bring extreme unemployment in coming decades — an argument that was also popular in both the 1950s and the 1990s, it's worth remembering — sounds increasingly dubious. It runs counter to the facts. Anyone making the argument today needs to provide a lucid and rational explanation of why, despite years of rapid advances in robotics, computer power, network connectivity, and artificial intelligence techniques, we have yet to see any sign of a broad loss of jobs in the economy.•
Tags: Nicholas Carr