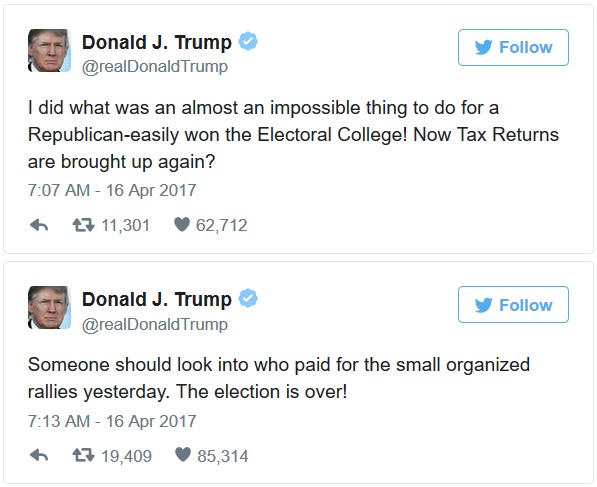 If Twitter pulled the plug on Trump for his repeated slanders, how would he go about presenting his alternative reality? He could rely on traditional-media blitzes as he did yesterday when he flubbed both history (Andrew Jackson) and current events (Kim Jong-un), but he would receive pushback from most non-Fox interlocutors and accommodating an endless parade of talking-heads wouldn't leave him much time for running the country and golfing.
In the direct aftermath of the recent Tax Day protest, Trump took to his favorite online platform and repeated the claim he and other Republicans offer whenever #Resist assembles in large numbers: The protesters were few and paid. It's obviously an effort to undercut the legitimacy of those marching for essential American ideals.
When interviewed in the middle of February in Süddeutsche Zeitung,Yale historian Timothy Snyder explained the tactic this way:
The idea is to marginalize the people who actually represent the core values of the Republic. The point is to bring down the Republic. You can disagree with them. but once you say they have no right to protest or start lying about them, you are in effect saying: "We want a regime where this is not possible anymore."  When the president says that it means that the executive branch is engaged in regime change towards an authoritarian regime without the rule of law. You are getting people used to this transition, you are inviting them into the process by asking them to have contempt for their fellow citizens who are defending the Republic.•
At that moment, Snyder believed we had a year to save liberal democracy in the U.S. In an excellent new Q&A with Chauncey DeVega of Salon, the academic says he believes the Administration's heretofore failed efforts at legislation make a unconstitutional, near-term power grab even likelier. I will say that the sycophantic media reaction to the Syria bombings probably made might seem more right than ever to a jittery, unhinged Oval Office.
Gun to his head (figuratively, I mean), Snyder guesses the attempt at authoritarianism will fail. He also provides a smart analysis of why a cartoonish TV personality like Trump is judged by a very different standard by a wide swath of the public.
An excerpt:
Question:
In your book [On Tyranny] you discuss the idea that Donald Trump will have his own version of Hitler's Reichstag fire to expand his power and take full control of the government by declaring a state of emergency. How do you think that would play out?
Timothy Snyder:
Let me make just two points. The first is that I think it's pretty much inevitable that they will try. The reason I think that is that the conventional ways of being popular are not working out for them. The conventional way to be popular or to be legitimate in this country is to have some policies, to grow your popularity ratings and to win some elections. I don't think 2018 is looking very good for the Republicans along those conventional lines — not just because the president is historically unpopular. It's also because neither the White House nor Congress have any policies which the majority of the public like.
This means they could be seduced by the notion of getting into a new rhythm of politics, one that does not depend upon popular policies and electoral cycles.
Whether it works or not depends upon whether when something terrible happens to this country, we are aware that the main significance of it is whether or not we are going to be more or less free citizens in the future.
My gut feeling is that Trump and his administration will try and that it won't work. Not so much because we are so great but because we have a little bit of time to prepare. I also think that there are enough people and enough agencies of the government who have also thought about this and would not necessarily go along.•