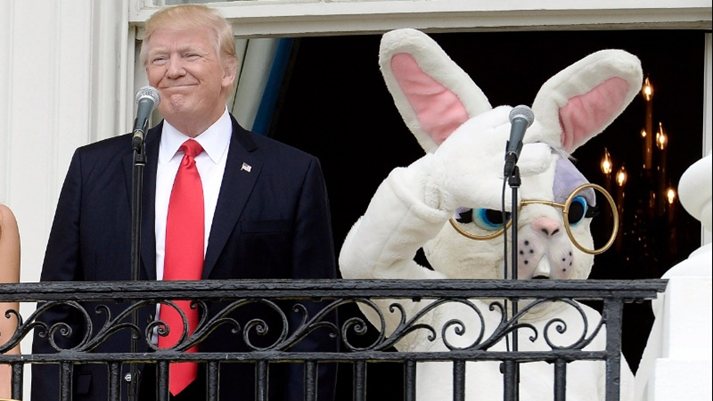 Throughout the election and even after, there were a steady stream of perplexing stories suggesting Donald Trump would "become Presidential" once he won the primary, at the convention, during the debates, after he took the oath, etc. 
It was ridiculous.
In the last week or so, Trump, a sociopath and demagogue, endorsed Marine Le Pen, announced we could soon have a "major, major conflict" with North Korea, threatened to "break up" the Ninth Circuit Court of Appeals, refused to provide key documents about Michael Flynn and gave a rambling, delusional interview to the Associated Press. Meanwhile, he continues to employ white nationalists Steve Bannon, Stephen Miller, Jeff Sessions and Sebastian Gorka, uses the office as a cash register for himself and his family and pushes health-care and tax "plans" that are cocktail-napkin policy, as ridiculous as they are draconian.
He is not normal. He is not going to become normal. Stop trying to normalize him.
Matt Bai, a very gifted journalist for Yahoo! News, is the latest to offer a take about a potentially moderating Trump, with a new twist: Perhaps the orange supremacist, who is resolutely uninformed, incurious and lacking in common decency, wants to change for the better but the media is holding him back.
Oy gevalt!
Bai thinks he's being a realist, not a normalizer, but Le Pen's hand-picked replacement to be acting leader of the National Front in her stead was a Holocaust denier. She's Trump's preference. That's abnormal.
Prediction: If Trump should survive his first four years, no matter how disgraceful they may be, there will be "think pieces" penned about how he'll change were he to get a second term.
An excerpt:
Here's where I come down. I don't think the chances are high that Trump can somehow evolve into a wise president who unifies the country and understands the world. I've been trying to play baseball a lot of my life, and I'll never hit a 90-mile-per-hour fastball. We are who we are.

But I also don't think we can preclude the possibility. And if, in the 100 days to come and the 100 after that, Trump's inclined to reinvent himself as a more thoughtful statesman, we shouldn't jump up and down screaming "flip-flopper" like a bunch of fools with severely limited vocabularies. We have to give him room to grow.

Because if we don't, we're only proving his point about the media — that we report only what we can stand to report, rather than the truth, and that we're never going to give him credit for anything. And Trump will get some things right. The law of averages compels it.

Critics on the left will call this "normalizing" Trump. I call it acknowledging reality, which is that he is the president, and we don't get to decide for people what's normal and what isn't.

Trump could yet find a way to be bigger than he seems. We shouldn't ask any less of ourselves.•
Tags: Donald Trump, Matt Bai