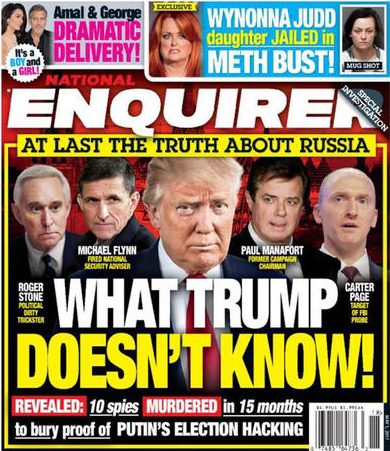 Philip Roth refuses any similarity between his great 2005 novel The Plot Against America and the rise of the totalitarian Reality TV host Donald Trump, asserting that he never would have written a fiction about such a preposterous character coming to such political prominence.
If I'm recalling correctly 12 years on, the autocratic madness at the heart of that book just sort of abated, normalcy returning in the nick of time. The Simon Cowell-ish strongman has made it further than the "Charles Lindbergh" of Roth's title, and his reign of terror won't likely soon end–if it should soon end–with such a placid reversion to decency. It will be messy.
Who knows what morsels of Mensch-mania is true, but it does seem plausible at this point that the Kremlin and the Trump cohort exchanged far more than just pleasantries. A way to gauge the concern level of the Oval Office is to read the main narrative being pushed by the National Enquirer, published by Trump pal David Pecker. First the tabloid attacked Hillary, then it flipped on Flynn and now it's making it seem as if the 45th President is the last honest man swimming in a sea of inner-circle inequity. Sounds like an attempt to preempt blame and redirect guilt.
It's an echo of Mark Cuban's recent commentary, well-meaning but asinine, which painted Trump as some sort innocent dupe unwittingly used by a cadre of cutthroat figures. The hideous hotelier has been doing business for decades with all manner of such reprobates. He's no put-upon patsy.
Regardless of how it all plays out, the election of such a creep is an indictment of our politics, discourse, media, ethics, economics, education system and celebrity worship. No one is so innocent, not even the "forgotten Americans." And that indictment is far more depressing than any that could be handed down to the Administration's principals.
· · ·
In Salon, Chauncey DeVega interviews cultural critic Henry Giroux about Trump's actions and the reaction against him. "There are going to be moments here that even you and I will be shocked by," the subject darkly warns. The opening:
Question:

What does it feel like from your point of view, having written so much about the culture of cruelty and authoritarianism, to watch it unfold in the United States in real time? 

Henry Giroux:

I've been writing about the potential for authoritarianism in the United States for 20 years. This is not a new discourse for me. What has often surprised me is not that it unfolded or the neo-liberal orthodoxy that increasingly made it appear more and more possible. What shocked me was the way the left has refused to really engage this discourse in ways that embrace a comprehensive politics, one that go beyond the fracturing single-issue movements and begins to understand what the underlying causes of these authoritarian movements have been and what it might mean to address them.

You have to ask yourself, what are the forces at work in the United States around civic culture, around celebrity culture, around the culture of fear, around the stoking of extremism and anger that give rise to a right-wing populism and neo-fascist politics? About a media that creates a culture of illusion, about the longstanding legacy of racism and terror in the United States. I mean, how did that all come together to produce a kind of authoritarian pedagogy that basically isolated people, and made them feel lonely? All of a sudden they find themselves in a community of believers, in which the flight from reality offers them a public sphere in which they can affirm themselves and no longer feel that they're isolated.

Question:

Are Donald Trump's voters victims?

I think the notion of victim is really a bad term because it takes away any pretense for agency and social responsibility.

Question:

I try to crystallize it down to, "They voted to hurt people."

That's right. Exactly.•
Tags: Chauncey DeVega, Henry Giroux