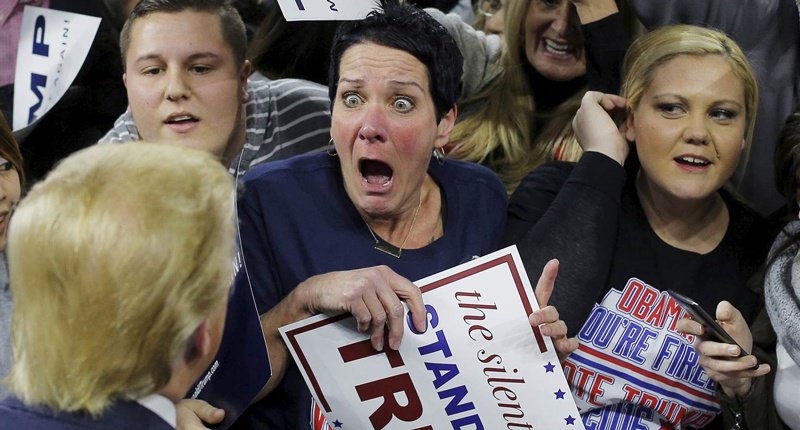 What does it say about us that nearly 63 million Americans voted for President not just a con man but the most obvious con man of all? There are a couple of options and neither are good.
If that many citizens are truly so gullible, then we've failed in a shockingly broad way to develop people with adequate critical-thinking abilities. But if most were responding to the Make America White Again message, we've stumbled in a far more serious way. Regardless of which is true–and they both likely are to a good extent–we're now find ourselves in a grave situation.
In Matt Flegenheimer's smart New York Times report from a deeply purple Pennsylvania county, some are having second thoughts about handing the keys to the Oval Office to a wildly dishonest Reality TV host with sociopathic tendencies. He still, however, managed to find quite a few souls sticking to their guns.
An excerpt:
BENSALEM, Pa. — One after another, the gamblers totter along the twisting walkway, bathed in artificial purple light — burdened, at least occasionally, by the instinct that they should have known better.

Usually, this pathway outside Parx Casino is reserved for self-flagellation, a private lament at the last hundred lost. But lately, as with most any gathering place around here since late January — the checkout line, the liquor store, the park nearby where losing lottery numbers are pressed into the mulch — patrons have found occasion to project their angst outward, second-guessing a November wager.

"Just like any other damn president," sighed Theresa Remington, 44, a home-care worker and the mother of two active-duty Marines, scraping at an unlit cigarette. She had voted for Donald J. Trump because she expected him to improve conditions for veterans and overhaul the health care system. Now?

"Political bluster," Ms. Remington said, before making another run at the quarter slots. She wondered aloud how Senator Bernie Sanders of Vermont might have fared in the job.
 
Such is a view from this swing county of a swing region of a swing state that powered Mr. Trump's improbable victory, an electoral thermometer for a president slogging toward the end of his first 100 days. Across the country, Republican officials have grown anxious at their standing on even ruby-red turf, sweating out a closer-than-expected victory last week in a House race in a Kansas congressional district that Mr. Trump had carried by 27 points. …

"No one wants to be wrong," said Brian Mock, 33, a tattoo artist in Levittown, Pa., and a Trump skeptic. "It's seeing a house on fire and saying, 'That house isn't on fire.' It is very clearly on fire."•
Tags: Matt Flegenheimer