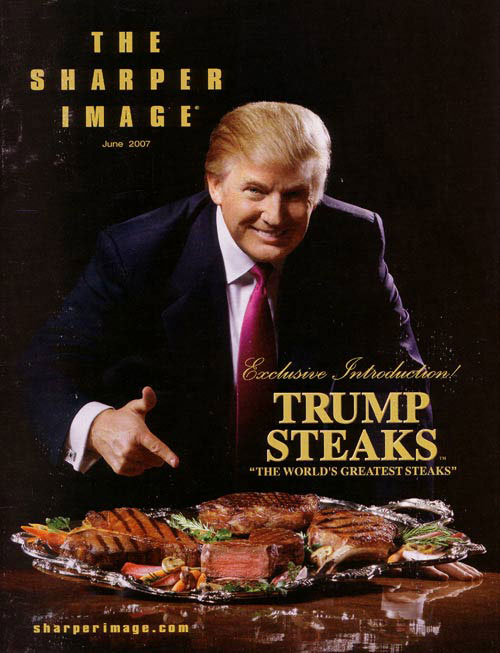 It took Republicans seven years to meet their Obamacare waterloo, as David Frum promised they would in 2010 when the party invested heavily in the Tea Party's incoherent populism, rife with threats about death panels and the mercy killing of capitalism. Today was the finally the day when members of the GOP was forced to face what had been obvious to just about every sane person: They never had a reasonable alternative, their plan was bankrupt, health care is complicated.
Problem is, Republicans have yet to face their comeuppance in a broader sense. Moving forward, they'll still try to undermine the Affordable Care Act, institute unreasonable tax cuts for the highest earners and work daily on policies antithetical to the health and well-being of the majority Americans. In an angry country overrun by low-information voters, that fever remains unbroken.
Two excerpts follow.
---
From Ezra Klein at Vox:
President Donald Trump is supposed to be the dealmaker-in-chief. He's supposed to get the deals his predecessors couldn't get, the concessions they couldn't make, the wins they couldn't find.

Instead, Trump signed onto the first health care bill Paul Ryan came up with only to watch it go down in flames. As I write this, the question has moved from whether the bill will pass to whether Trump can force a House vote to humiliate Ryan. So what the hell happened?

The answer can be found in Trump Steaks. And Trump University. And Trump Vodka. And Trump Suits. And Trump's fragrance line, his board game, his ghostwritten books, his energy drink, his eyeglasses, and his chocolate bars.

Yes, these are all real Trump products. And they expose the reality of Trump's dealmaking. Trump is not a guy who makes particularly good deals so much as a guy who makes a lot of deals — many of which lash his name and reputation to garbage products.

Trump, a lifelong teetotaler, didn't scour the globe to find the very best vodka. No — someone offered him an opportunity to make a quick buck by putting his name on a product he wouldn't ever touch and he took it. Trump University was a far darker scam. Trump Steaks were, and are, a joke.

This is Trump's pattern: He licenses his brand and lets others worry about the details of the products. Trump's partners often end up going out of business and his customers often end up disappointed, but Trump makes some money, and he gets his name out there, and it's all good.

This was Trump's approach to the health care bill, too. He let someone else worry about the product and he simply licensed his name, marketing support, and political capital. Trump didn't know what was in the Affordable Health Care Act, and he didn't much care. It broke his promises to ensure health care for everyone, to protect Medicaid from cuts, to lower deductibles, and to guarantee choices of doctors and plans — but he didn't pay attention to any of that. In private, Trump was apparently bored by the subject and eager to move onto tax reform.

But being president of the United States isn't like being a downmarket consumer brand.•
---
From Frum in the Atlantic:
So, when the Democrats indeed did pass the law without Republican input, just as I'd warned they would, a fury overcame me. Eighteen months of being called a "sellout" will do that to a man, I suppose. I opened my computer and in less than half an hour pounded out the blogpost that would function, more or less, as my suicide note in the organized conservative world.

The post was called "Waterloo." (The title played off a promise by then-senator and now Heritage Foundation president Jim DeMint that the Affordable Care Act would become Obama's Waterloo, a career-finishing defeat.)

We followed the most radical voices in the party and the movement, and they led us to abject and irreversible defeat.

There were leaders who knew better, who would have liked to deal. But they were trapped. Conservative talkers on Fox and talk radio had whipped the Republican voting base into such a frenzy that deal-making was rendered impossible. How do you negotiate with somebody who wants to murder your grandmother? Or—more exactly—with somebody whom your voters have been persuaded to believe wants to murder their grandmother?

I've been on a soapbox for months now about the harm that our overheated talk is doing to us. Yes it mobilizes supporters—but by mobilizing them with hysterical accusations and pseudo-information, overheated talk has made it impossible for representatives to represent and elected leaders to lead. The real leaders are on TV and radio, and they have very different imperatives from people in government. Talk radio thrives on confrontation and recrimination. When Rush Limbaugh said that he wanted President Obama to fail, he was intelligently explaining his own interests. What he omitted to say—but what is equally true—is that he also wants Republicans to fail. If Republicans succeed—if they govern successfully in office and negotiate attractive compromises out of office—Rush's listeners get less angry. And if they are less angry, they listen to the radio less, and hear fewer ads for Sleepnumber beds.

So today's defeat for free-market economics and Republican values is a huge win for the conservative entertainment industry. Their listeners and viewers will now be even more enraged, even more frustrated, even more disappointed in everybody except the responsibility-free talkers on television and radio. For them, it's mission accomplished. For the cause they purport to represent, it's Waterloo all right: ours.•
Tags: David Frum, Ezta Klein