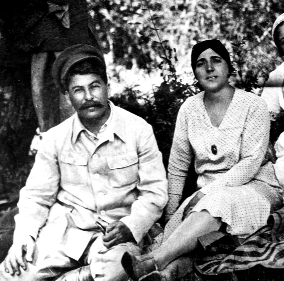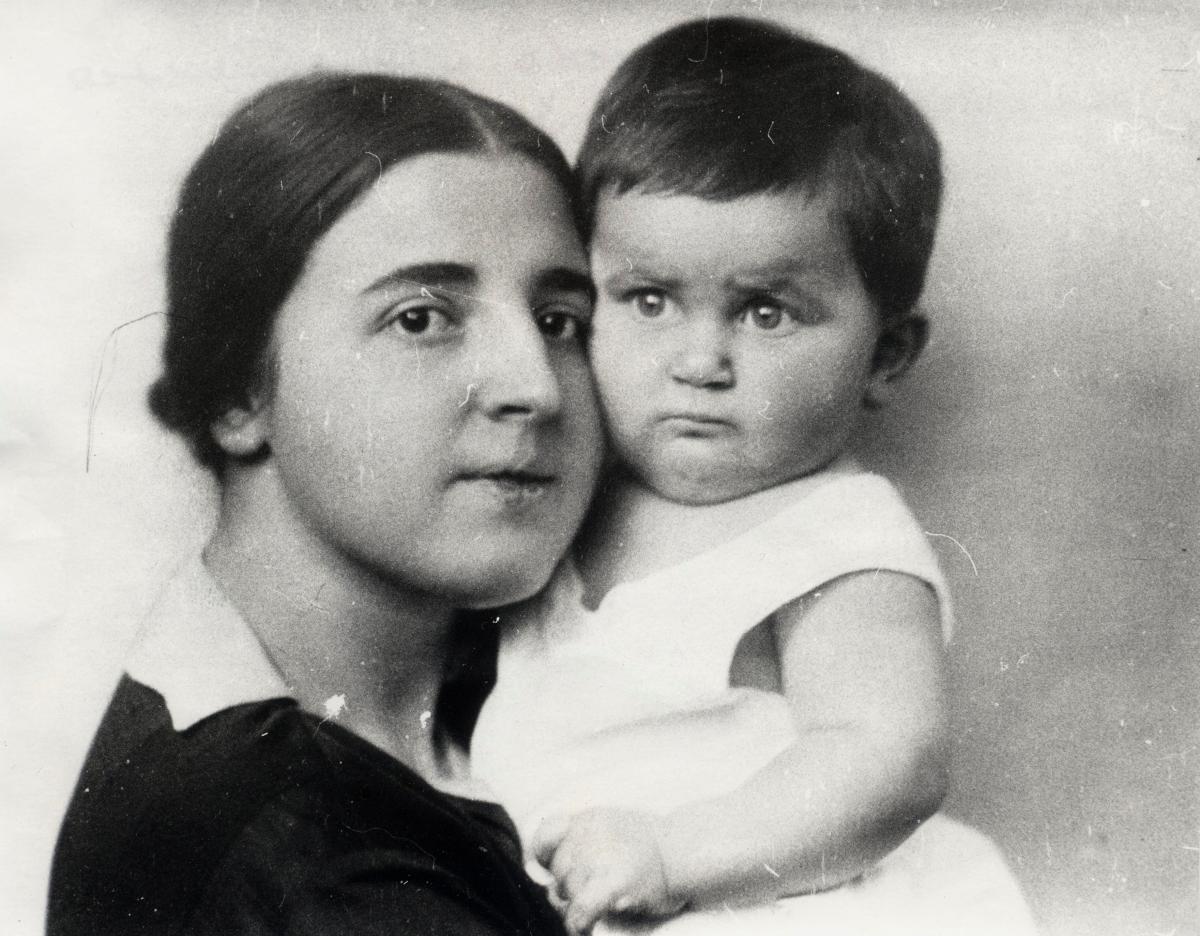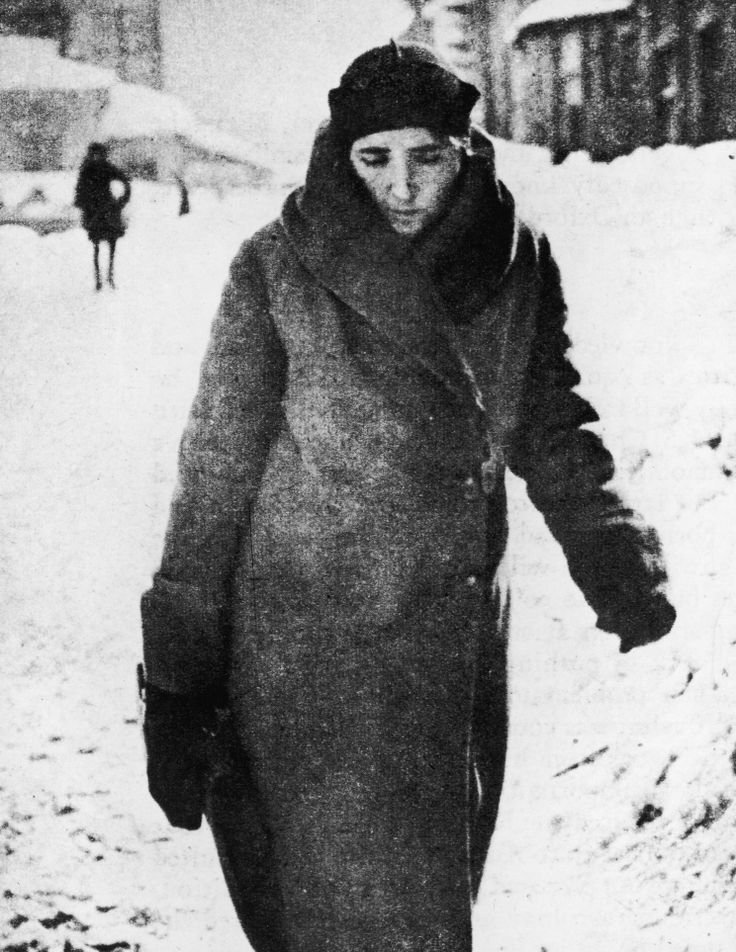 At least Eva Braun never tied the knot. 
Nadezhda Alliluyeva Stalin was not so fortunate. The second wife of the Soviet Union's murderous leader, one of history's greatest villains, was said to have died from appendicitis after thirteen years of marriage, but she actually shot herself to escape her tyrannical husband's browbeating and humiliations.
Nina Khrushcheva, granddaughter of Nikita Khrushchev, recently wrote a Quartz article arguing that Melania Trump is an ideal autocrat's wife. In the piece, she recalled Nadezhda's demise:
In an autocracy, institutions such as the FLOTUS position—not fully formal, yet relevant—are the easiest to undermine. In Russia—first a monarchy and then a communist dictatorship—where "unsharable" power of the leader has been personalized and centralized to an extreme, there was barely ever a true "first lady," her very fate providing a symbolic commentary on the regime.

Joseph Stalin's Gulags—mass incarceration and prosecution of everyone suspected of opposing his personal power—were foreshadowed by the death of his wife, Nadezhda. Lacking a role to perform in the Kremlin's politics, she committed suicide in 1932. According to a 1988 report in the New York Times, a Stalin biographer wrote that she killed herself " after she spoke her mind about Communist Party purges and the famine and was met by a flood of vulgar abuse from Stalin."•
As you can imagine, the mother of the communist country committing suicide was not a topic open for discussion in the Soviet Union of that era. A November 20, 1932 Brooklyn Daily Eagle article reported on the shocking-though-shrouded turn of events.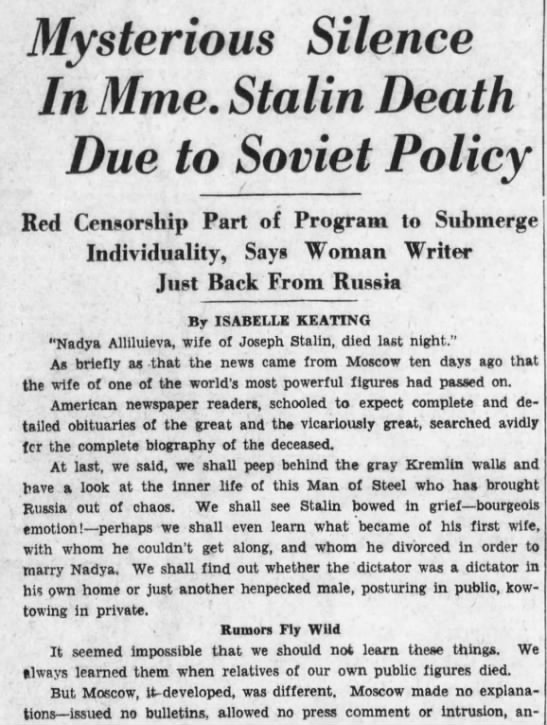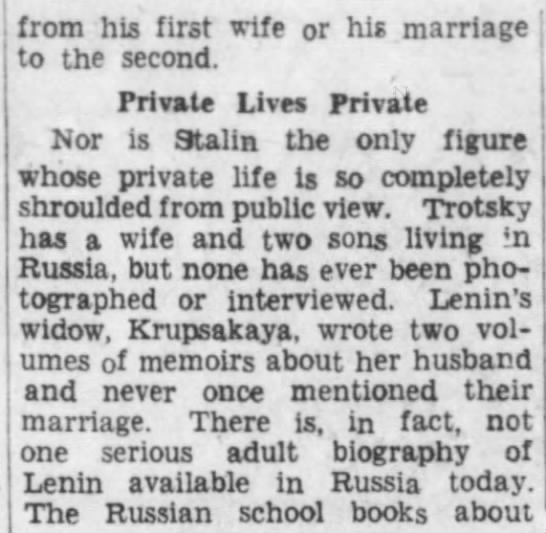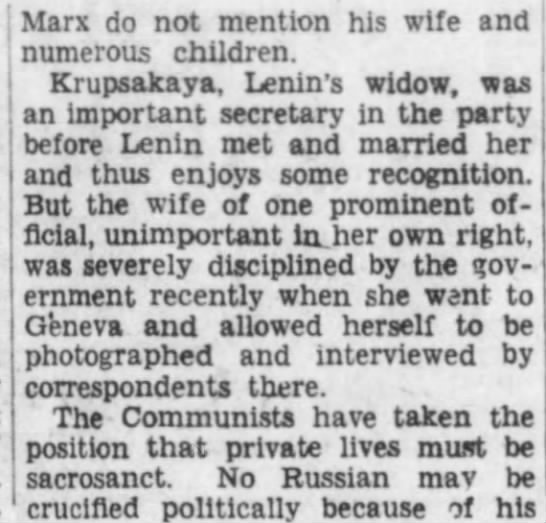 Tags: Joseph Stalin, Nadezhda Alliluyeva Stalin, Nina Khrushcheva