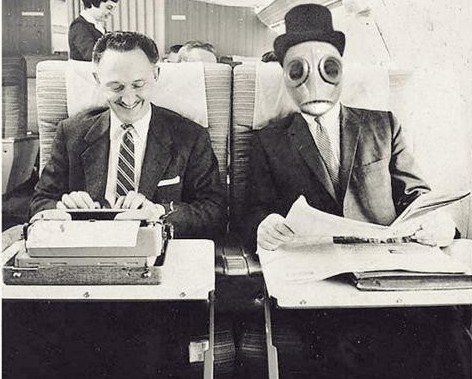 I've read the full canon of the deeply humane short story writer and journalist George Saunders to this point, and I'm three books (The Resistible Rise of Arturo Ui, My Struggle: Book Five and Difficult Women) from digging into his first novel, Lincoln in the Bardo.
Even at his most outlandish, Saunders never seems to be writing about the future but instead providing social critiques about contemporary life. What is the quiet nightmare The Semplica Girls Diaries about if not the growing divide between the haves and have-nots as we shift from the Industrial Age to the Digital one, the way technocracy removes the friction from our lives and disappears the "downsized" from our minds?
In that same vein, the New York Times T Magazine published, in 2014, new notations the writer made about his 1996 collection, CivilWarLand in Bad Decline. An excerpt: 
Closing thought: I like the audacity of this book. I like less the places where it feels like I went into Auto-Quirky Mode. Ah youth! Some issues: Life amid limitations; paucity. Various tonalities of defense. Pain; humiliation inflicted on hapless workers – some of us turn on one another. Early on, this read, could really feel this young writer's aversion to anything mild or typical or bland. Feeling, at first, like a tic. But then it started to grow on me — around "400 Pound CEO." This performative thing then starts to feel essential; organic somehow – a way to get to the moral outrage. I kept thinking of the word "immoderation." Like the yelp of someone who's just been burned.
Sadly those sick feelings have fully metastasized in the intervening 20 years, and now CivilWarLand isn't the only thing in bad decline. 
In a Guardian essay, Saunders does a brilliant job explaining the process of creative writers, though I think he actually explains creativity more broadly. It's largely about noticing small details and extemporaneously making connections between them.
An excerpt:
A guy (Stan) constructs a model railroad town in his basement. Stan acquires a small hobo, places him under a plastic railroad bridge, near that fake campfire, then notices he's arranged his hobo into a certain posture – the hobo seems to be gazing back at the town. Why is he looking over there? At that little blue Victorian house? Stan notes a plastic woman in the window, then turns her a little, so she's gazing out. Over at the railroad bridge, actually. Huh. Suddenly, Stan has made a love story. Oh, why can't they be together? If only "Little Jack" would just go home. To his wife. To Linda.

What did Stan (the artist) just do? Well, first, surveying his little domain, he noticed which way his hobo was looking. Then he chose to change that little universe, by turning the plastic woman. Now, Stan didn't exactly decide to turn her. It might be more accurate to say that it occurred to him to do so; in a split-second, with no accompanying language, except maybe a very quiet internal "Yes."

He just liked it better that way, for reasons he couldn't articulate, and before he'd had the time or inclination to articulate them.

An artist works outside the realm of strict logic. Simply knowing one's intention and then executing it does not make good art. Artists know this. According to Donald Barthelme: "The writer is that person who, embarking upon her task, does not know what to do." Gerald Stern put it this way: "If you start out to write a poem about two dogs fucking, and you write a poem about two dogs fucking – then you wrote a poem about two dogs fucking." Einstein, always the smarty-pants, outdid them both: "No worthy problem is ever solved in the plane of its original conception."•