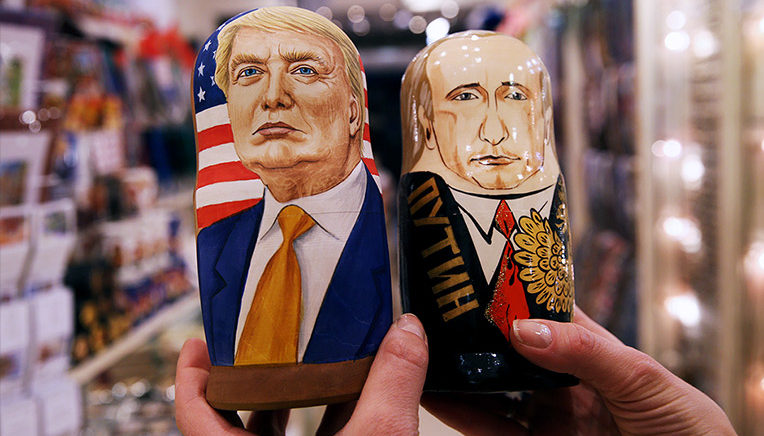 Masha Gessen has made it clear she doesn't believe Russia is responsible for America electing an autocratic sociopath, and in the big picture she's right.
I don't doubt Kremlin interference one bit, nor that it was likely committed in concert with high-ranking members of the Trump campaign if not the President himself, but there's no real excuse for nearly 63 million citizens voting for a candidate who was clearly a habitual liar, vicious demagogue and utter incompetent. That's on us.
That's not to say that we shouldn't aggressively strive for the truth in this gravely serious matter, and that arrests shouldn't be made and impeachment be pursued if illegal activities can be proven. Certainly Congress would be investigating the matter at full throttle if a Democratic President had behaved in a similar manner, but partisan hackery has become a hallmark of the legislative branch.
In a Gessen piece just published at the New York Review of Books, the reporter wonders why the Russian espionage is a more important lie to many in the media and the Intelligence Community than the avalanche of dishonesty Trump and his cabinet regularly send down the mountain. On this point, I'll disagree with her.
She's right that it would be foolish to focus on the Putin connection to the exclusion of the many other assaults on liberal governance we're enduring nearly daily, but an American President conspiring with an adversarial foreign power to gain office–whether the machinations actually helped him win votes or not–would be a singular shock to the system. Destroying health care and lowering taxes on the highest earners would be awful policy, but it wouldn't be treason. The suspicious activity proceeding the election may very well be.
From Gessen:
The dream fueling the Russia frenzy is that it will eventually create a dark enough cloud of suspicion around Trump that Congress will find the will and the grounds to impeach him. If that happens, it will have resulted largely from a media campaign orchestrated by members of the intelligence community—setting a dangerous political precedent that will have corrupted the public sphere and promoted paranoia. And that is the best-case outcome.

More likely, the Russia allegations will not bring down Trump. He may sacrifice more of his people, as he sacrificed Flynn, as further leaks discredit them. Various investigations may drag on for months, drowning out other, far more urgent issues. In the end, Congressional Republicans will likely conclude that their constituents don't care enough about Trump's Russian ties to warrant trying to impeach the Republican president. Meanwhile, while Russia continues to dominate the front pages, Trump will continue waging war on immigrants, cutting funding for everything that's not the military, assembling his cabinet of deplorables—with six Democrats voting to confirm Ben Carson for Housing, for example, and ten to confirm Rick Perry for Energy. According to the Trump plan, each of these seems intent on destroying the agency he or she is chosen to run—to carry out what Steve Bannon calls the "deconstruction of the administrative state." As for Sessions, in his first speech as attorney general he promised to cut back civil rights enforcement and he has already abandoned a Justice Department case against a discriminatory Texas voter ID law. But it was his Russia lie that grabbed the big headlines.

The unrelenting focus on Russia has yielded an unexpected positive result, however. Following Flynn's resignation, Trump designated Lieutenant General H.R. McMaster, a thoughtful and highly respected military strategist, as his national security adviser. And Fiona Hill, probably the most knowledgeable American scholar of Putin's Russia, is expected to take charge of Russia policy at the National Security Council. Hill has been a consistent and perceptive critic of Putin, and a proponent of maintaining sanctions imposed by the United States following Russia's invasion of Ukraine. Both of these appointments—and the fact that sanctions remain in place six weeks into Trump's fast-moving presidency—contradict the "Putin's puppet" narrative (as does the fact that Russian domestic propaganda has already turned against Trump). But such is the nature of conspiracy thinking that facts can do nothing to change it.

Imagine if the same kind of attention could be trained and sustained on other issues—like it has been on the Muslim travel ban. It would not get rid of Trump, but it might mitigate the damage he is causing. Trump is doing nothing less than destroying American democratic institutions and principles by turning the presidency into a profit-making machine for his family, by poisoning political culture with hateful, mendacious, and subliterate rhetoric, by undermining the public sphere with attacks on the press and protesters, and by beginning the real work of dismantling every part of the federal government that exists for any purpose other than waging war. Russiagate is helping him—both by distracting from real, documentable, and documented issues, and by promoting a xenophobic conspiracy theory in the cause of removing a xenophobic conspiracy theorist from office.•
Tags: Donald Trump, Masha Gessen