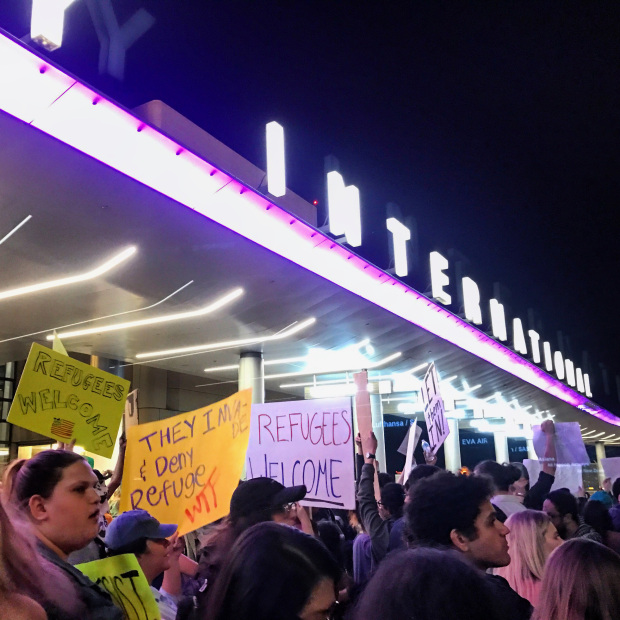 Secondary to the sheer un-American nature and moral failing of Muslim bans and refugee refusal is just how injurious such policies are for business.
Whether it's because these moves have instilled fear in international travelers or because vacationers have chosen to vote with their pocketbooks, tourists from abroad have turned away sharply from the U.S. in the weeks since Trump's attempt at an Executive Order banning visitors from seven predominantly Muslim countries. That's a severe threat to the livelihoods of many Americans, who are already facing myriad pressures in the Digital Age.
The causes of unemployment, underemployment and stagnant wages are amazingly complex, especially among the "structurally unemployed," a contingent unlikely to be aided by catchphrases on baseball caps.
Two excerpts follow, one on what the travel ban means for U.S. workers and another about the web of troubles keeping citizens who want to work from doing so.
---
From Michelle Baran at Travel Weekly:
International flight-booking data released this week confirmed concerns across the travel industry that president Trump's 90-day travel ban on nationals from seven Muslim-majority countries is dealing a significant blow to inbound travel to the U.S.

Following the Jan. 27 ban on travel to the U.S. by nationals from Iran, Iraq, Libya, Yemen, Somalia, Sudan and Syria, net bookings from those seven countries were down 80% between Jan. 28 and Feb. 4, compared with the same period last year, according to flight reservation transactions analyzed by the travel data company ForwardKeys.

ForwardKeys also reported a 6.5% drop in overall international travel to the U.S. for the same period when compared with the equivalent eight-day period the year before.

Meanwhile, Hopper, a flight app that tracks GDS searches in order to analyze fare prices and demand, also found that the number of flight searches for travel from international points of origin to the U.S. — a key indicator of future travel intent — was down 17% the week of Jan. 27. Last year, there was only a 1.8% decline during the same time period.

"The data forces a compelling conclusion that Donald Trump's travel ban immediately caused a significant drop in bookings to the USA and an immediate impact on future travel," said Olivier Jager, CEO of ForwardKeys. "This is not good news for the U.S. economy."•
---
From Jeanna Smialek's Bloomberg portrait of a struggling Kentucky man named Tyler Moore:
His problems started in earnest in 2014. He had been living on his own for several years, having moved out at 18 after dropping out of high school, obtaining his GED, and going to work in security at a coal company. Moore is gay in an intensely conservative region, and he said he left school because of bullying.

Moore lost his job in late 2013 after smoking marijuana and failing a drug test. Though he found temporary work as a remote customer service representative, he lost that one when his mother died of a drug overdose in 2014 and he had to plan her funeral.

Deeply depressed and unemployed, he moved into an old Airstream camper propped on cinder blocks behind his father's house, at the entrance to the litter-strewn trailer park that the older man owns in the misty hills of Lovely. There, surrounded by long-unemployed neighbors and rampant drug use, Moore began to abuse his medical prescriptions. "I guess I used it as my crutch, in a way," he says.

Moore began getting in fights while drugged and was arrested twice. When he landed in jail for several months, he realized things needed to change. He graduated from a rehabilitation program in September, one year, one month, and 15 days after that last altercation. Since then, he's deepened his friendship with Sister Therese Carew, a Catholic nun who ministers to the region, and dedicated his time to job seeking.

Opportunities are few. Coal mines have been closing, and they've taken most other businesses with them.

To employers outside the area, the fact that Moore is neatly groomed, soft-spoken, and polite can't mask his history. What's more, he's the first to admit that the math skills he learned in the local public schools—where only eight in 10 students graduate—aren't up to par, and his speaking patterns are colored by regional grammar.•
Tags: Jeanna Smialek, Michelle Baran