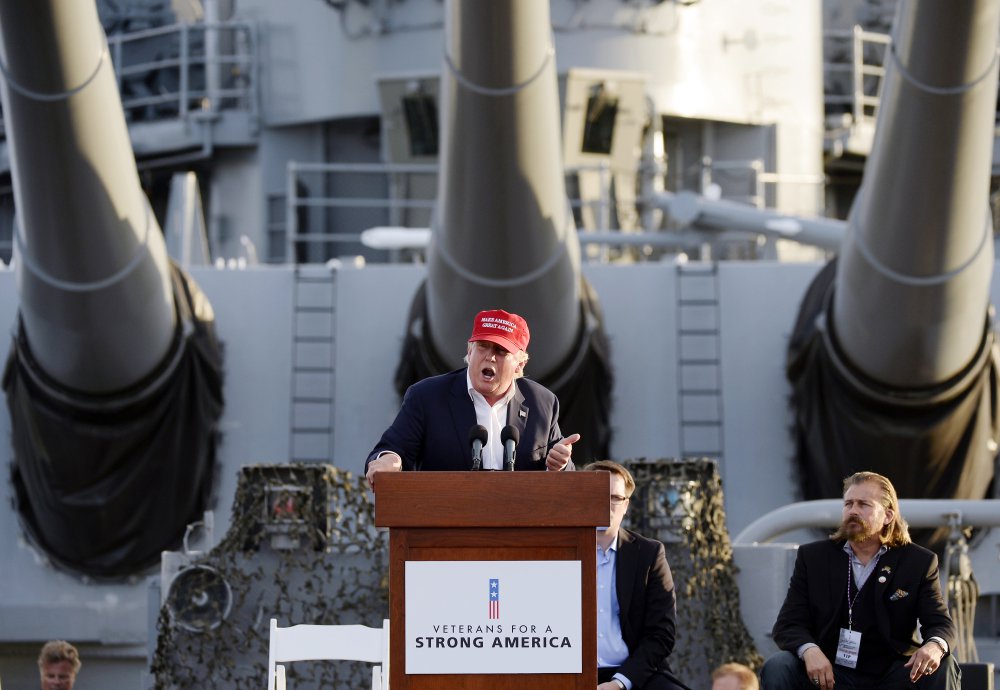 Tried to imagine a President worse than Trump and all I could come up with was someone identical to him but competent and disciplined. Imagine that?
The new President and putative Putin puppet held a campaign rally this weekend, just four weeks after being inaugurated, because he never wanted to be President–he just wanted to run for the position. The trail is where the applause and consequence-less boasts are, while the Oval Office is the location of the hard work that never ceases. Of course, his inability to focus on the job, while it may impede some of his worst policy, can also get lots of people killed, right now and in the future.
This horrid time, however long it should last, will have all sorts of repercussions for tomorrow, especially since our foreign policy now is an ad hoc collection of ever-changing postures and trade wars, which will reduce the efficacy of our soft power even if we retain our military might. Additionally: Lots of people can get blown up.
Two excerpts below about the vacuum which now exists on the world stage where American doctrine formerly resided.
---
From Eliot A. Cohen's Atlantic piece "The Rudderless Ship of State":
There are two theories of the future of President Trump's foreign policy and the National Security Council. In one, the good ship NSC, like a Nantucket whaler of old, has had a hard shakedown cruise, but is coming to. A couple of misfits have been tossed overboard, and the captain has given up trying to run the ship. He periodically shows up on deck to shake his fist at the moon and order a summary flogging, but for the most part he stays in his cabin emitting strange barks while competent mates and petty officers sail the NSC. It's not pretty—the ship rolls and lurches alarmingly—but it gets where it needs to go.

This could happen. Trump, overwhelmed by a leadership task far beyond his experience and personality, will focus his efforts on infrastructure projects and the like, and quietly concede the direction of foreign policy to his sober secretaries of state and defense, with a retired general or admiral to reassemble something like an orderly White House process. He is erratic but not stupid: he knows he is in over his head, hates the bad publicity his first few weeks bought him, and has family members nudging him in this direction.

Unfortunately, another possibility is more likely: The ship is in serious trouble. The first reason is that the system cannot function with an absent commander in chief. Since World War II, the United States has evolved a system for making foreign policy that depends on an effective White House operation in the form of the National Security Council staff. (The NSC itself consists of Cabinet secretaries and the like, not aides and bureaucrats.) The elaborate hierarchy of interagency committees that evolved actually works rather well most of the time, but it depends critically on the ability of a competent staff working directly for the president to orchestrate it.•
---
From Jon Finer's Politico article "Trump Has No Foreign Policy":
What is different is that right now not only is there no discernible doctrine guiding President Donald Trump's foreign policy, the United States currently has no real foreign policy at all. By that I mean not that the policies are objectionable, or that the Trump team is struggling with the learning curve each new administration faces at the outset, as it reviews its predecessors' approach and settles on its own. Rather, I mean that we are experiencing an unprecedented degree of policy incoherence on virtually every major issue the country faces.

And so it was left to Vice President Mike Pence on Saturday to travel to the Munich Security Conference, the most important annual gathering of politicians and national security wonks, to reassure America's increasingly nervous European partners that things in Washington are under control. The meetings can be insufferable, but they are also an important chance, especially at the start of an administration, to help the world understand what policies it will pursue.

Pence did perfectly well, in what must have felt like Mission Impossible. He told America's allies what they wanted—actually, needed—to hear: that the United States would continue to "hold Russia accountable" for its aggression in Ukraine, that we remained deeply committed to the NATO alliance, that the values underpinning transatlantic relations remain sacrosanct.

The problem is, no one really knows if Pence speaks for the administration on foreign policy—or, for that matter, if anyone does. Policy is, at its core, a function of what the government does and what it says. While it is too soon for the Trump administration to have done much, what is being said is either nothing or completely contradictory things. Pence's message about shared values was undercut both before and minutes after his remarks by President Trump, with his latest tweets attacking the mainstream media as "fake news" and, more outrageously, "the enemy of the American people."

There are many more such examples of incoherence.•
Tags: Eliot A. Cohen, Jon Finer