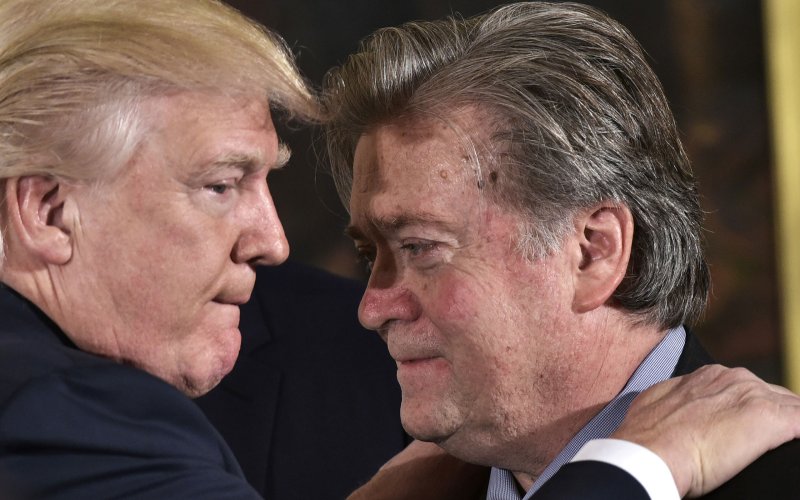 It's appalling that basically sane and intelligent people like James Baker still can't discern the grave danger American democracy is now facing. Not even the removal of the word "Jewish" from the Holocaust Remembrance Day announcement, an attempt at a Muslim ban and repeated attacks on the judicial branch and press have awakened them to this reality.
In an interview in the international edition of Süddeutsche Zeitung that is required reading, Matthias Kolb questions Yale historian Timothy Snyder about the fascist threat to the U.S. that is the Trump Administration, which doesn't want only to rule but to also destroy the rule of law. History, decency and liberty are also on the chopping block.
While Snyder's spirits have been buoyed by the early resistance, he believes we don't have much time to save the Republic, especially with a non-responsive legislative branch. "What happens in the next few weeks is very important," he warns.
An excerpt:
Question:

When [Steve] Bannon calls the press the main "opposition party" that should make everyone concerned. This is not only intended to cheer up Trump supporters.

Timothy Snyder:

When you say that the press is the opposition, than you are advocating a regime change in the United States. When I am a Republican and say the Democrats are the opposition, we talk about our system. If I say the government is one party and the press is the opposition, then I talk about an authoritarian state. This is regime change.

Question:

Last week Trump called those who take part in demonstrations "thugs" and "paid protestors". This doesn't show respect for First Amendment right, it sounds more like Putin.

Timothy Snyder:

That is exactly what the Russian leadership does. The idea is to marginalize the people who actually represent the core values of the Republic. The point is to bring down the Republic. You can disagree with them. but once you say they have no right to protest or start lying about them, you are in effect saying: "We want a regime where this is not possible anymore."  When the president says that it means that the executive branch is engaged in regime change towards an authoritarian regime without the rule of law. You are getting people used to this transition, you are inviting them into the process by asking them to have contempt for their fellow citizens who are defending the Republic. You are also seducing people into a world of permanent internet lying and way from their own experiences with other people. Getting out to protest, this is something real and I would say something patriotic. Part of the new authoritarianism is to get people to prefer fiction and inaction to reality and action. People sit in their chairs, read the tweet and repeat the clichés: "yes, they are thugs" instead of "it is normal to get out in the streets for what you believe." He is trying to teach people a new behavior: You just sit right where you are, read what I say and nod your head. That is the psychology of regime change. …

Question:

On Facebook there are a lot of countdowns: 3 years, 11 months, 1 week until President Trump's first term is over. How is your mood, do you see hope?  

Timothy Snyder:

The marches were very encouraging. These were quite possibly the largest demonstrations in the history of the US, just in sheer numbers on one single day. That sort of initiative has to continue.  The constitution is worth saving, the rule of law is worth saving, democracy is worth saving, but these things can and will be lost if everyone waits around for someone else. If we want encouragement out of the Oval Office, we will not get it. We are not getting encouragement thus far from Republicans. They have good reasons to defend the republic but thus far they are not doing so, with a few exceptions.  You want to end on a positive note, I know; but I think things have tightened up very fast, we have at most a year to defend the Republic, perhaps less. What happens in the next few weeks is very important.•
Tags: Donald Trump, Matthias Kolb, Steve Bannon, Timothy Snyder