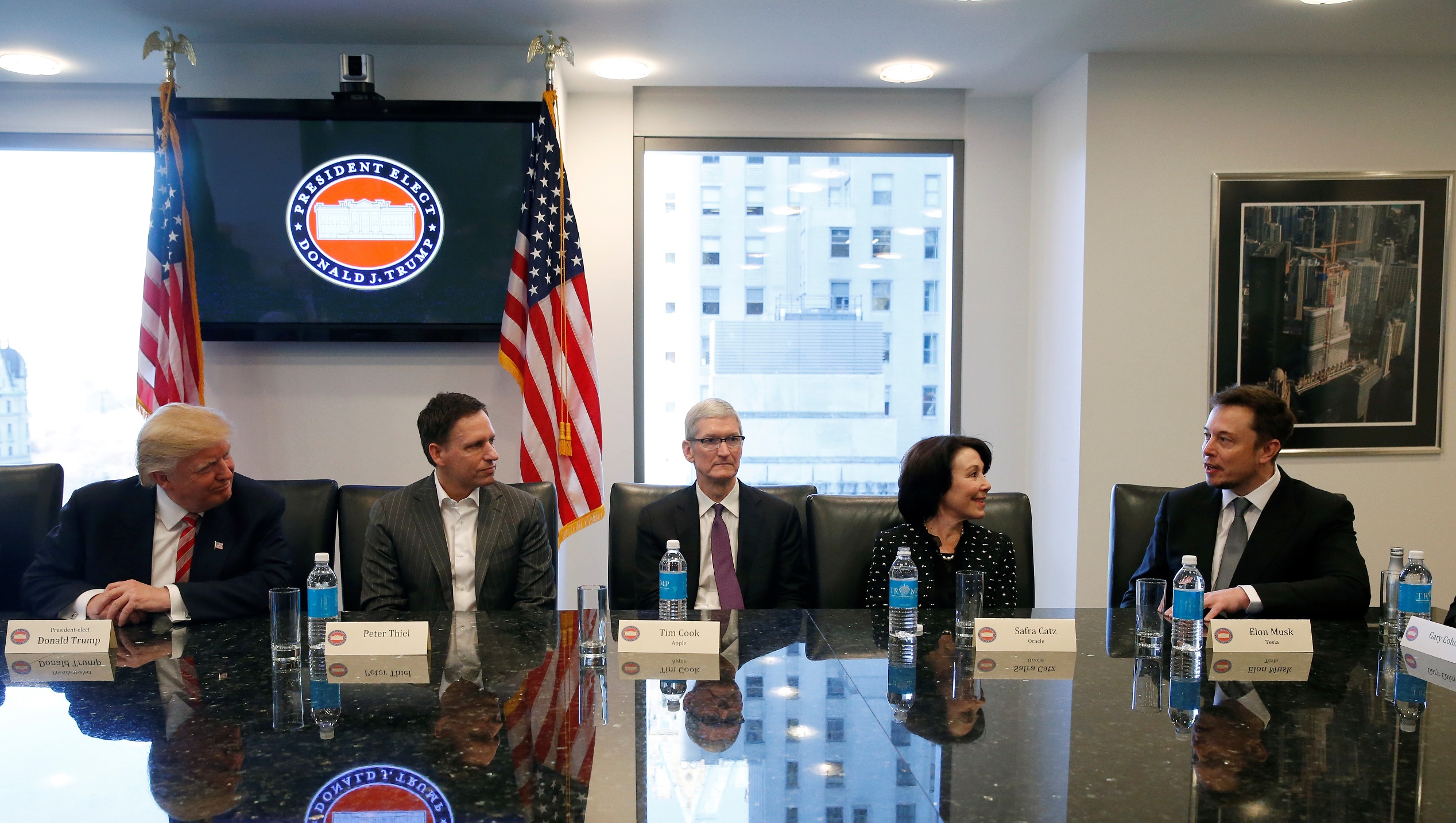 Elon Musk was saying things again today. He likes to say things.
The technologist and F.O.T. (Friend of Trump), who has completely misunderstood this political moment and either doesn't comprehend or doesn't care that he's been permanently lowered in many eyes, spoke out on the topics of Guaranteed Basic Income and cyborgism.
Musk is in favor of both, thinking the first will be necessary for society to survive the rough patch of Digital Age transformation, and the second will be required for human beings to survive at all as Artificial Intelligence become more profound. Of course, even if the latter is needed, the melding of human and machine would create something that isn't exactly human as we know it, so we wouldn't truly survive.
At any rate, if GBI and human-machine interface become realities, I would hope someone with a more developed sense of morality than Musk is leading the way. A person born in an Apartheid nation should know better than to cozy up to an Administration that would like to turn America into one.
Two excerpts follow.
---
From Fast Company:
"There will be fewer and fewer jobs that a robot cannot do better. I want to be clear. These are not things I wish will happen; these are things I think probably will happen. And if my assessment is correct and they probably will happen, than we have to think about what are we going to do about it? I think some kind of universal basic income is going to be necessary. The output of goods and services will be extremely high. With automation there will come abundance. Almost everything will get very cheap. I think we'll end up doing universal basic income. It's going to be necessary.•
---
From CNBC:
Billionaire Elon Musk is known for his futuristic ideas and his latest suggestion might just save us from being irrelevant as artificial intelligence (AI) grows more prominent.

The Tesla and SpaceX CEO said on Monday that humans need to merge with machines to become a sort of cyborg.

"Over time I think we will probably see a closer merger of biological intelligence and digital intelligence," Musk told an audience at the World Government Summit in Dubai, where he also launched Tesla in the United Arab Emirates (UAE).
 
"It's mostly about the bandwidth, the speed of the connection between your brain and the digital version of yourself, particularly output."
 
Musk explained what he meant by saying that computers can communicate at "a trillion bits per second," while humans, whose main communication method is typing with their fingers via a mobile device, can do about 10 bits per second.

In an age when AI threatens to become widespread, humans would be useless, so there's a need to merge with machines, according to Musk.

"Some high bandwidth interface to the brain will be something that helps achieve a symbiosis between human and machine intelligence and maybe solves the control problem and the usefulness problem," Musk explained.

The technologists proposal would see a new layer of a brain able to access information quickly and tap into artificial intelligence.•
Tags: Elon Musk