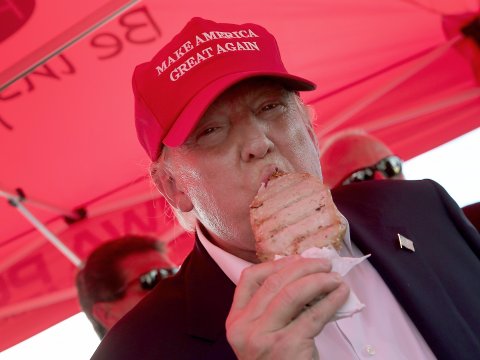 Read Trip Gabriel's interesting New York Times article about rural Iowans's blasé response to Trump's holy-fuck transition wishing the journalist would have discussed one issue with those in the piece concerned about socialism, welfare and "Chicago people" (um, yes) taking their hard-earned money. Would have been great to ask them how they feel about the nation's cities often subsidizing smaller communities like the ones they call home. There is all sorts of income redistribution in this country, and people have a tendency to avoid the "welfare" label when they're on the receiving end.
Three brief excerpts from the piece follow.
---
Many were hazy on specific policy details about how, say, House Republicans were seeking to replace Medicare with a voucher system. These voters feared an outbreak of European-style terrorist attacks by Muslims in the United States, maybe in their own communities. And overwhelmingly, Trump supporters did not want their hard-earned money redistributed to people they regarded as undeserving.
---
Ms. Ell, 46, earns a base wage of $6.50 an hour at Jerry's Main Lunch, a 14-seat restaurant across from the Burlington Northern Railroad tracks. As she bussed a table, Ms. Ell commiserated with Jackie Furman about those who take advantage of government aid.

"I think they should be drug-testing if they're on welfare," Ms. Ell said.

"The welfare system needs to be reorganized," agreed Ms. Furman, a retired commercial bakery manager, complaining that "Chicago people" were moving to Burlington to receive higher benefits and bringing crime.
---
Mike Staudt, a retired farmer from Marble Rock, voted for Mr. Obama in 2012, but called the Affordable Care Act a form of socialism. He said he had no problem with a candidate who had run as the voice of the working people but was stocking his cabinet with the ultrawealthy.

"I know these guys are really rich," he said. "They may have pulled off a few plays that weren't exactly on the up-and-up, but they all had to be pretty smart to be billionaires. If they replace their own concerns with the concerns of the country, they can make things really move forward. That's what I'm excited about."•
Tags: Trip Gabriel