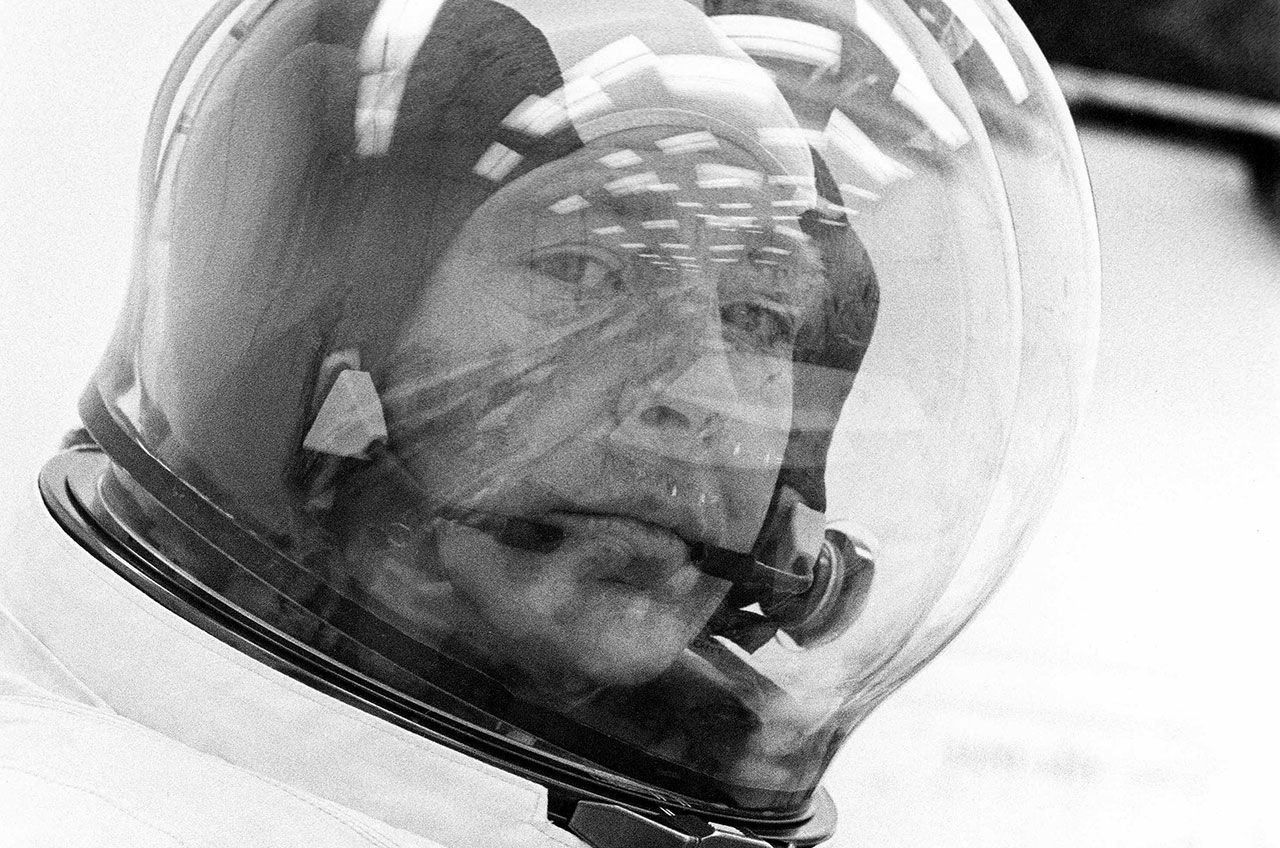 American astronaut Edgar Mitchell is one selection in this year's annual New York Times Magazine postmortem potpourri, "The Lives They Lived."
The sixth person to walk on the moon, Mitchell fell back to Earth not with a thud, like, for instance, Buzz Aldrin, but into the warm embrace of Me Decade pseudoscience. A legit Ph.D. taken with ESP, telekinesis, remote healing, etc., the spaceman set up shop to study paranormal fields not long after his egress from Apollo 14.
A piece from a 1974 People profile of the spaceman, "Edgar Mitchell's Strange Voyage," is followed by a passage from Charles Homans' beautifully written NYT remembrance.
---
From People:
Like most men who have felt a huge booster rocket light up on the pad beneath them and the beginning vibrations of a launch into space, Ed Mitchell is never far from some reminder of his most astounding hours. The walls of his cramped office in Palo Alto, California, where his esoteric business is the study of parapsychological phenomena, are hung with photographs celebrating the Apollo 14 mission, in which Mitchell was the lunar module pilot and became the sixth man to walk on the surface of the moon. One of the pictures shows the U.S.S. New Orleans, the recovery ship that picked up the Apollo crew in February 1971. As Mitchell pointed out to a visitor, his first name is misspelled "Egar" in the commemorative inscription. In a wry Cockney imitation, Mitchell said of that error, "It keeps me 'umble."

Humble or not—and the topic has priority among people who know him—Ed Mitchell has maintained a high public profile. Interest in him has even increased since his flight, a rarity in astronaut fame shared only by John Glenn. The reason for this is twofold: Mitchell had a transcendent personal experience during his moon flight, and he has been proclaiming it ever since—on the lecture circuit, to influential listeners wherever he can collar them, and in a book coming out in June. To an extent that seems almost to contradict his native skepticism and training in hard science, Ed Mitchell has become a man obsessed by the idea that the world can be changed by the right application of human awareness, and he has quite literally made it his business to apply it.

To his determination Mitchell brings great self-confidence, not exactly a new acquisition. He is remembered by some from his pre-moon flight days at NASA as rank-conscious and overbearing. Apparently more mellow now, the president and founder of the Institute of Noetic Sciences nonetheless explained his forgivable ignorance about the identity of Pop Star Mick Jagger by saying not long ago, "I'm too busy making history. I don't have time to read about it."

Still, there are ample grounds to support his good opinion of himself. At 43, Mitchell has come a head-swelling distance to his present eminence in a field on the frontier of behavioral studies. From a modest start in a Southwest ranching family during the Depression (he used to wash down crop dusters' airplanes to get free rides), he gained the top academic rank, or very near it, at every school he attended. He holds a Ph.D. in aeronautics and astronautics from MIT. Before his retirement from NASA in 1972 (and from the U.S. Navy as a captain) he was generally regarded as one of the brightest and most intellectually adventurous of the astronauts. His credentials as a pilot were most impressively stated by Alan Shepard, the cool and utterly unhumble boss of the Apollo 14 crew. "He's a great flyer," said Rear Admiral Shepard, a man frugal in praise of others, "simply outstanding." And, of course, Mitchell has kicked up moon dust, which puts him in a very special brotherhood. In some substantial way, that experience has profoundly marked the life or outlook of each of the 12 men who have known it. One, Jim Irwin, became an evangelist preacher, and Alan Shepard described his own transformation. "I used to be a rotten s.o.b.," he has said. "Now I'm just an s.o.b."

It was Mitchell's moon visit—or the changes it wrought in him—that led to his current total preoccupation with the frontiers of psychic research and parapsychology, fields in which there is a booming interest but that are still considered only marginally respectable by many scientists.

"The experience I had on the flight was akin to a religious experience," explained Mitchell in a soft, weary voice, the gray hair just beginning to show in his reddish-brown beard. "It was euphoric, one of those rare moments in life when you seemed to be able to reach out and touch the universe, when you had an intuitive flash about the real meaning of truth."

After between 25 and 30 hours of such mystic perceptions, Mitchell came back to earth determined to do something about the truth he understood so starkly from a lunar distance. The solution, he felt, lay in a sort of planet-wide consciousness-raising, which would be accomplished through the scientific applications of parapsychology (sometimes called psi). It was a field he had been interested in long before the flight, and indeed, without NASA's knowledge he had set up an experiment in extrasensory perception to be conducted during the mission with four men back on earth. The test involved the men on earth guessing the correct order of certain standard symbols as Mitchell "sent" them from space by telepathy and it was later judged to be a moderate success.

At any rate, in Mitchell's new resolution, such psi techniques could include ESP, clairvoyance, telepathy and psychokinesis (the use of psychic energy to bring about physical changes, like bending forks with well aimed thinking). All these and more could be employed in the quest for greater realization of the power of the human mind.•
---
From NYT:
In the Apollo years, NASA sent military test pilots into space, not poets or preachers; they came back in possession of extraordinary knowledge that, by dint of personality or professional inclination, they seemed helpless to communicate. As the Gemini and Apollo astronaut Michael Collins once put it, "It was not within our ken to share emotions or to utter extraneous information." Asked what it was like to go to the moon, Apollo 12's Pete Conrad replied: "Super! Really enjoyed it!"

But then there was Mitchell. After returning to Earth, he left NASA, grew a beard and divorced his wife. He founded the Institute of Noetic Sciences, which advocated exploring the universe by means of inquiry that lay outside of science and religion. He sought out South American shamans and Haitian Vodou priests, promoted the benefits of Tibetan Buddhist lucid dreaming, visited the homes of people who claimed their children could bend spoons with their minds. He went on Jack Paar's talk show with the self-proclaimed psychic Uri Geller. Two more marriages, one of them to a former Playboy playmate, came and went. He got deep, very deep, into theories about extraterrestrials. He had a posthumous cameo in the cache of John Podesta's hacked emails that WikiLeaks published this year, which included messages Mitchell sent to Podesta (a U.F.O. buff) asking him to discuss the possibility of disclosing the federal government's records of alien contact. He signed the emails "6th man to walk on the Moon."

If he got weird sometimes — O.K., a lot of times — could you really blame him?•
Tags: Charles Homans