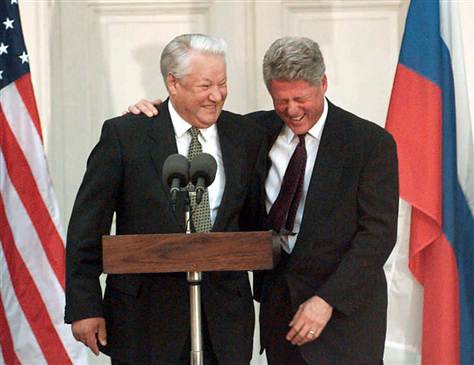 "Anything felt possible," writes Garry Kasparov in the WSJ of the ebullient time a quarter century ago when it became apparent Soviet autocracy had failed and democracy seemed, at long last, to have triumphed. The walls came down, history supposedly ended, and it was only a matter of time until all nations succumbed to the new reality.
In 2016, with liberal governance in retreat, anything again feels possible, but in a different and chilling way.  
In a reversal of fortunes, in an unforced error, America would appear to have retroactively lost the Cold War, perhaps even World War II. The blissfully unaware, the political opportunists and the truly evil have conspired to snatch defeat from the jaws of victory. Hope has never needed to be more audacious because this is no joke, it is not a test, we're really on fire. 
From Kasparov on how the failure to address history left the demons breathing, if barely, waiting to revitalize and pounce once more:
It is difficult to describe what life in the U.S.S.R. was like to people in the free world today. This is not because repressive dictatorships are an anachronism people can't imagine, like trying to tell your incredulous children that there was once a world without cellphones and the internet. The U.S.S.R. ceased to exist in 1991, but there are plenty of repressive, authoritarian regimes thriving in 2016. The difference, and I am sad to say it, is that the citizens of the free world don't much care about dictatorships anymore, or about the 2.7 billion people who still live in them.

The words of John F. Kennedy in 1963 Berlin sound naive to most Americans today: "Freedom is indivisible, and when one man is enslaved, all are not free," he said. That for decades the U.S. government based effective foreign policy on such lofty ideals seems as distant as a world without iPhones.

Ronald Reagan's warning that "freedom is never more than one generation away from extinction" was never meant to be put to the test, but it is being tested now. If anything, Reagan's time frame of a generation was far too generous. The dramatic expansion of freedom that occurred 25 years ago may be coming undone in 25 months.

The fall of the Berlin Wall and the collapse of the U.S.S.R. was the end of watch for the anti-Communist coalition formed by Harry Truman after World War II. A year later, baby boomer Bill Clinton was making jokes with Russia's President Boris Yeltsin and it was time to party, not press the advantage. The U.S. had unrivaled global power and influence, more than at any other time in history. Yet instead of using it to shape a new global framework to protect and project the values of democracy and human rights—as Truman had done immediately to put Stalin in check—the free world acted as though the fight had been won once and for all.

Even worse, we made the same mistake in Russia and in many other newly independent states. We were so eager to embrace the bright future that we failed to address our dark past.•
---
A remote match via telephone versus David Letterman in 1989.
Tags: Garry Kasparov