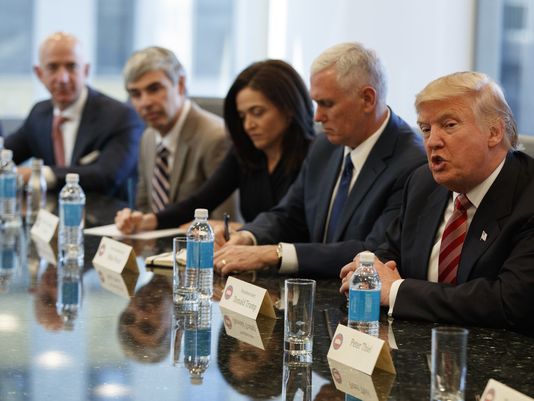 Ever since Apple's "Think Different" ad in 1997, the one in which Steve jobs used Gandhi's image to sell marked-up consumer electronics made by sweatshop labor, Silicon Valley business titans have been celebrated the way astronauts used to be. Jobs, who took credit for that advertising campaign which someone else created, specifically wondered why we put on a pedestal those who voyage into space when he and his clever friends were changing the world–or something–with their gadgets. He believed technologists were the best and brightest Americans. He was wrong.
Some of the Valley's biggest names filed dourly into Trump Tower yesterday in a sort of reverse perp walk. It was the same, sad spectacle of Al Gore's pilgrimage, which was answered with Scott Pruitt, climate-change denier, being chosen EPA Chief. Perhaps they made the trek on some sort of utilitarian impulse, but I would guess there was also some element of self-preservation, not an unheard of sense of compromise for those who see their corporations as if they were countries, not only because of their elephantine "GDPs," but also because of how they view themselves. I don't think they're all Peter Thiel, an emotional leper and intellectual fraud who now gets to play out his remarkably stupid theories in a large-scale manner. I've joked that Thiel has a moral blind spot reminiscent of Hitler's secretary, but the truth is probably far darker. 
What would have been far more impressive would have been if Musk, Cook, Page, Sandberg, Bezos and the rest stopped downstairs in front of the building and read a statement saying that while they would love to aid any U.S. President, they could not in this case because the President-Elect has displayed vicious xenophobia, misogyny and callous disregard for non-white people throughout the campaign and in the election's aftermath. He's shown totalitarian impulses and has disdain for the checks and balances that make the U.S. a free country. In fact, with his bullying nastiness he continues to double down on his prejudices, which has been made very clear by not only his words but through his cabinet appointments. They could have stated their dream for the future doesn't involve using Big Data to spy on Muslims and Mexicans or programming 3D printers to build internment camps on Mars. They might have noted that Steve Bannon, whom Trump chose as his Chef Strategist, just recently said that there were too many Asian CEOs in Silicon alley, revealing his white-nationalistic ugliness yet again. They could have refused to normalize Trump's odious vision. They could have taken a stand.
They didn't because they're not our absolute finest citizens. Khizr and Ghazala Khan, who understand the essence of the nation in a way the tech billionaires do not, more truly represent us at our most excellent. They possess a wisdom and moral courage that's as necessary to us as the Constitution itself. The Silicon Valley folks lack these essential qualities, and without them, you can't be called our best and brightest.•