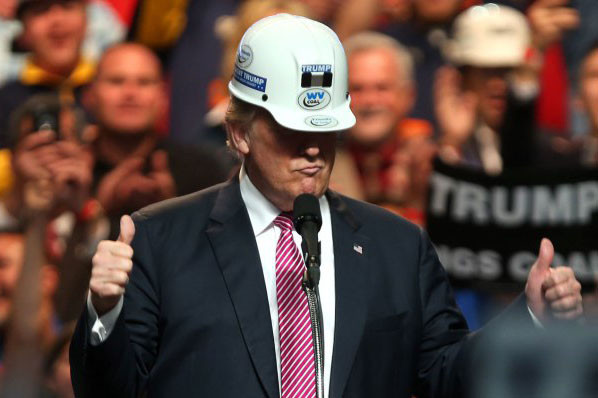 In addition to winning the Electoral College in a landslide, I won the popular vote if you deduct the millions of people who voted illegally

— Donald J. Trump (@realDonaldTrump) November 27, 2016
The media was flawed, Facebook irresponsible, the FBI reckless and Russia devious, but it's still the American people mostly to blame for electing as President an unqualified, bigoted sociopath, thereby creating the single biggest threat in more than half a century to our liberty (an admittedly unevenly distributed good throughout our history). It was an unforced error, a self-lacerating act, and we will pay for it dearly, not just for four years but for decades.
Unburdened by shame and unhampered by facts, Donald Trump is at best a robber baron and at worst an American Mussolini. If the former unfolds, we'll be dining on little more than bread and Kardashians. Should the latter become reality, we'll have retroactively lost World War II and the Cold War.
Wondering how nearly 63 million citizens could have behaved boneheaded enough to make Brexit seem a bad hair day, Gary Silverman of the Financial Times interviewed Michael Lewis about his new book, The Undoing Project, which analyzes the work of Israeli psychologists Daniel Kahneman and Amos Tversky and may help explain our Election Day massacre.
Lewis believes the human desire for exaggerated stories over cool statistics is in part responsible for the political ascent of the Simon Cowell-ish strongman, though the author, an admittedly wonderful writer, has sometimes himself been known to err on the side of narrative.
An excerpt:
The two psychologists are known for their work on "heuristics", mental shortcuts that enable people to process all the information coming our way but can cause us to make mistakes. They are the cognitive equivalents of optical illusions — tricks played by the mind rather than by the eye.

A classic case involves what the psychologists dubbed "anchoring". People given five seconds to estimate the product of 8x7x6x5x4x3x2x1 will provide far higher numbers than those asked to multiply 1x2x3x4x5x6x7x8 in the same time period. Seeing the bigger numbers first skews their thinking. A similar result is obtained if subjects are asked whether Mahatma Gandhi was more than 114 years old when he died or 35. People in the first group will provide a higher estimate of his age at death.

To Lewis, Trump has been dropping anchors like a battleship commander. After the election, for instance, Trump not only alleged that his opponent Hillary Clinton had received illegal votes, but that she had received "millions" of them. He offered no proof, but he used a big number. Putting all those zeroes in people's heads can pay off later on, Lewis says, in much the same way as a lawyer seeking astronomical damages in a lawsuit can expect a larger pay-off than a litigant taking a more measured approach at the outset. "Trump anchors everything in this crazy number. He will always say the crazy number because the negotiation happens around the crazy number."

Trump's frequent use of violent imagery takes advantage of what is known as the "availability" heuristic. People make decisions based on memories. But more vivid information — the name of a celebrity, for example, as opposed to that of another person — is easier to recall, giving it greater weight in decision-making. When Trump speaks of gruesome Isis executions or murders committed by undocumented immigrants, he is providing voters with more memorable information than dry facts and figures. 

"A vivid story about something an illegal immigrant did is going to have much more of an effect than statistics about illegal immigrants and crime," Lewis says. "People don't want the right answers. They want a story. They don't think in statistical terms."•
Tags: Amos Tversky, Daniel Kahneman, Gary Silverman, Michael Lewis