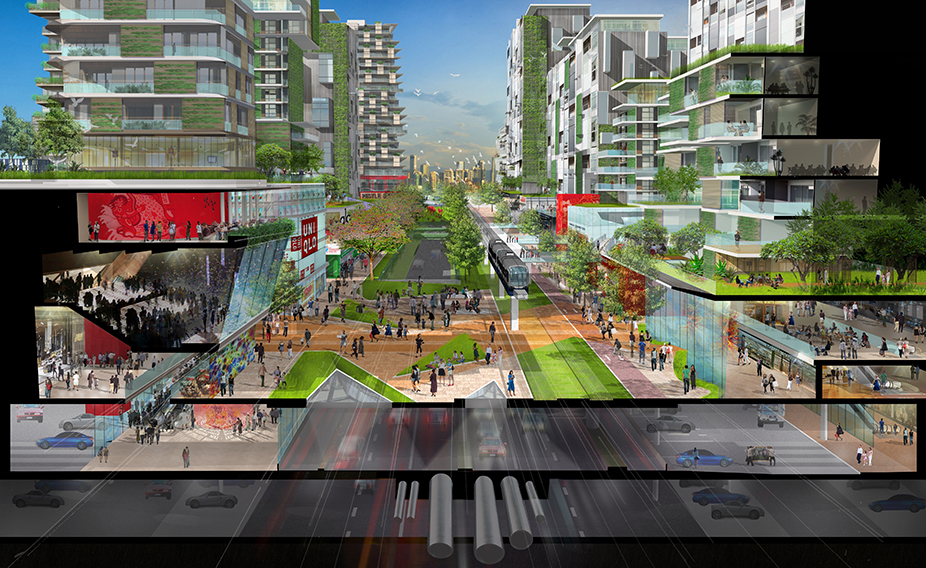 He who isn't busy being born is busy dying, wrote the Nobel Prize winner.
For China, the vertiginous arrival of urbanism has been a rough birth, fueled by a crash course in capitalism which willed into existence insta-megalopolises in search of residents. The building boom has led to "crazy bad" air pollution, and even stiff measures to combat it have prove unable to force the choking genie back into the bottle.
The thing about such breakneck capitalism is you have to keep feeding it massive servings because the end can mean economic disaster, so Chinese companies in the city-building business running out of desirable plots of land at home need to look abroad for acreage to conquer with outsize projects. They hope to export their model, which certainly is bad environmentally and may prove a financial folly.
The landscaped lawns and flowering shrubs of Country Garden Holdings Co.'s huge property showroom in southern Malaysia end abruptly at a small wire fence. Beyond, a desert of dirt stretches into the distance, filled with cranes and piling towers that the Chinese developer is using to build a $100 billion city in the sea.

While Chinese home buyers have sent prices soaring from Vancouver to Sydney, in this corner of Southeast Asia it's China's developers that are swamping the market, pushing prices lower with a glut of hundreds of thousands of new homes. They're betting that the city of Johor Bahru, bordering Singapore, will eventually become the next Shenzhen.

"These Chinese players build by the thousands at one go, and they scare the hell out of everybody," said Siva Shanker, head of investments at Axis-REIT Managers Bhd. and a former president of the Malaysian Institute of Estate Agents. "God only knows who is going to buy all these units, and when it's completed, the bigger question is, who is going to stay in them?"

The Chinese companies have come to Malaysia as growth in many of their home cities is slowing, forcing some of the world's biggest builders to look abroad to keep erecting the giant residential complexes that sprouted across China during the boom years. They found a prime spot in this special economic zone, three times the size of Singapore, on the southern tip of the Asian mainland.

The scale of the projects is dizzying.•