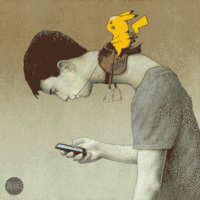 Without warning, Pokémon Go spread throughout the developed world earlier this year, a pandemic of annoyance, a febrile contagion far more viral than Ebola. All of a sudden, spud-shaped fantasy-seekers dropped from their couches and crawled to malls and churches to collect points or some such shit for locating, training or killing virtual creatures. It was heralded as a way for the smartphone generation to return to "nature"–you know, by consuming a device-enabled delusion. The outbreak knew no casualties, unless you count human dignity.
The immediate fervor for the game was credited as a significant victory for Augmented Reality, and the app's creator, an inventive guy named John Hanke, managed to monetize the mania. No offense to him or the folks at Niantic Labs who identified a psychological need, but I think they're fooling themselves when stating their game is somehow a healthy disruption of the technology subsuming us, of humans disappearing into the machine. It's a continuation.
Hanke sat for an interview with Tim Bradshaw of the Financial Times, a smart piece, though I strongly disagree with one of the writer's early assertions about the fad: "The real disruption was not digital but physical." Oh no, quite the reverse. Despite the initial frenzy in which the gormless descended upon the Holocaust Museum and other inappropriate Pokestops, whatever revolution this game's popularity announces is a decidedly digital one.
Bradshaw ultimately circles around to this same point, asking: "Can adding more tech really solve some of the problems it has created?" That seems the more apt statement.
The opening:
John Hanke arrives at Mijita on San Francisco Bay looking more like a middle-aged indie rocker than the chief executive of a company that this summer was estimated to be making tens of millions a week. His striped flannel shirt is unbuttoned over a T-shirt bearing a compass and the words, taken from a poem in The Lord of the Rings, "Not all who wander are lost".

The slogan gives a knowing wink to Hanke's status as the man behind the mobile gaming app, Pokémon Go, arguably thedisruptive digital innovation of the year. Overnight in July it became a cultural phenomenon as it sent millions of people worldwide on to the streetssearching for virtual monsters in real-life locations.

User traffic was 50 times higher than originally expected, infrastructure engineers at Google say, causing recurring outages. The real disruption, however, was not digital but physical. With its magical monsters appearing in the same place at the same time for each player, the app was accused of provoking stampedes, as groups of gamers took over the parks, malls and even churches where the game's "Pokestops" are found.

"I'm happy we are past that level of frenzy," concedes the 50-year-old Hanke as we head into the cantina-style Mexican restaurant. The crowds were, he admits, an "unintended consequence" of the game's success.•
Tags: John Hanke, Tim Bradshaw