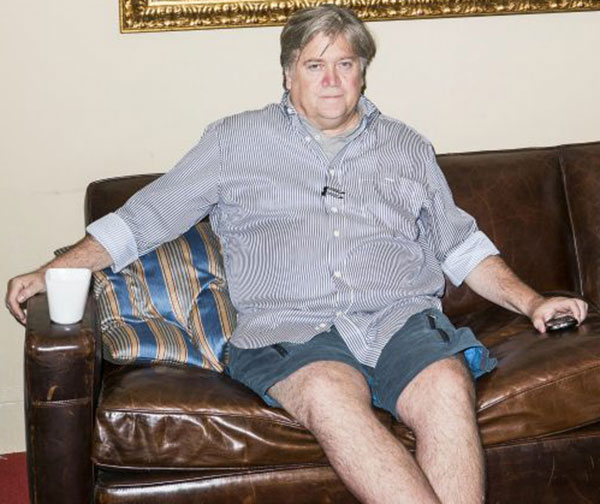 Media reporter Michael Wolff, the living embodiment of that creaking sound the boat makes just before it capsizes and everyone aboard descends into a watery grave glub glub glub, repaired to Trump Tower to interview Steve Bannon for the Hollywood Reporter. The incoming White House Chief Strategist believes there are too many Asian CEOs in Silicon Valley (which displays a poor grasp of math as well as morality) and, according to charges his ex-wife made during divorce proceedings, did not want his children attending school with Jewish kids. It's possible her words were misinterpreted because it's further alleged that he choked her, which is totally bad for elocution.
It's not exactly Wolff's most graceful writing, but perhaps the editors all took cyanide tablets when they realized the publication was going to run a piece in which the Breitbart bullshit artist would be able to claim he was an "economic nationalist" rather than a "white nationalist" with no real pushback from Wolff. That's led to the journalist being heavily criticized for perhaps going easy on Bannon to enable future access. You can understand people being sensitive on the subject since the fake-news impresario has helped select a cabinet racist enough to make Bull Connor blush. 
I wonder if THR actually fact-checked some of Bannon's more dubious comments, including this one: "[Trump] shows up 3.5 hours late in Michigan at 1 in the morning and has 35,000 people waiting in the cold." It's also worth questioning the sanity of someone who's suffused enough in grandiosity to believe that if his plan works "we'll govern for 50 years," as if any one group will. Of course, you might not have your skullcap properly tightened if you're wishing Andrew Jackson's legacy on your own boss.
In one exchange, Bannon promises that the Administration will make our era "as exciting as the 1930s," which sums up my fears exactly.
An excerpt:
Bannon, arguably, is one of the people most at the battle line of the great American divide — and one of the people to have most clearly seen it.

He absolutely — mockingly — rejects the idea that this is a racial line. "I'm not a white nationalist, I'm a nationalist. I'm an economic nationalist," he tells me. "The globalists gutted the American working class and created a middle class in Asia. The issue now is about Americans looking to not get f—ed over. If we deliver" — by "we" he means the Trump White House — "we'll get 60 percent of the white vote, and 40 percent of the black and Hispanic vote and we'll govern for 50 years. That's what the Democrats missed. They were talking to these people with companies with a $9 billion market cap employing nine people. It's not reality. They lost sight of what the world is about."

In a nascent administration that seems, at best, random in its beliefs, Bannon can seem to be not just a focused voice, but almost a messianic one:

"Like [Andrew] Jackson's populism, we're going to build an entirely new political movement," he says. "It's everything related to jobs. The conservatives are going to go crazy. I'm the guy pushing a trillion-dollar infrastructure plan. With negative interest rates throughout the world, it's the greatest opportunity to rebuild everything. Ship yards, iron works, get them all jacked up. We're just going to throw it up against the wall and see if it sticks. It will be as exciting as the 1930s, greater than the Reagan revolution — conservatives, plus populists, in an economic nationalist movement."•
Tags: Michael Wolff, Steve Bannon