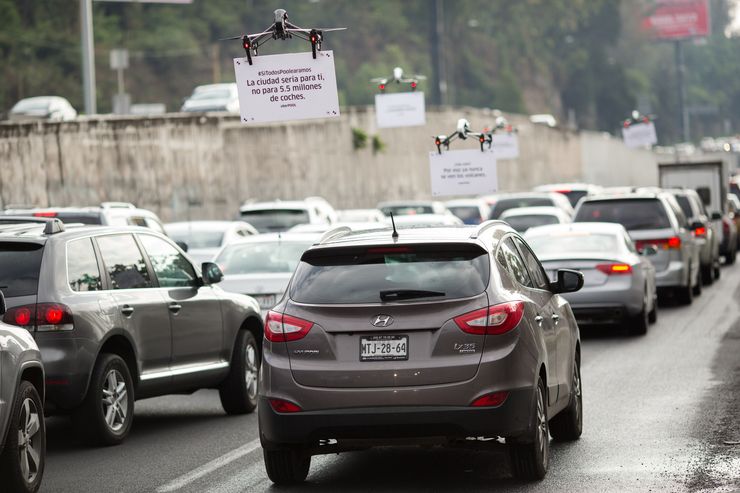 The amazing, Zeitgeist-capturing photograph above, taken by Brett Gundlock of Bloomberg, shows drivers in Mexico City gridlock being peppered with advertisements floated by Uber drones. While you might think it dangerous that even slow-moving vehicles are besieged by hovering appeals sent from the heavens or thereabouts, Travis Kalanick, the leading ridesharer's CEO, wants to remove that worry, eliminating the burden of drivers so they can instead plug their ears and eyes into other machines. Why stop and smell the roses when you can count the drones?
Autonomous vehicles are likely upon us, whether that means they arrive at high speed or merge more gradually with the Digital Age. While making the roads and highways safer was the early selling point for these cars, their establishment will have a profound effect on surveillance, employment, urban design, ethics, capitalism and even human nature itself. Of course, there will be unintended consequences we can't yet even appreciate.
It's also worthwhile to mention that the intervening period between fully human driving and fully automated control will not be without incidence, in much the way that horse-drawn carts and internal combustion engines made for uneasy partners on the road during that earlier transition. One thing I'm sure of is driverless cars will not create a "utopian society," a promise often assigned to new technological tools at their outset before we remember that the function they provide was never the main problem with us to start with.
In a New York Review of Books piece on Hod Lipson and Melba Kurman's Driverless: Intelligent Cars and the Road Ahead, Sue Halpern looks at the industry's dream scenario of fleets of autonomous taxis and the significant roadblocks to its realization. Even if the challenges are met, cheaper rides might not reduce wealth inequality but exacerbate the problem.
An excerpt:
The major car makers, rushing to make alliances with tech companies, understand their days of dominance are numbered. "We are rapidly becoming both an auto company and a mobility company," Bill Ford, the chairman of Ford Motor Company, told an audience in Kansas City in February. He knows that if the fleet model prevails, Ford and other car manufacturers will be selling many fewer cars. More crucially, the winners in this new system will be the ones with the best software, and the best software will come from the most robust data, and the companies with the most robust data are the tech companies that have been hoovering it up for years: Google most of all.

"The mobility revolution is going to affect all of us personally and many of us professionally," Ford said that day in Kansas City. He might have been thinking about car salespeople, whose jobs are likely to become obsolete, but before that it will be the taxi drivers and truckers who will be displaced by vehicles that drive themselves. Historically these have been the jobs that have provided incomes to recently arrived immigrants and to people without college degrees. Without them yet another trajectory into the middle class will be eliminated.

What of Uber drivers themselves? These are the poster people for the gig-economy, "entrepreneurs"—which is to say freelancers—who use their own cars to ferry people around. "Obviously the self-driving car thing is freaking people out a little bit," an Uber driver in Pittsburgh named Ryan told a website called TechRepublic. And, he went on, he learned about Uber's plans from the media, not from the company. "If it's a negative thing, they let you find out for yourself." As media critic Douglas Rushkoff has written, "Uber's drivers are the R&D for Uber's driverless future. They are spending their labor and capital investments (cars) on their own future unemployment."

All economies have winners and losers. It does not take a sophisticated algorithm to figure out that the winners in the decades ahead are going to be those who own the robots, for they will have vanquished labor with their capital. In the case of autonomous vehicles, a few companies are now poised to control a necessary public good, the transportation of people to and from work, school, shopping, recreation, and other vital activities. This salient fact is often lost in the almost unanimously positive reception of the coming "mobility revolution," as Bill Ford calls it.•
Tags: Bill Ford, Douglas Rushkoff, Sue Halpern