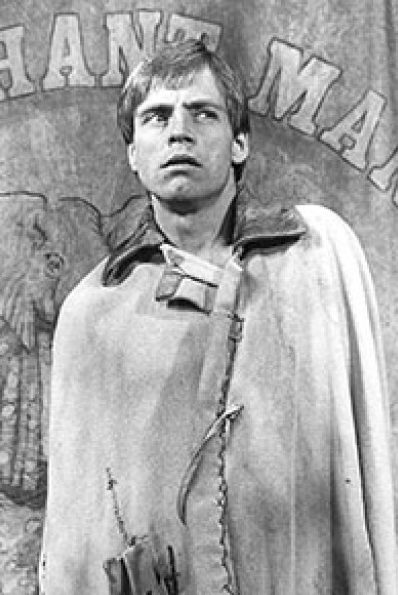 Bernard Pomerance's brilliant play The Elephant Man received equally bright stagings in 1979 in New York, from Jack Hofsiss, then a 28-year-old wunderkind who adeptly wrestled 21 short scenes about the 19th-century sideshow act John Merrick, who suffered from severe physical deformities, into a thing of moving beauty.
Sadly, Hofsiss, just died. He was adept at all media, working also in TV and film, and his career continued even after he was paralyzed from the waist down in a diving accident six years after his Elephant Man triumph. Here's a piece from Richard F. Shepard's 1979 New York Times profile of Hofsiss as he was readying to move the drama from Off-Broadway to on:
Mr. Hofsiss is a man of his generation, that is, a man who can call the action with equal ease in stage, film or television. Yet there is something about Broadway that stirs the blood and seizes the imagination, even though one knows that Broadway is just another stage, maybe one with a bigger budget and higher prices.

"Each production you do has its realities and necessities," Mr. Hofsiss said. "These are compounded on Broadway because of the commercial nature of the beast. There is a pressing professionalism on Broadway."

"The Elephant Man" is the story of John Merrick, a Briton who lived in the late 1800's and was a fleshy, prehensile monster of a man whose awful‐looking body encased a sharp and inquiring mind that developed quickly as opportunity allowed. The opportunity came from a doctor who interested himself in Merrick and brought him to the attention of upper‐crust curiosity seekers. As played by Philip Anglim, an actor with good and regular features, the monstrous nature of the deformity is not spelled out by specific makeup, but the sense of it is conveyed by the manner in which Mr. Anglim can contort his body, although even this is not a constant distraction during a performance.

All of this is by way of saying that this is a show that leaves much to a director's imagination, backed by a good deal of self‐discipline. Mr. Hofsiss, who was born and reared in Brooklyn and received a classical, old‐style educadon from the Jesuits at Brooklyn Prep and a more freeform one at Georgetown University, where he majored in English and theater, felt equipped for the situation.

"This is an episodic play, 21 scenes that constantly shift the characters," he said. "The script itself is purely words, containing no production instructions. In that way, it reads like Shakespeare: enter, blackout, and that's all. Like Shakespeare, Bernard Pomerance wrote it for a theater he knew in England, where it opened in 1977. Everything is there in the script, but it's as though you're carving a sculpture out of a beautiful piece of stone, frightening but rewarding."

Mr. Pomerance, an American who lives in England, came to New York only briefly before each opening, the one Off Broadway and the one on Broadway, and one might wonder whether author and director who are oceans apart in the flesh might not be in the same condition spiritually. But, "Bernard and I worked it out by telephone — he's trusting of directors," Mr. Hofsiss said.•
---
The third John Merrick during the original run was David Bowie. A 1980 episode of Friday Night…Saturday Morning featured Tim Rice interviewing the rock star about the play.
Tags: Bernard Pomerance, David Bowie, Jack Hofsiss, Richard F. Shepard', Tim Rice